These crock pot freezer meals will become your new best friend!
Crock Pot freezer meals have become a part of our weekly routine. I have been making crock-pot freezer meals for a few months now and they have not only made dinner time easier but stress free. I don't have to worry last minute what we're going to eat, and we have been eating out far less since we have a home cooked meal waiting for us at home. The last couple of weeks we have been trying out foods that we normally wouldn't eat, like soup and stews.
The Crock Pot Sweet Potato & Basil soup I made this past week was a huge hit with myself and my 6 year old, I think between the two of us we could have eaten the whole pot in a night. He requested seconds and knew we had leftovers and requested it for lunch the next day as well. It will definitely be going into our monthly menu.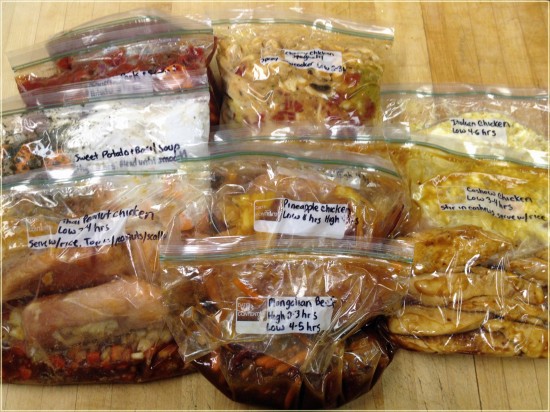 Right now I just look in the freezer the night before and choose a meal to thaw out, I'm hoping as I find more meals that our family enjoys that I can make a monthly calendar. The biggest thing I do when planning out a number of meals is to check the grocery sale flyer for a couple weeks to stock up on meat that is on sale. If I didn't shop the sales we'd be way over budget as meat can get expensive.
Mongolian Beef:
Beef Stew:
Pineapple Chicken:
Thai Peanut Chicken:
Creamy Italian Chicken:
Crock-Pot Cheesy Chicken Spaghetti:
Sweet Potato Basil Soup:
Mexican Pork and Sweet Potato Stew:
Cashew Chicken:
Lime Garlic Chicken
I don't have the estimated cost for all meals as I stock up on meats and canned food when on sale. You can always add in extra ingredients/change the recipe to your family's liking, these are meals and ingredients that our family enjoys. Between my husband and I's work schedule, the 4-6 hour meals work best for us which is why most of the recipes are not for 8-10 hour days, I also always have never placed the ingredients in frozen – always thawed, so I'm not sure the cooking time if frozen.
Recipes originally found at Mongolian Beef, Beef Stew,  Cheesy Chicken Spaghetti, Thai Peanut Chicken, Sweet Potato Basil Soup, Mexican Pork  Sweet Potato Stew, Cashew Chicken, Lime Garlic Chicken found in B.J.'s Wholesale Flyer.