Crockpot freezer meals have become my go-to for busy weeknights. They're as simple as 1-2-3. Prepare. Freeze. Dump.
These crockpot recipes can be made ahead of time and frozen in a freezer bag. The meals are ready to go when you need them. Simply thaw the freezer meal in the refrigerator overnight and dump into the crock pot.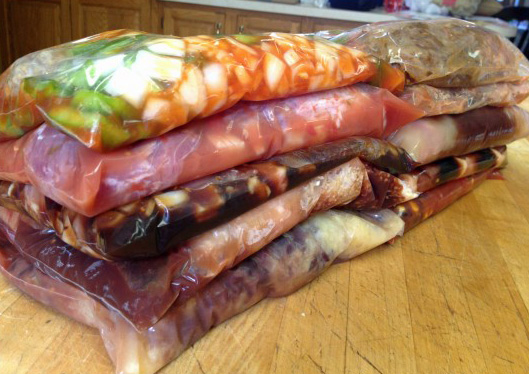 This site uses ad networks and affiliate links to generate revenue.
Easy Crockpot Freezer Meals:
As a busy mom, my crockpot is one of my most used kitchen appliances. I love the idea of having dinner slow cooking while I'm working or going between after school activities. I also use it often in the summer months as it doesn't heat up the house like the oven does.
I can often toss fresh ingredients into the crockpot in the morning, but having a few of these crockpot freezer meals already prepared is even better. I don't have to worry about what I am cooking last minute or have to run to the grocery store to grab last minute ingredients.
We're also eating out far less as I already have the make ahead freezer meals for the crockpot prepared in plastic bags. I choose a slow cooker freezer meal from the freezer, thaw it in the fridge overnight and dump the ingredients into the crock pot in the morning. When we come home after a busy day, I know dinner has been slow cooking all day and is ready.
Stay on Budget With Crockpot Freezer meals.
Print recipes, make a grocery list and shop the sales. Chicken breast, chicken thighs, pork chops and ground beef go on sale a lot, you can freeze them in individual portions or 1lb servings. I use the fold top sandwich bags to portion out the meat, and then put them in a larger Ziploc bag to freeze in bulk. Print a calendar or make a list to help meal plan and keep track of what crockpot freezer meals you make.

Tips for Making Easy Crockpot Freezer Meals:
We recently used up all of freezer crockpot meals so I decided to compile a new list to try. I tried to use ingredients that we already had in the pantry or fridge/freezer, and made a grocery shopping list of ingredients that I needed to pick up.
First, I separate all of the ingredients on the counter. Then, I get the meat ready – trim the fat off the chicken and cook the meat if needed. I then chop up all of the vegetables and open up the cans.
I write the directions and cook time with a permanent marker on the freezer bag. If you don't have a second set of hands to help stuff the bags, these baggy clips are great and help to keep the plastic bag open. I prepare all of the crock pot freezer meals at one time and it takes between one and three hours depending on how many make ahead meals I'm preparing.
You can always add in extra ingredients/change the recipe for these crock pot freezer meals to your family's liking. These are meals and ingredients that our family enjoys. Between my husband and I's work schedule, the 4-6 hour slow cooker meals work best for us which is what most of these crock pot recipes are, I have also always have never placed the ingredients in frozen – always thawed, so I'm not sure the cooking time if frozen.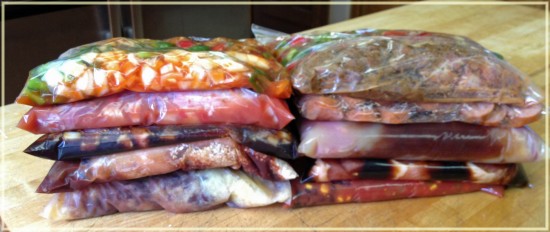 These crockpot meals are cooked for 2 adults and 2 young children (ages 3 & 5), and there is always leftovers for lunch the next day. Cooking times may vary depending on your type and size of slow cooker.
Family Favorite Crock Pot Freezer Meals:
Crockpot Sweet and Sour Meatballs are an easy game day appetizer. Serve on top of brown or white rice for dinner the kids will love.
BBQ Cranberry Chicken
Honey Bourbon Chicken
Pork Carnitas
Not familiar with Ro-Tel? It is diced tomatoes mixed with green chilies & spices. You can see what it looks like here.
Apple BBQ Pork Tenderloin
Pineapple Chicken Burritos
Southwestern Chicken Chili
Looking for an easy crockpot family dinner or a chili recipe for game day? Wow your guests with this Chicken Chili.

More Crock Pot Dinner Ideas That You Will Love: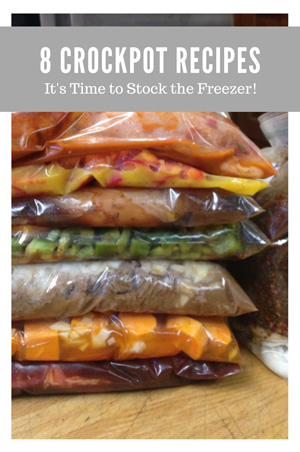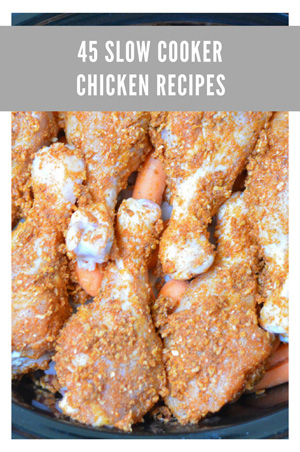 These crockpot recipes were originally found at – adapted from Apple BBQ Pork Tenderloin, Pineapple Chicken Burritos, Southwestern Chicken Chili, Pork Carnitas, Honey Bourbon Chicken, Sausage & Peppers, Savory Pepper Steak, Sweet & Sour Meatballs.