Turn your favorite cream cheese jalapeno popper appetizer into a delicious dinner with this Slow Cooker Jalapeño Popper Chicken recipe. Every bite is loaded with flavors from your favorite dish. This Jalapeño Chicken is made with just the right amount of heat and topped with cheddar cheese and crispy bacon. It is incredibly easy to make in your crockpot and is low carb and KETO friendly.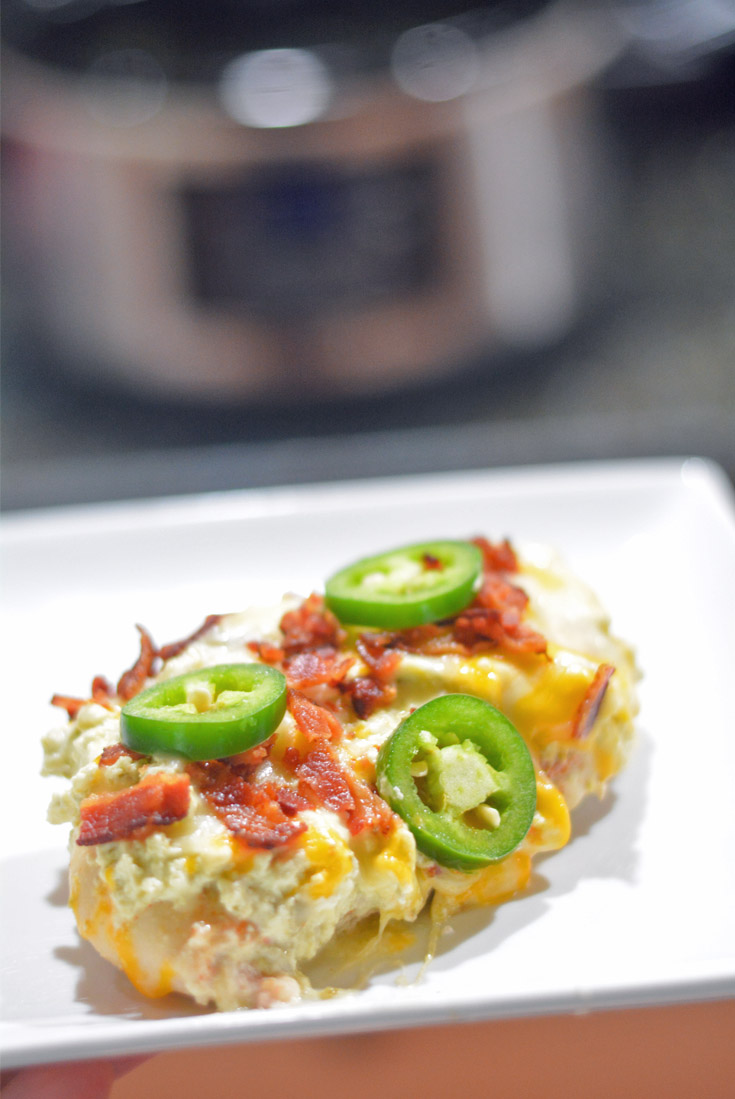 Slow Cooker Jalapeno Popper Chicken
There's just something about Jalapeno Poppers that get me every time. I'm not always into spicy foods but I do have a soft spot for cream cheese jalapeño poppers and buffalo chicken dip. After making Jalapeno Popper Chicken Casserole in the oven a few weeks ago I have been wanting to make it again, but with my crockpot. I try to re-create as many of our favorite recipes in the slow cooker since I can usually dump all of the ingredients in forget it until dinner time.
I tend to do a lot of dinners with the slow cooker during the school week as the afternoons are crazy with three kids, soccer and hockey. Crockpot Freezer Meals are my go-to, but once in a while I'll also have time to prep a meal in the morning or early afternoon. I was excited to turn one of my favorite family dinners into a crockpot meal, now I can toss all of the ingredients in the crockpot before we head to a hockey or soccer game and come home to a warm cooked meal.
This easy jalapeño chicken recipe takes just a few minutes to prepare in the morning. While the kids are cleaning up after school, I can top the jalapeño chicken with the cheddar cheese and bacon, and it's melted within 15-20 minutes.
Tips for making Slow Cooker Jalapeno Popper Chicken
Make cleanup easy with a slow cooker liner. When dinner is done, simply remove the bag and toss in the trash. You won't need to scrub or let your slow cooker soak in the sink.
Once the cooking time is up, shred the chicken and make jalapeno popper chicken sandwiches.
How to cut Jalapeños
Wear disposable gloves when you are cutting up the jalapenos to prevent your hands from burning.
There are two ways to make this jalapeno chicken recipe. Keep the jalapeno pepper membrane and seeds, or remove for a less spicy dish. Remove the jalapeño pepper stem end, cut jalapeño in half lengthwise, then take a spoon and scrape out the membrane and seeds. You can reserve one jalapeño and slice to garnish.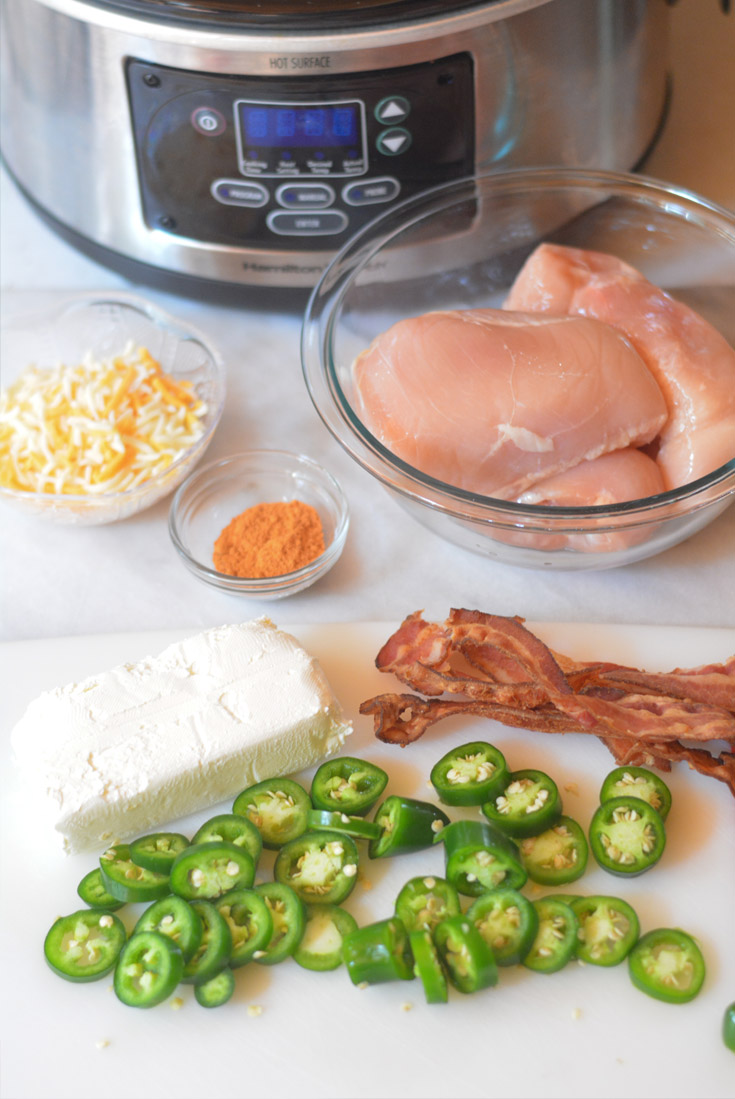 How to make Jalapeño Cream Cheese Chicken in the Slow Cooker:
3-4 boneless, skinless, chicken breast
1 tsp taco seasoning
8 oz cream cheese, softened
3/4 cup sharp cheddar cheese, shredded
1/2 cup crispy bacon, chopped

4-5 fresh jalapeño peppers
Step By Step Directions:
Trim the excess fat off the boneless skinless chicken breasts. Place the chicken in the slow cooker. Season with taco seasoning (or garlic powder if you prefer).
Wash the jalapeños and cut the tops off. Remove the seeds if you want it milder, or leave if you would like a spicier dish. Cut the jalapeño peppers into small pieces, reserving one to garnish.
Mix the jalapeños with the cream cheese.
Spoon jalapeño cream cheese mixture onto chicken.
Cover & cook on low 4-6 hours or until internal temp reaches 165 degrees.
Top with bacon, cheddar cheese, and additional sliced jalapeños. Cover & cook an additional 20 minutes or until cheese is melted.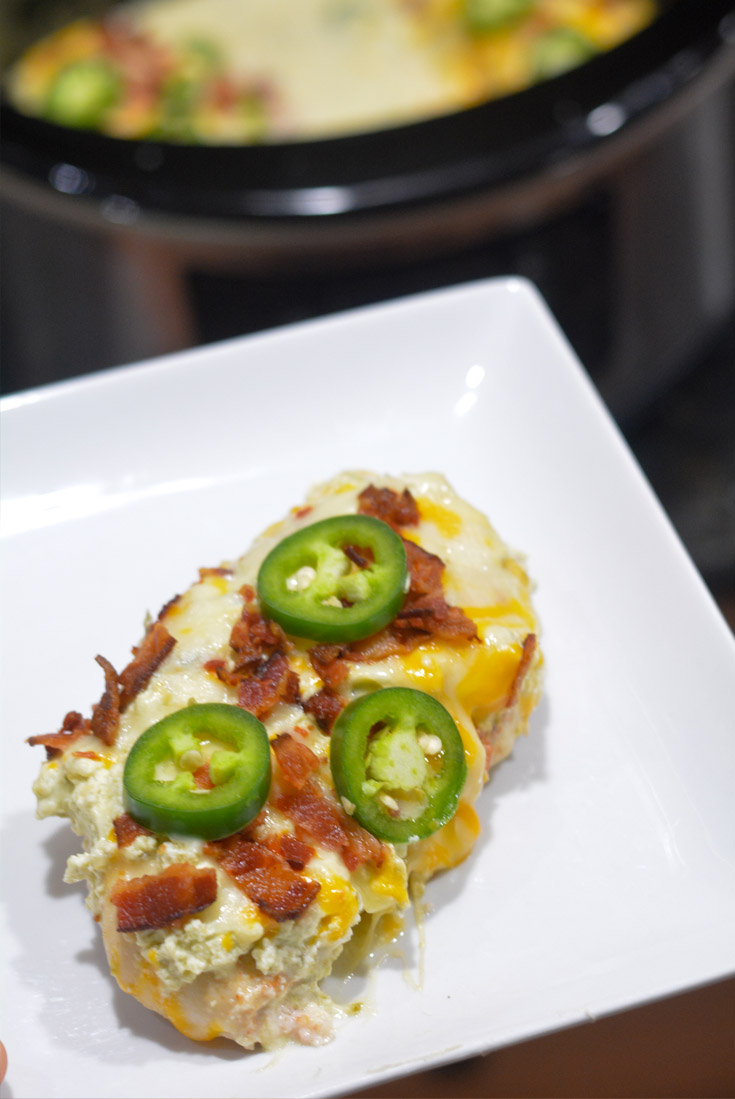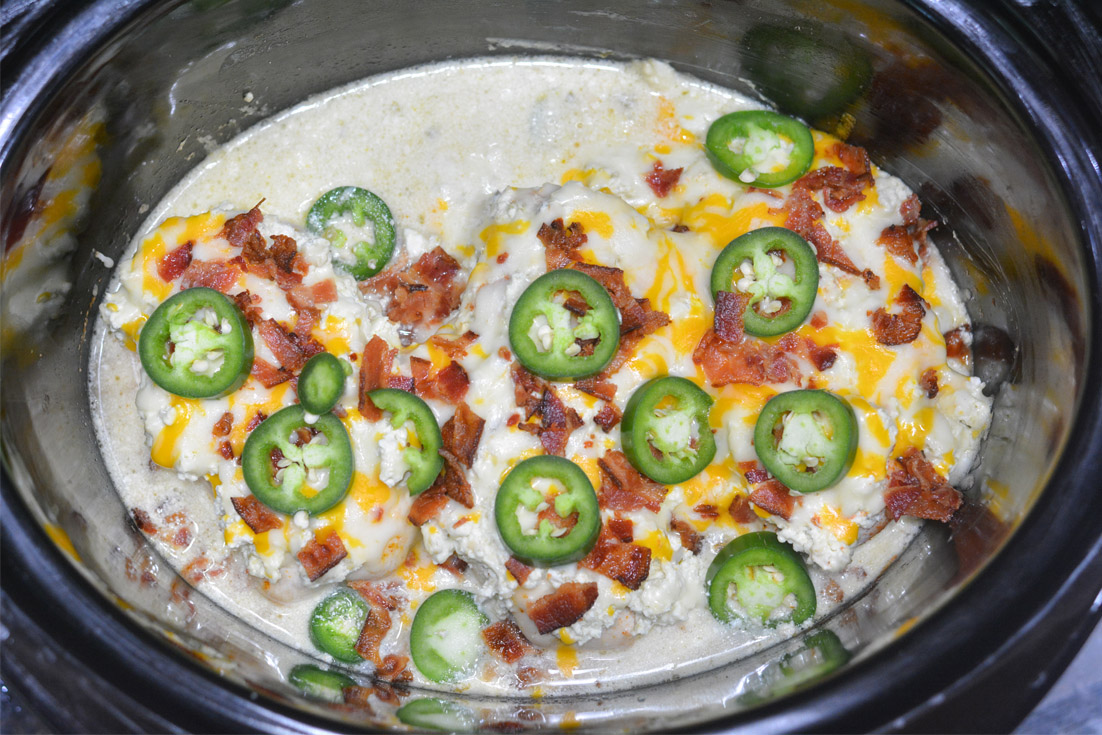 Print this easy low slow cooker recipe to save for later.
[mv_create title="Slow Cooker Jalapeno Popper Chicken" key="2″ type="recipe"]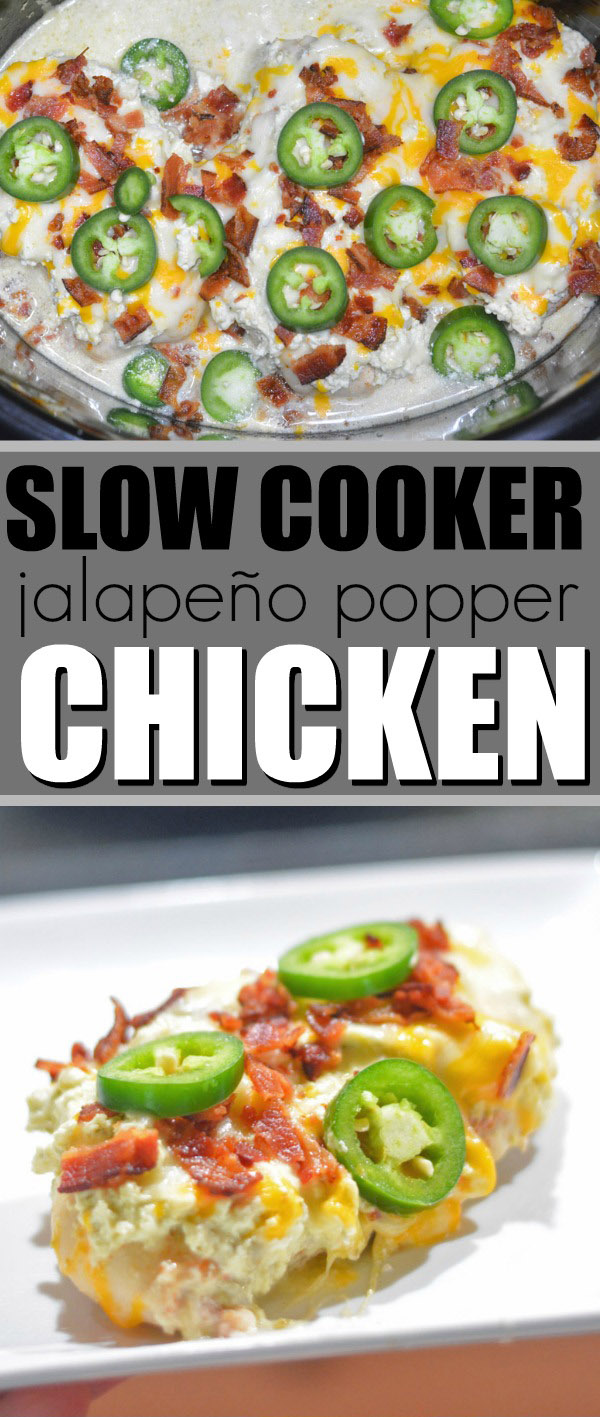 Baked Jalapeno Chicken Variation:
Love this slow cooker jalapeno chicken? Make sure to try our baked jalapeno chicken recipe. The ingredients are the same, except it is cooked in the oven.