Growing up, I always dreamed of having a large backyard to host friends and families. While I enjoy going to other people's houses, I love everything about hosting and being in the comforts of my own home and yard. Our backyard used to be on the small side, but 3 years ago we decided to extend our yard. It used to be covered with dozens of 100-foot pine trees but is now flat enough to serve as a wiffleball field for gatherings and there is plenty of room for a friendly game of soccer or cornhole.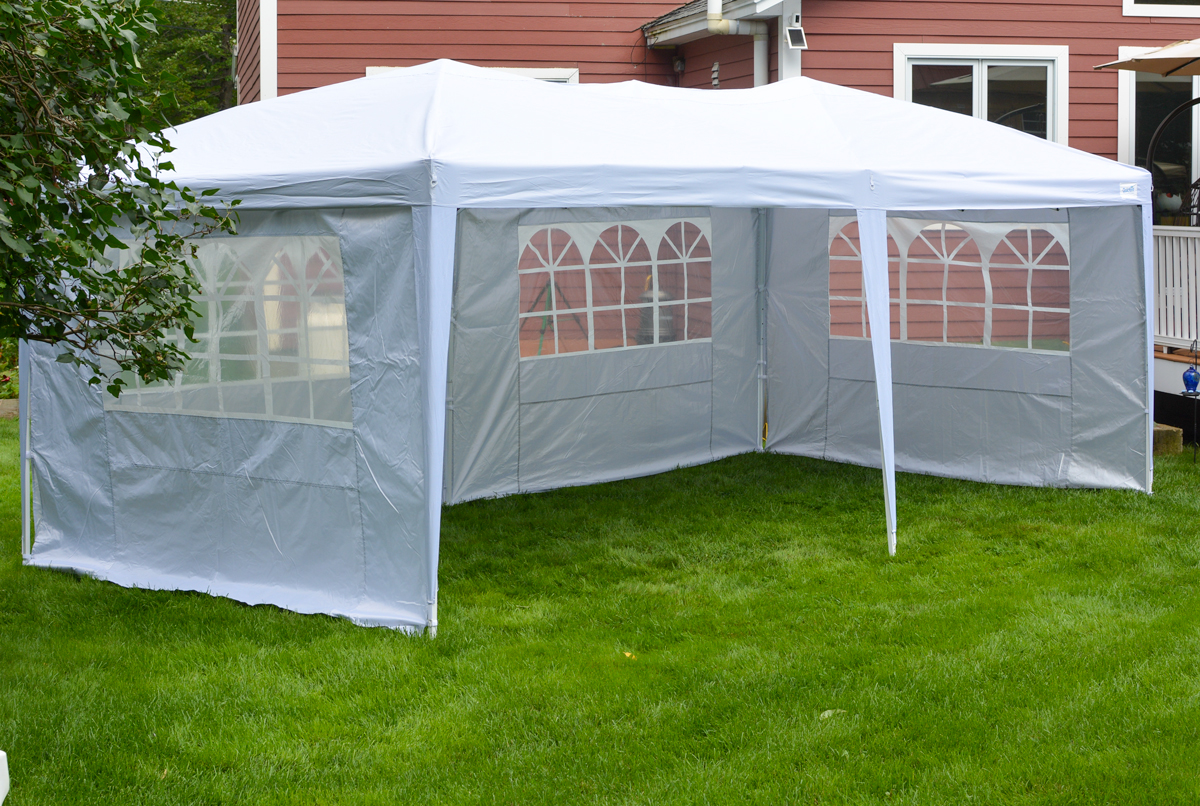 Quictents provided a sample.
Every summer we host birthday parties and a number of BBQs. For the past 3 years have also hosted around 15 of my husband's coworkers and their families for a BBQ. My biggest concern is always the weather, hoping it doesn't rain that day, or providing shade if it is too hot. The last 2 summers we lucked out with beautiful weather, but this year, there was a big chance of rain throughout the day. While it did sprinkle on and off for the entire afternoon, our guests were able to stay dry thanks to the 10′ x 20′ Pop up Party Tent that I received just in time by Quictents.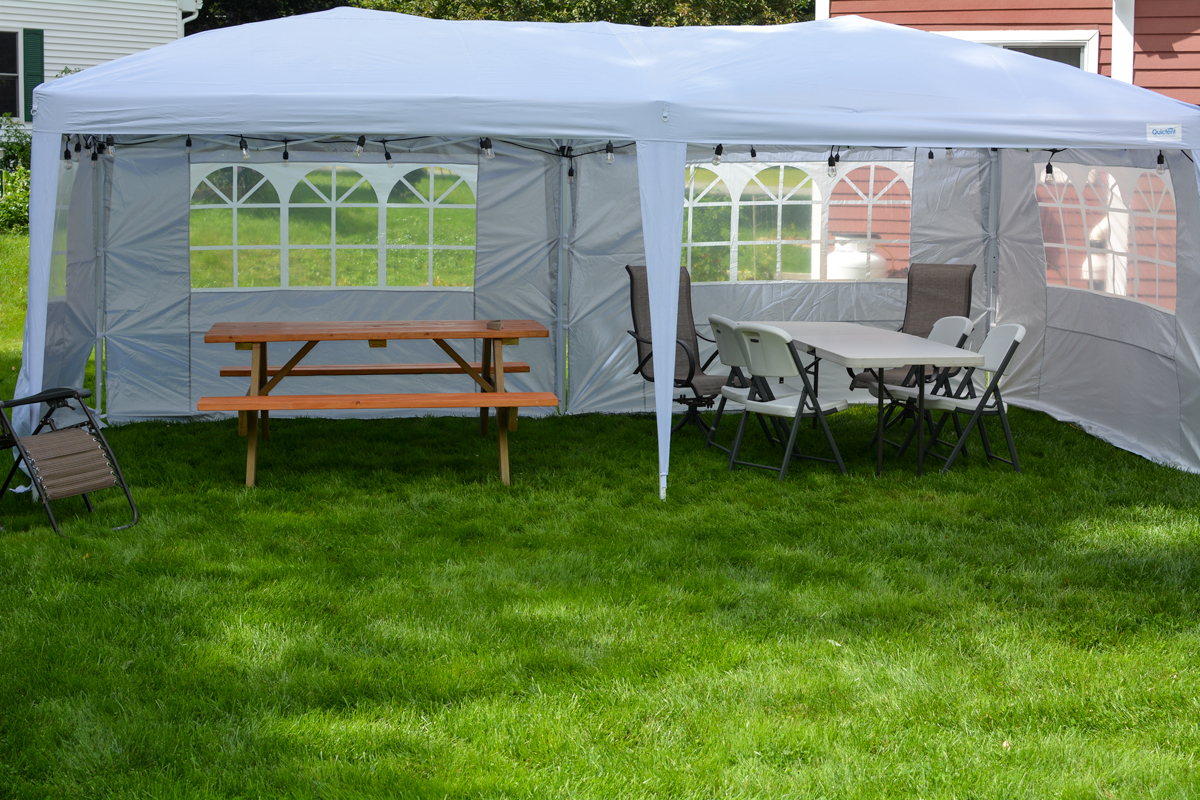 10′ x 20′ Pop up Canopy with Sidewalls in White
Top and sidewalls are made of 420D Oxford fabric, with PU-coating, waterproof, and SPF 50+ UV sun protection
Anti-corrosion-resistant powder-coated steel frame
6 optional sidewalls – attaches by Velcro

2 have double sided zippers for the entrance
Church windows on 4 sidewalls

Includes 6 bags that can be filled with sand for added stability
Provides 200 sq. ft of shade
Easy set up
Includes storage bag
How to Assemble:
Open the canopy frame
Put the fabric top over the frame
Raise and lock the canopy frame – adjust the height for preferred shade coverage
Hang on sidewalls, if preferred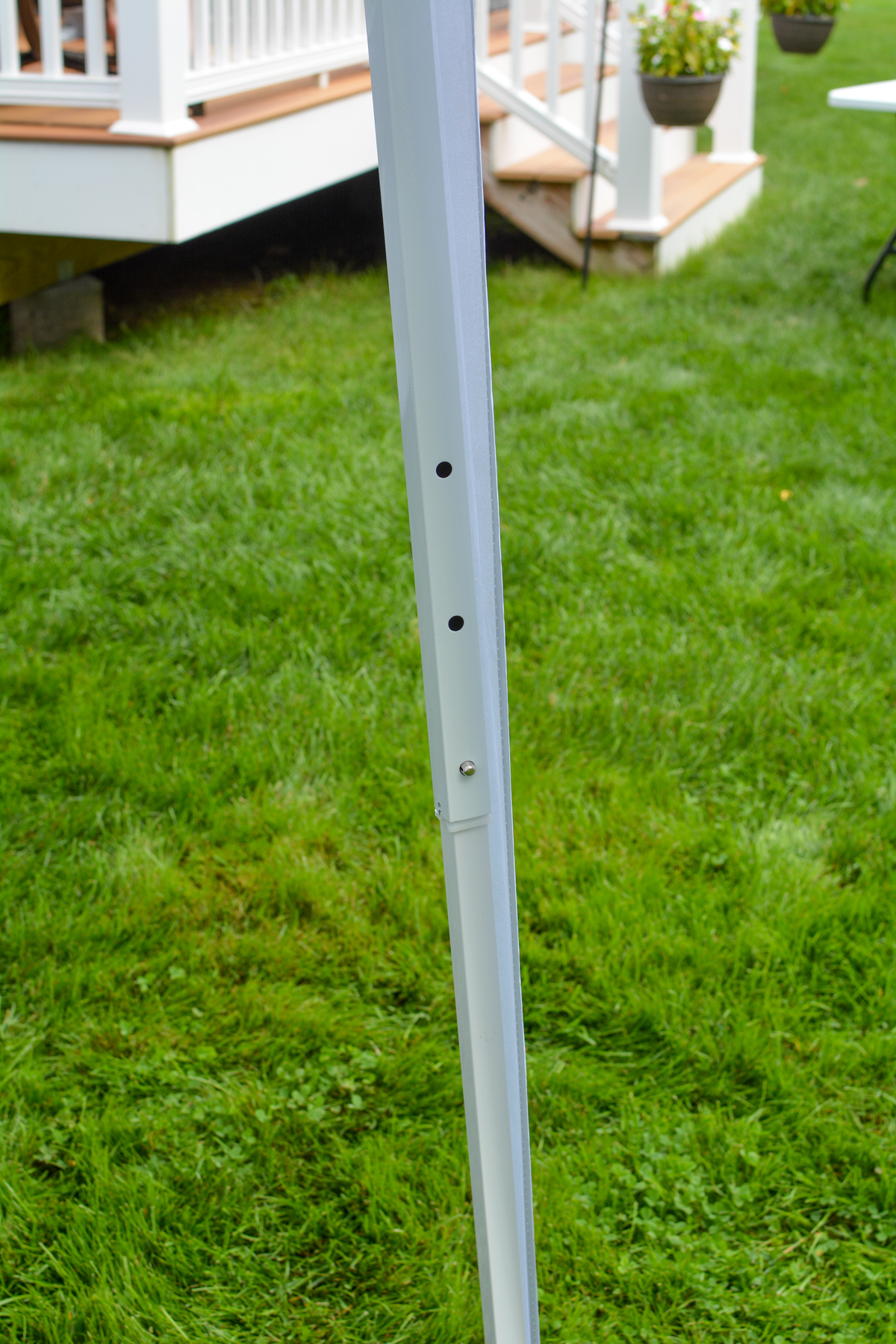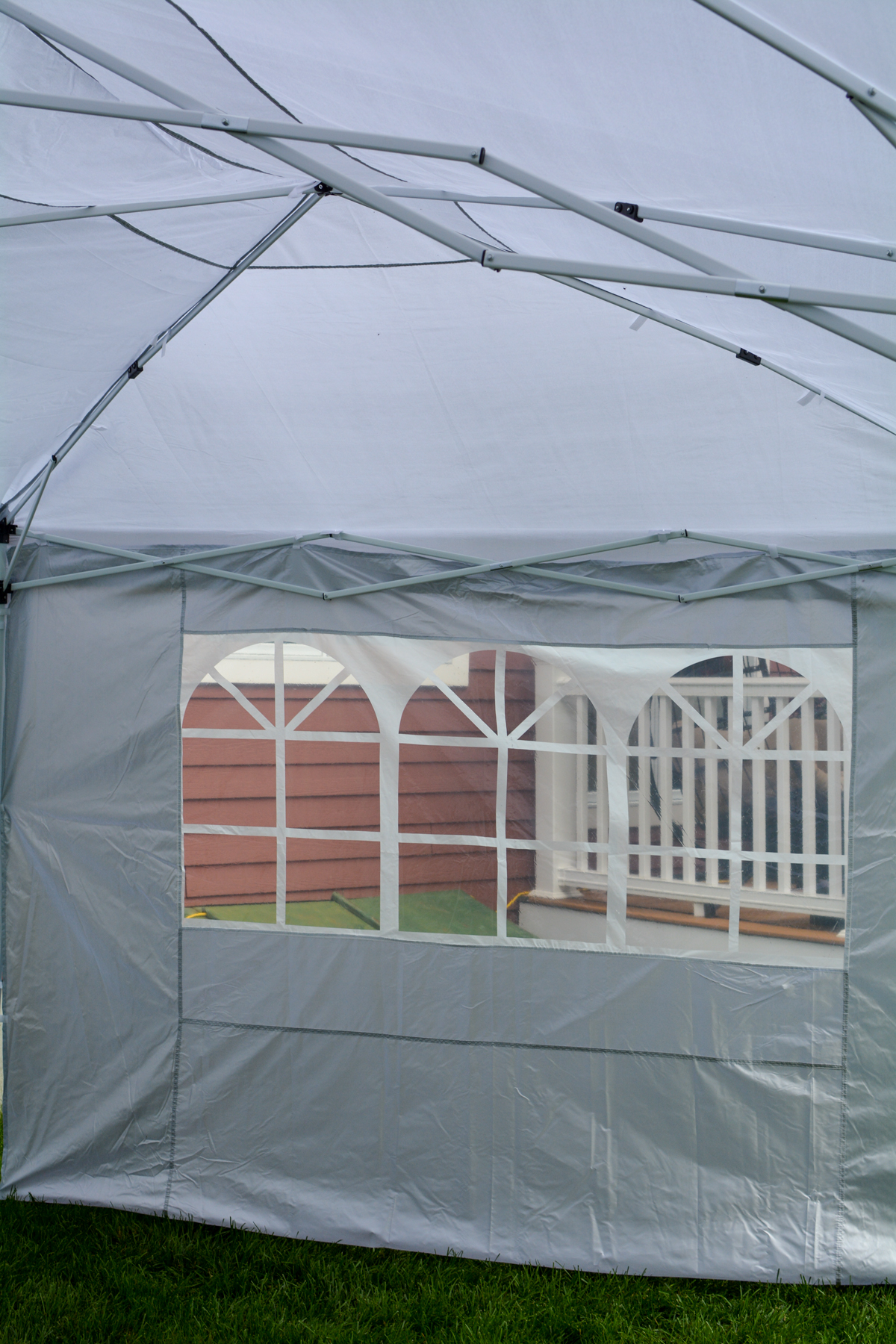 The pop-up outdoor party tent provides 200 square feet of shade coverage and is big enough to place 6–8-foot tables underneath. We only used it for a picnic table and 8 ft folding table, but there was plenty of room for another table. It is perfect for birthday parties, summer BBQs, camping, fundraiser events, sporting events, and other outdoor events. When not in use, all the pieces store conveniently inside the included bag.
This 10′ x 20′ party tent comes with optional sidewalls. The sidewalls can be easily put on or removed. Since we knew that it was supposed to rain, we chose to setup with the sidewalls to help protect against the weather and keep our guests dry, but we left the two front sections off.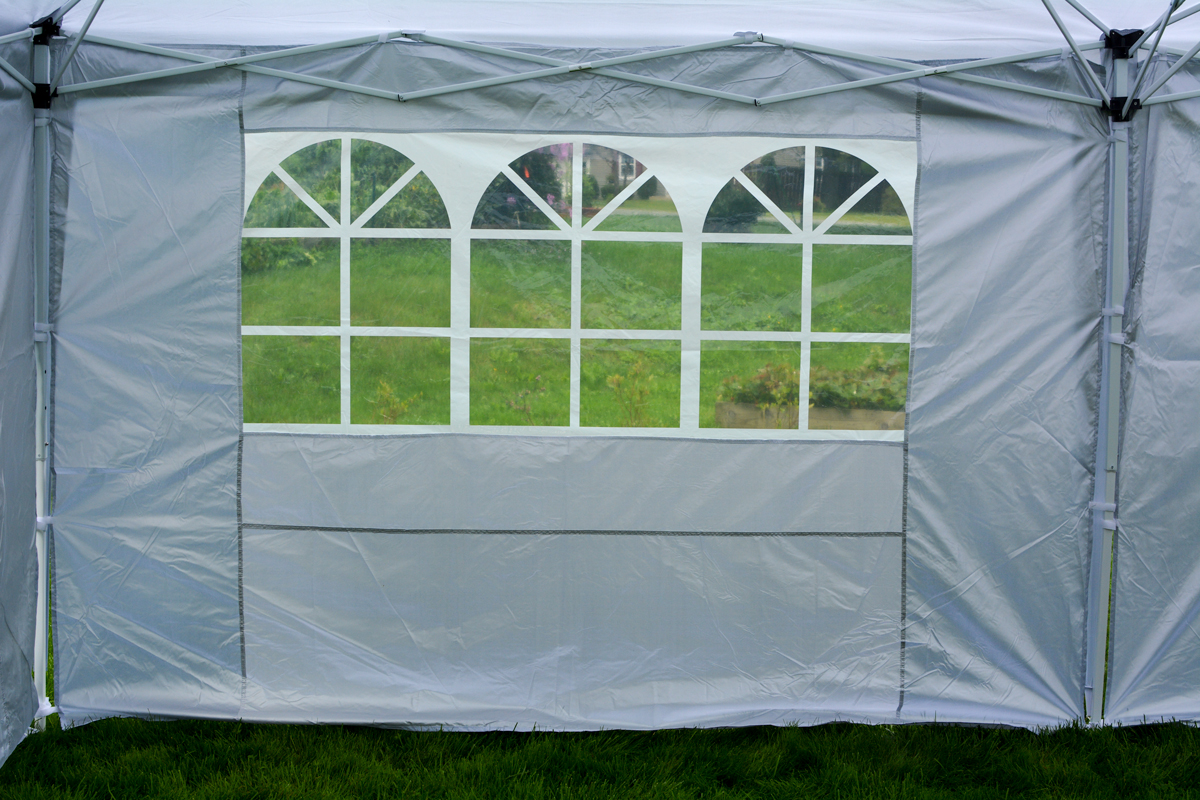 My two teenagers were able to get the party tent set up with my husband the morning of the party. One feature that I didn't initially think about was the space on the frame to hang simple decorations, or in my case – lights. Once I noticed that space, I was able to easily and quickly drape the lights over. The lights added a nice touch during the nighttime activities and gave just enough light inside the tent for guests.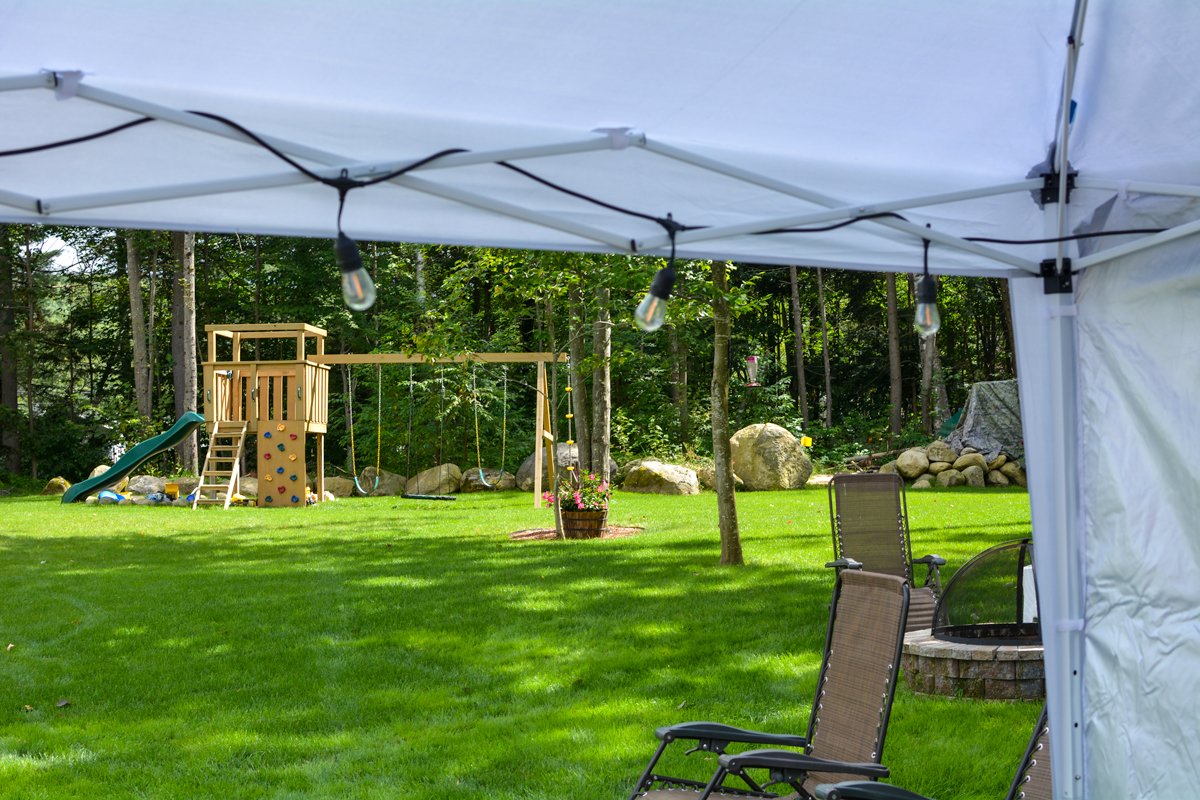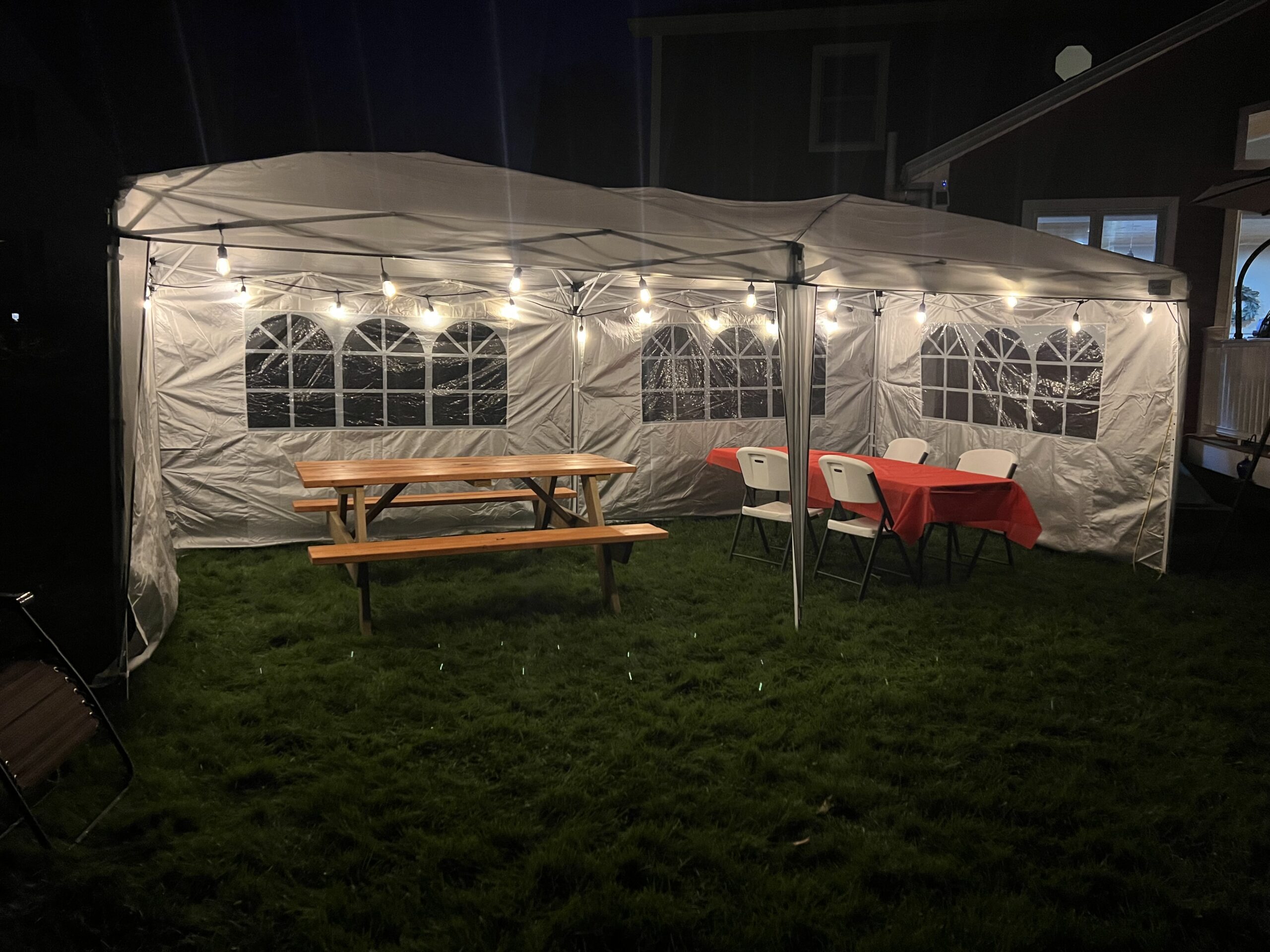 The 10×20 pop up tent can be purchased for $239.99 at www.quictents.com.