Crockpot meals in a bag make getting dinner on the table so much easier. Prepare 20 meals in 2 hours with our easy, and delicious crockpot freezer meals.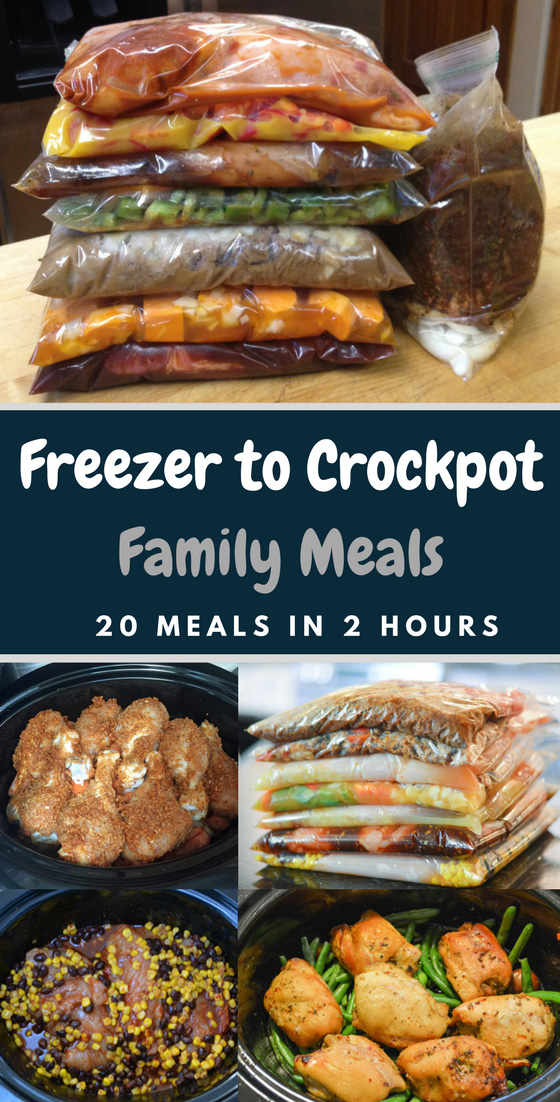 These 37 easy crockpot freezer meals will simplify dinnertime. Jumpstart your meal planning with recipes for chicken, beef, pork, soups, chili, and more.
Crock pot freezer meals are a great idea and have been a huge time saver the past few months. They are a busy mom's best friend especially on busy weeknights that are filled with sports. I can take one of the healthy meals out of the freezer, let it thaw in the refrigerator overnight and empty it into the crock pot in the morning. By dinner time we have a warm home cooked meal without having to worry about what to make, spending an hour prepping and cooking, and best of all – minimal mess to clean up.
Easy Crockpot Freezer Meals for a Month
Having the crockpot recipes prepared ahead of time has allowed me to spend more time with the kids when they get home from school. We also save money by ordering take out out less during the school week since we already have a meal prepped/planned.
Tips for preparing Crockpot Freezer Meals:
Making freezer meals for a month can be overwhelming. Follow our easy tips for preparing the crockpot recipes. The work will all be worth it when you don't have to worry about what to make for dinner all month long.
The Best Crockpot: First you'll need a crockpot. I purchased a 6 qt  programmable Hamilton Beach Slow Cooker in 2015, and have been using it ever since. I can set the cooking temperature on high or low and select a cook time. Once the time is up it automatically switches to warm. This particular crockpot also comes with a probe that I don't use too often but it is great for larger roasts, or whole chickens. Once the internal temp reaches your desired temperate it switches to warm mode.
Shop the grocery store sales: Shop the grocery store deals to stock up on meat. I then cut off the fat and freeze chicken breasts individually using fold top sandwich bags. Once individually portioned I place about 6-8 in a gallon zip lock bag with the date and freeze. When I'm ready to prep my crockpot freezer meals I can just grab 2-4 chicken breasts depending on the recipe. I do the same thing with 1 lb portions of ground beef and pork chops. Using the fold top sandwich bags, the meat  doesn't get freezer burn like the store bought packages with Styrofoam. I'm not forced to use the whole package if I don't need to.
Print Recipes / Make Grocery List. Search for meal ideas, and print your favorite recipes. Make a shopping list based on what ingredients you will need.
Prepare all of the freezer crockpot recipes in one day. Cut, wash, & chop up veggies. Brown ground beef if needed.
Write the directions and cook time on a gallon sized freezer bag.
Baggy clips! If you don't have a second set of hands to help fill the bags, these baggy clips are great and hold the freezer bags open so you can easily fill them.
Use crockpot liners: Reduce the amount of time you spend cleaning up after dinner by using crockpot liners.
Over 35 easy freezer crockpot meals that include printable recipes.
Crock Pot Chicken Recipes:
Black Bean and Corn Salsa Chicken
Cheesy Chicken Potato & Broccoli
Crock Pot Pork Recipes:
Crock Pot Beef Recipes:
Crock Pot Vegetarian Recipes:
Crockpot freezer meals are also great to have in the freezer for when new baby arrives, to drop off to grandparents or for summer months when it's hot and you don't want to heat up the house with the oven.
You may also like: