It has been four months since we received our Maytag Bravos XL Washer & Dryer and each day is still as exciting as the first. This Maytag pair has really impressed me, the quality and durability is amazing and the duo never ceases to amaze me. I love how my laundry time is cut in half due to the amount of clothes that it can hold, I still can't get over how much I can fit in the washer.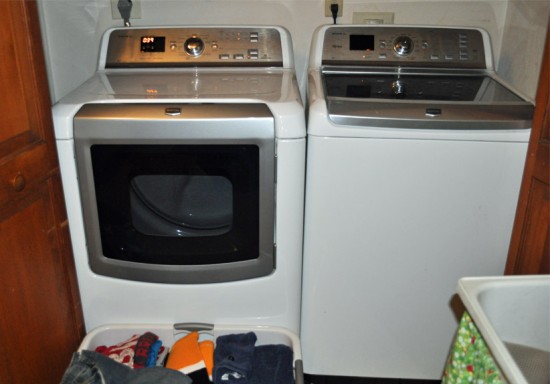 Maytag continues to offer the same dependability with the washers and dryers that my parents grew up with but they have also incorporated technological advances to help simplify laundry time. This pair is different then any other washer & dryer I have used, and has far more options available. One of my favorite features that I have never seen before is the Allergen Cycle, which eliminates 95 percent of common household allergens. Both my son and I suffer from allergies all year long, and this has been a great feature. Not only can I help to remove the allergens from our clothing, but also from our bedding that we are constantly laying on.
I never thought I would own a washer and dryer that sang to me….
That's right, they sing. When you turn the washer or dyer on or off or open the door it plays a little tune. It's not a must have for a washer machine, but it sure is a nice touch. The boys love it and so does mommy, it's the simple touches in life that can mean the most, like hearing a little tune and smiling when I'm about to do laundry.
With the boys always opening the lid to help me with the laundry to listen to the tunes, the washer's SmoothClose feature allows the lid to close slowly, preventing squished fingers.  It's little things like the SmoothClose feature that make me fall in love with a product even more, not only are they helping to protect my fingers, but also those of my children when they are helping me.
I usually wash most of our clothing on warm water, but lately I have been using cold. The Cold Cycle of the HE washer provides the cleaning performance of a warm water wash cycle, but helps to save on the energy costs of using warm water, cutting down your bill but offering the same performance.
One last feature that I love is the bulky option, and being able to wash our king sized comforter.  Previously it would only fit in the extra large washer at the laundry mat, and boy what that a pain having to go there every couple of weeks, lugging it in and then waiting around for it to wash and then dry.
I still can't get over how much room is inside the washer, can you fit 14 towels in your washer?! You can with the Maytag Bravos XL!
Double the clothes, half the time – perfect for this busy mom.
Although I personally prefer top load, Maytag offers HE laundry pairs in both top and front-load options at every price point. Visit Maytag for more information and to view their selection.
Disclosure: I wrote this post participating in an Maytag Moms Dependable Laundry Ambassador program by Mom Central Consulting on behalf of Maytag. I was provided with the Maytag washer and dryer set to facilitate my post.