Rainbow waffles are a magically delicious way to start off your day. These colorful waffles are perfect for Sunday brunch, birthday parties, sleepovers, or for St. Patrick's Day breakfast. The kids will agree, rainbow food is fantastic!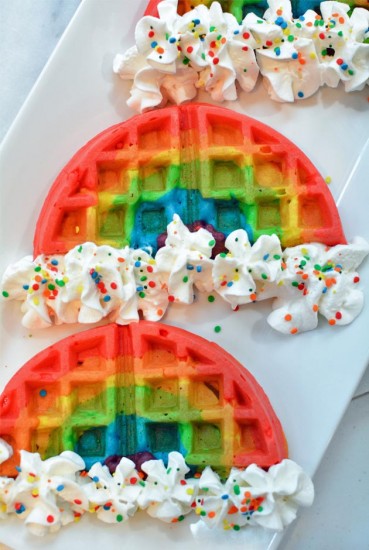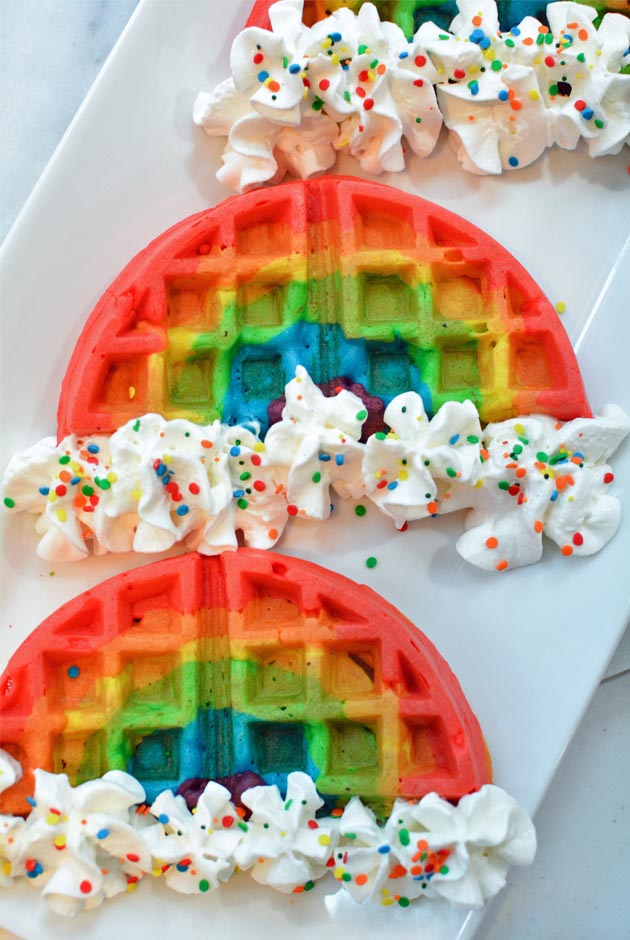 Rainbow Waffles
Who knew waffles could cause so much excitement first thing in the morning!
Belgian Waffles are my oldest son's top choice when it comes to breakfast time. He would eat waffles 7 days a week if I let him; plain waffles, blueberry waffles, chocolate Belgian waffles, or his ultimate favorite – smores waffles. With St.Patrick's day coming up, I knew he'd be excited for these Rainbow Waffles.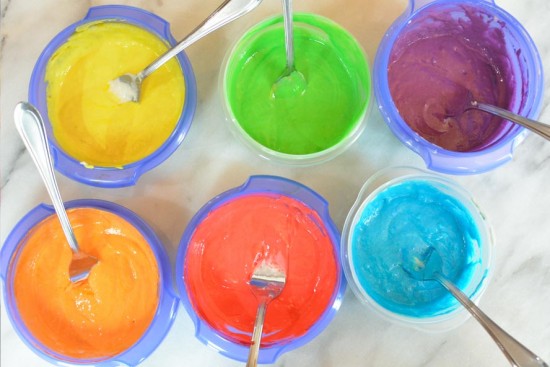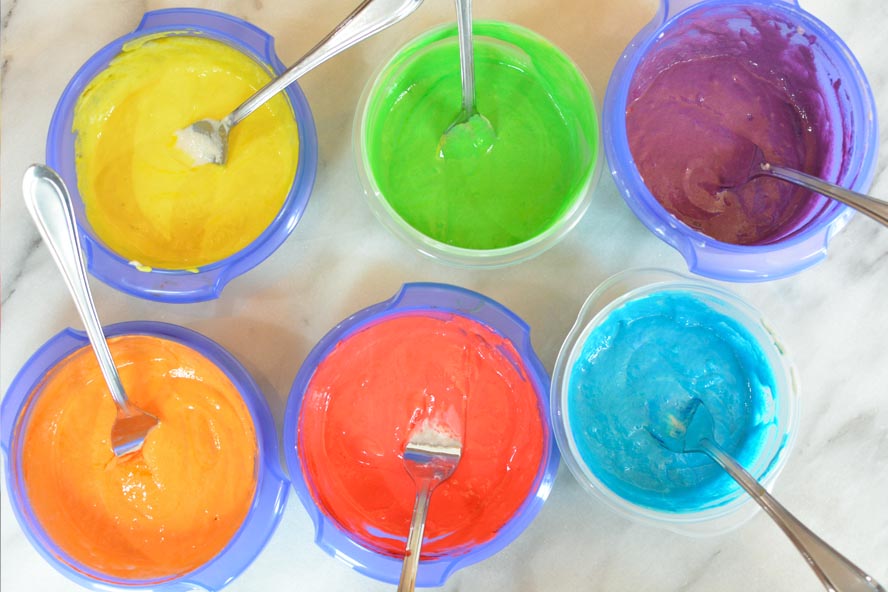 How to make Rainbow Waffles:
Make sure to have all of the ingredients on hand including waffle mix, food coloring, bowls, waffle iron, whipped cream and sprinkles.
Prepare waffle batter (homemade or box) and separate into six separate bowls. Add a couple drops of food coloring to each bowl until you get your six rainbow colors: yellow, green, purple, orange, red, and blue. I use the Wilton Color Right Performance Color System for food coloring.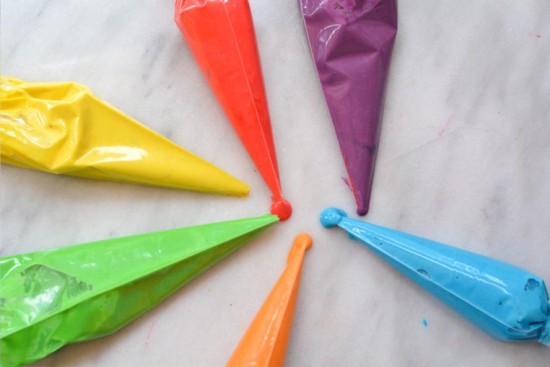 Pour each bowl of waffle batter into a piping bag and cut off a small portion at the tip. If you do not have a piping bag you can use a ziploc bag.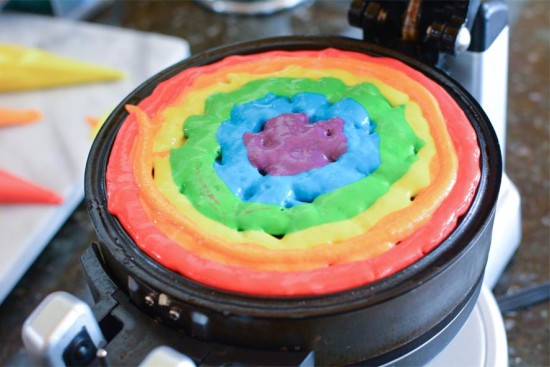 Pre-heat the Belgian waffle maker and spray with non-stick cooking spray (if needed). Once pre-heated, start in the center and pour a small amount of purple waffle batter. Then in a circular pattern follow with the blue batter and repeat for the green, yellow, orange and red waffle batter. Make sure to fill all of the deep pockets, but don't overfill or the batter will leak out. Close & cook the rainbow waffle according to directions on your waffle maker.  We have this double Belgian waffle maker and it beeps once the waffle is done.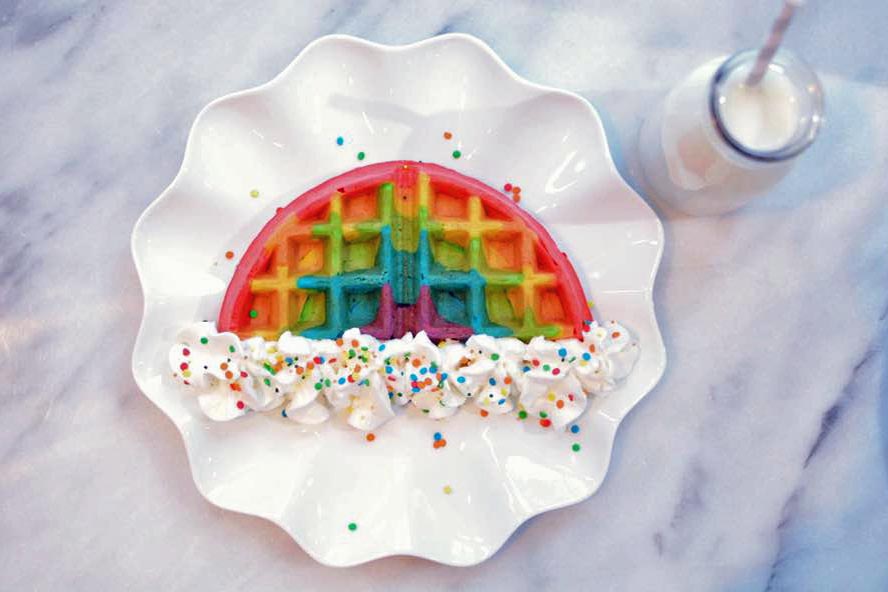 Once your rainbow waffle is finished cooking, cut it in half and serve it with whipped cream clouds topped with rainbow sprinkles.
Favorite products to make Rainbow Waffles:
Waffle Mix– I tend to reach for Aunt Jemima, if I want to save time and not make homemade waffles.
Reddi-wip Whipped Dairy Cream Topping – to make fluffy clouds
Food Coloring – the Wilton Color right system includes a handy chart that tells you how many drops of each color to use
Rainbow sprinkles – the sprinkles used in the photos I purchased from Walmart, but you can find rainbow sprinkles on amazon or at your local craft store also.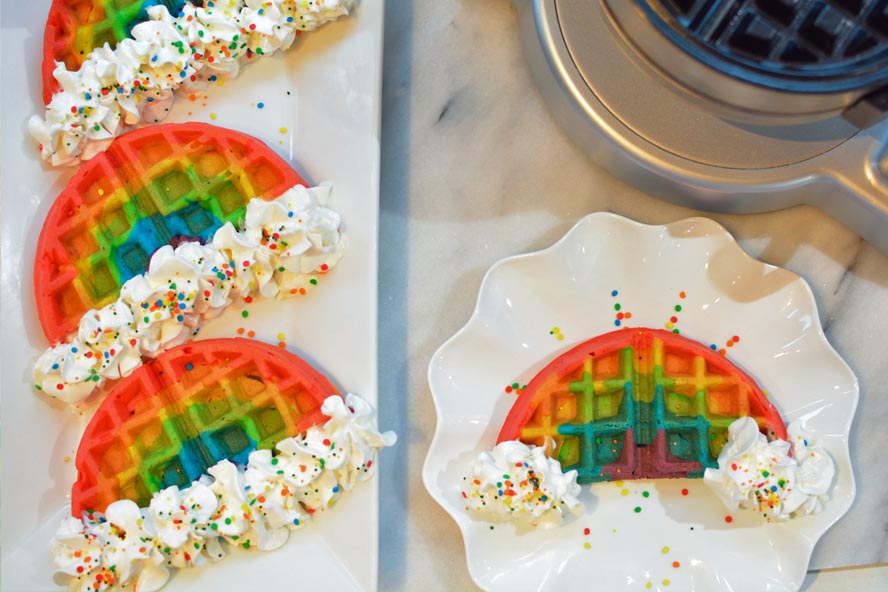 You may also like