While I enjoy snaking on mozzarella sticks, chicken fingers, and fries on game night, I am not a fan of seeing all of the oil that they are deep-fried in with our conventional fryer and the smell that it gives off.  Thanks to the Philips AirFryer
I can now fry, grill, bake and roast some of our favorite dishes with ½ tablespoon of oil or less.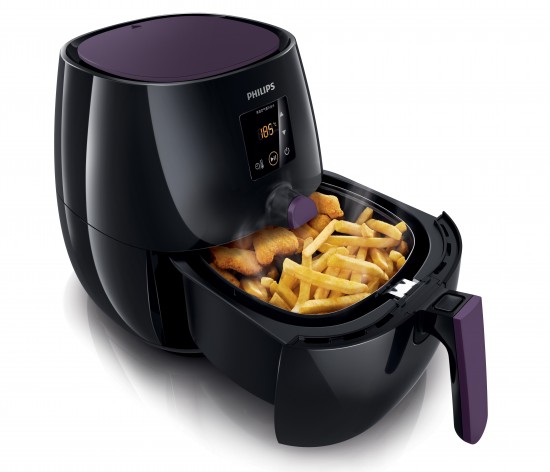 Last month was invited to try the innovative new kitchen appliance while attending a virtual event with MasterChef winner, Luca Manfé. While streaming the live event  I was able to bake a breakfast frittata alongside Luca Manfé using the Philips AirFryer. I was amazed at how easy and quickly it was to bake.

Use Your Air Fryer For Breakfast
This morning I made a breakfast frittata with green and red peppers, onions and mozzarella cheese since we were out of feta, all before I had to get J on the bus for school. I tend to stick with easy breakfast items like cereal, but now I can easily place all of the ingredients into the AirFryer and put the timer on for 10 minutes and the frittata cooks while I get the kids ready for school. It's nice being able to sit down and enjoy a warm meal without a lot of prepping or a big mess to clean up.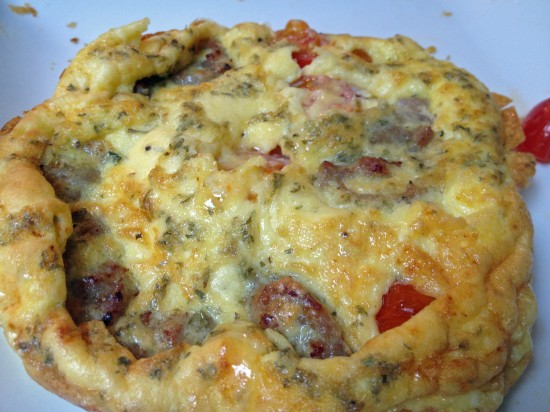 The rapid air technology allows for healthier frying, and also creates less smell than conventional fryers. Families can now enjoy some of their favorite meals and snacks in half of the time with less fat. I used to put off frying the french fries and onion rings knowing my house would soon reek and I'd have to open every window. This week not only have we enjoyed crispy fries without all of the oil, but we have also made crispy grilled cheese, homemade jalapeno cheese sticks, and chicken legs. Instead of lugging out the grill, I coated the chicken legs with flour, egg, and panko crumbs then put them in the AirFryer with the timer on. I got distracted with the boys but I didn't have to worry about them over cooking, since the AirFryer shuts off once the timer is done.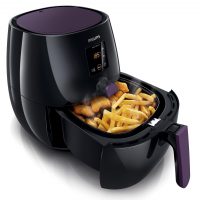 Ingredients
Philips Airfryer

Philips Airfryer baking accessory

3

eggs

½

Italian sausage

4

cherry tomatoes

in half

1

tablespoon

olive oil

Chopped parsley

Grano Padano cheese

or parmesan

Salt/Pepper
Instructions
Preheat AirFryer to 360°.

Place cherry tomatoes and sausage in the baking accessory and bake at 360° for 5 minutes.

In a bowl small bowl add remaining ingredients and whisk together.

Remove the accessory from fryer and add egg mixture. Bake for another 5 minutes.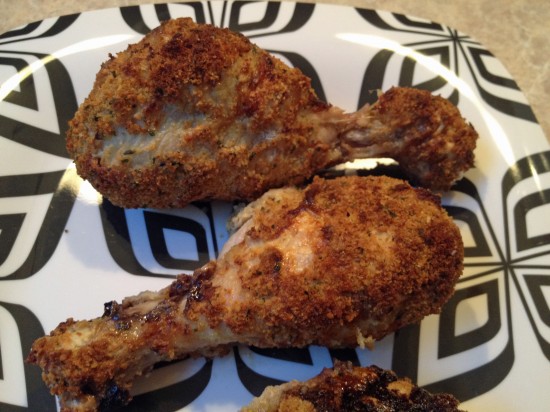 A little more about the Philips AirFryer:
Combines fast circulating superheated air, starfish design and optimal heating profile to fry meals quicker & healthier without all of the added oils.
Versatile cooking: bake, fry, grill, or roast
Digital touchscreen makes it easy to select the cooking time & temperature from 180°F to 390°F.
60-minute timer, with auto shutoff once finished
Easy to clean up: Removable nonstick coated drawer and the food basket are dishwasher safe.
Double layer accessory – cook twice the food, or two different foods at once.
Includes recipe booklet.
We're looking forward to enjoying many more meals and snacks with our AirFryer, it is easy to clean, allows me to cook in a healthier way and is economical for daily use.
Where to buy a Philips AirFryer?
The Philips Air Fryer and additional accessories can be purchased on Amazon
.
Additional Air Fryer Recipes:
You may also like How to Make Air Fryer Chicken Tenders