Slow Cooker freezer meals are an easy way to simplify dinner time with kids. The dump & go make ahead slow cooker meals help to save time during the busy week and save money for those on a budget. With these 7 slow cooker freezer meals you can come home to a warm dinner every night of the week. No more trying to figure out what to make for dinner.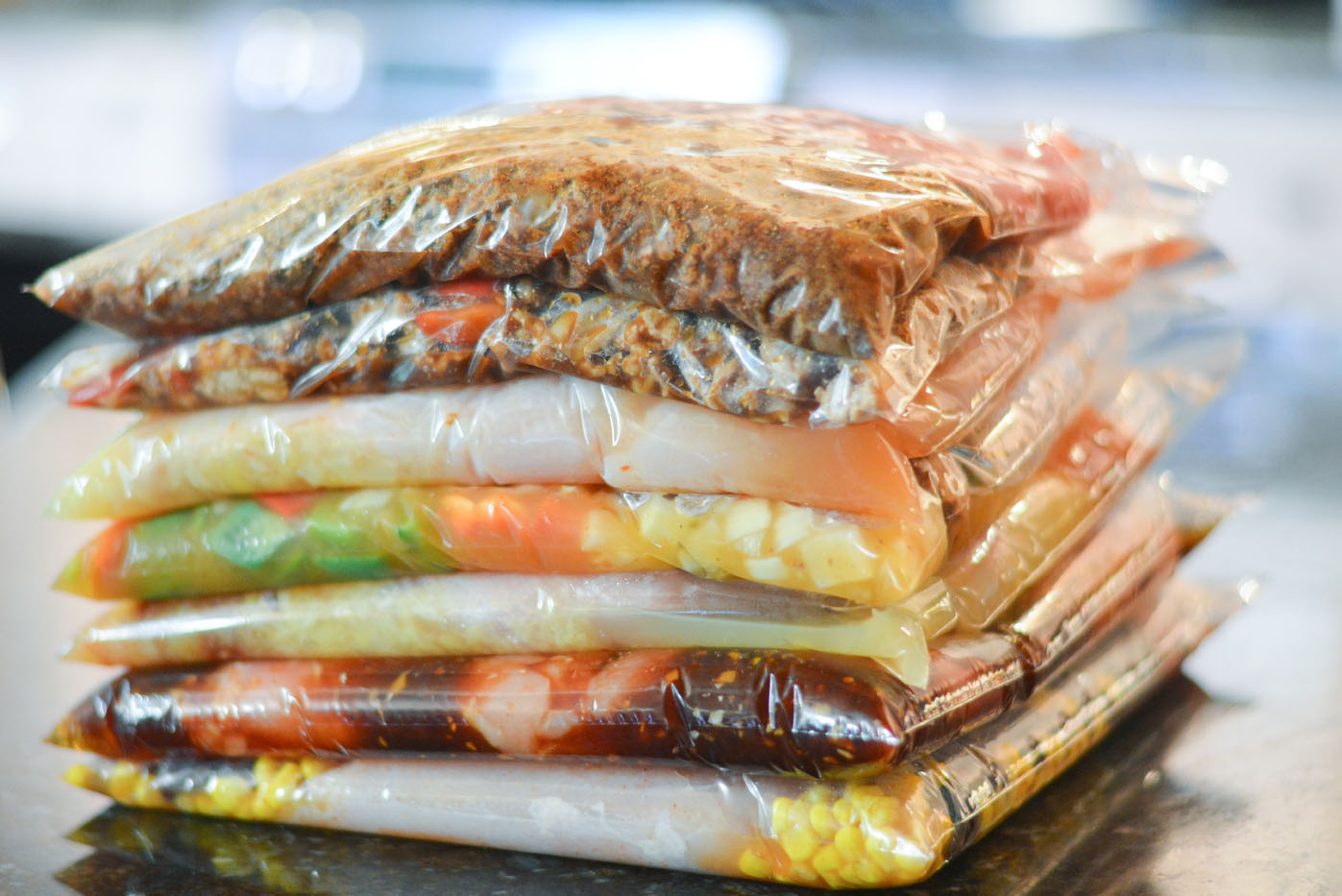 To help with the after school rush and busy afternoons I've turned to making freezer to slow cooker meals.  As a busy mom, the freezer meals have been a lifesaver. Not only do they save money as we eat out less often, but they save time as the ingredients already prepped in freezer bags. All I have to do is empty the freezer bag into the crockpot, set the temperate and let slow cooker do the rest.
Make Ahead Freezer to Slow Cooker Meals:
I don't have to figure out what to make for dinner every night, I can just thaw a slow cooker freezer meal, empty it into my programmable Hamilton Beach crock pot, set the temperature and timer. I dedicate one afternoon to meal prep when the baby is down for a nap. This past week I made 7 healthy freezer slow cooker meals, and with two of them already eaten this week, I plan to make another 15-20 to stock the freezer.
When the freezer starts to get low, I start getting together another meal plan. I'll gather a list recipes, make a grocery list, and head to the store.
Tips for Making Freezer to Slow Cooker Meals:
Make ahead freezer to slow cooker meals save time and money. Follow our tips for a stress free meal prep.
Keep an eye on your grocery store sales to stay on budget. I like to stock up chicken breast, pork chops, and ground beef when it's on sale. I'll freeze all the meat in individual portions using fold top sandwich bags.
Set aside 2-3 hours one day a month and prep every slow cooker meal.
Print recipes and make a shopping list.
Writing out the name, directions and cooking times on each freezer bag.
Chop up all of the vegetables and cook the meat if needed.
Start filling the bags. – If you don't have an extra set of hands, these bag holders are amazing and hold the ziploc bag open
You can prep healthy slow cooker meals for a week or even a month of meals in just a couple of hours. By preparing all of the meals ahead of time you'll have an flavorful family dinner whenever you need i, without all of the work.
When the freezer starts to get low on slow cooker freezer meals, I start getting together another meal plan. I'll gather the meal prep recipes, make a grocery list, and head to the store. Some of our favorite freezer meals are beef stew, and slow cooker chicken recipes. Since chicken is budget friendly and usually on sale, I tend to make a lot of recipes with chicken breast or boneless thighs.

These slow cooker dump meals are ready when I need them whether it's before a sports practice, in between or after a game, or on a day when I don't feel like spending time preparing dinner. It's such a nice feeling coming home a warm cooked meal after spending the afternoon at the hockey rink or soccer field.
Freezer Meals for New Parents:
When you're getting the house prepared for baby's arrival, you can also stock the freezer with make ahead meals. During your first couple of weeks home, you won't have to focus on what to make for dinner, you'll well-stocked freezer with healthy meals. Freezer meals also make a great gift for new moms and dads.
7 Make Ahead Slow Cooker Freezer Meals:
Chili
Honey Sesame Chicken – served with steamed green beans
Asian Chicken Wraps
Hawaiian Chicken
Pineapple Chicken Burritos
Sweet and Sour Meatballs- serve over brown rice
Shredded Tex-Mex Chicken – nachos, tacos, chicken enchiladas
*Tip: Make cleanup a breeze with these freezer friendly meals by using a crockpot liner. The Slow Cooker liners make cleanup as easy as 1-2-3! Simply take the liner off of the crock pot and toss it in the trash. No scrubbing involved.
Scroll down to print the Slow Cooker recipes and make a grocery shopping list.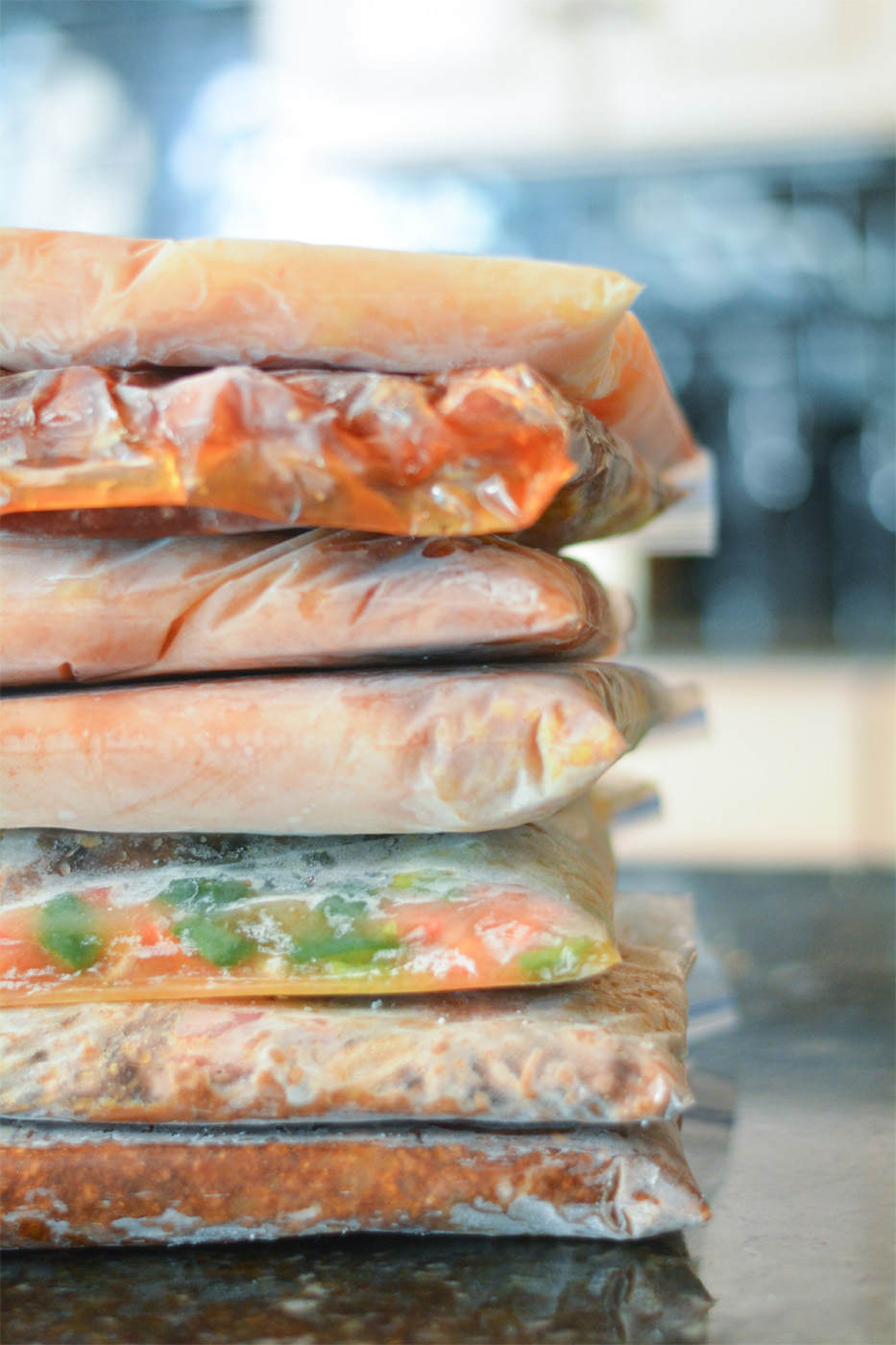 Slow Cooker Ground Beef Chili:
Ingredients:
ground beef
onion
garlic
can of tomato sauce
can of diced tomatoes
red kidney beans
beef broth
chili powder
cumin
salt
pepper
Honey Sesame Chicken
Ingredients:
chicken thighs
honey
soy sauce
sesame oil
olive oil
minced garlic & onion
crushed red peppers
cornstarch
water
sesame seeds
green onions
Slow Cooker Asian Chicken Lettuce Wraps
ground chicken
onion, red pepper, lettuce, green onions
brown rice, water chestnuts
garlic, salt, pepper,
hoisin sauce, soy sauce, rice vinegar, sesame oil
Hawaiian Chicken
crushed pineapple
barbecue sauce
chicken breast
Sweet & Sour Meatballs
red pepper
green pepper
onion
pineapple tidbits
frozen meatballs
Chicken Burritos
chicken breast
crushed pineapple
black beans
salsa
enchilada sauce
shredded cheddar/monterey jack cheed
white or brown rice
flour tortillas
Shredded Chicken Tacos
chicken breast
corn
black beans
rotel
taco seasoning
Printable Grocery List:
Print the grocery shopping list for these crockpot freezer meals.
More Family Dinner Ideas:
Looking for more slow cooker recipes and make ahead meals to freeze for new moms, check out our list of 30 additional crockpot freeezer meals.