Disclosure: Samples provided. All opinions are my own personal and honest thoughts.
Jacob & Tyler have been anxiously awaiting the release of Planes on Blu-ray for the past few months. We missed it in theaters, so after seeing numerous commercials and toys they have been asking me non stop if it's on T.V. yet. I was going back and forth on surprising them with Planes for Christmas, but I couldn't hold out that long. I decided to surprise them with Planes on Blu-ray for our family movie night, boy were they excited!
Planes on Blu-ray, is sure to be a hit this holiday season!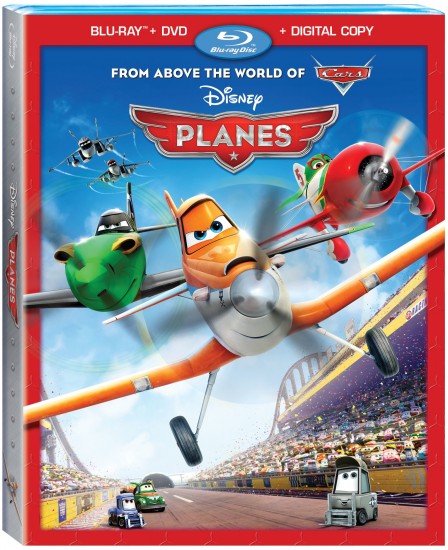 Disney's heartwarming family comedy, "PLANES," revved up with high-flying action and adventure, lands in homes and mass retailers nationwide on November 19th.  This endearing underdog story about a crop dusting plane named Dusty with sky-high dreams touches down on Blu-ray, DVD, Digital HD and On-Demand featuring a cargo hold full of exciting bonus features. Guaranteeing hours of fun, "PLANES" is the perfect gift for "ladies and gentle-planes" of all ages this holiday season.
After spreading its wings in theaters, "PLANES" soars to glorious new heights on Blu-ray, featuring wondrous high definition picture and sound and never-before-seen bonus features, including musical number "Franz's Song," deleted scenes, a behind-the-scenes featurette that follows Director Klay Hall's personal journey during the making of the film, a look at the ten greatest aviators in history hosted by ESPN's Colin Cowherd, and more.
Directed by Klay Hall ("King of the Hill," "The Simpsons"), produced by Traci Balthazor-Flynn ("Return to Never Land," "Bambi II," "The Little Mermaid: Ariel's Beginning") and written by Jeffrey M. Howard ("Tinker Bell," "Tinker Bell and the Great Fairy Rescue"), "PLANES" flew to the top of the U.S. box office this summer, holding altitude as the #1 family movie in America four weekends in a row.
Bonus Features:

(Blu-ray, DVD and Select Digital Retailers)
Exclusive Franz's Song (approx. 1:40) – Blu-ray & Select Digital Retailers
Klay's Flight Plan (approx. 15:00) Blu-ray, DVD & Select Digital Retailers
Deleted Scenes (approx.. 3:46) Blu-ray & Select Digital Retailers
Training Montage (approx. 2:38)
Taj Mahal (approx. 1:08)
Meet the Racers (approx.. 5:50) Blu-ray, DVD & Select Digital Retailers
Top 10 Flyers (approx. 8:00) Blu-ray & Select Digital Retailers- ESPN's Colin Cowherd hosts a fun, fast-paced countdown of the greatest aviators in history.