This post is brought to you in partnership with PetArmor and Mom It Forward Blogger Network.
Now that the weather is warming up and families are starting to spend more time outside we're starting to become more aware of ticks. While there are steps to prevent getting ticks on ourselves, there is also ways to protect our pets. For us, the 15th of the month is is flea & tick protection time, a time to apply a new dose on each of our dogs. We chose the 15th years ago when we adopted our two dogs, and now it's just part of the routine. Protecting our dogs from fleas and ticks is now easier with PetArmor Plus IGR for dogs.
PetArmor Plus IGR kills adult fleas, ticks, flea eggs and chewing lice. It contains fipronil which is the number 1 veterinarian-recommended active ingredient used in FRONTLINE® brand products as well as Novaluron, an Insect Growth Regulator (IGR) that kills flea eggs and stops the reinfestation cycle. I have heard about fleas and their eggs living inside in the rugs, carpets, and bedding, but didn't realize they could live outside as well in the grass, in the soil and in the cracks in sidewalks. Did you know fleas can live outside?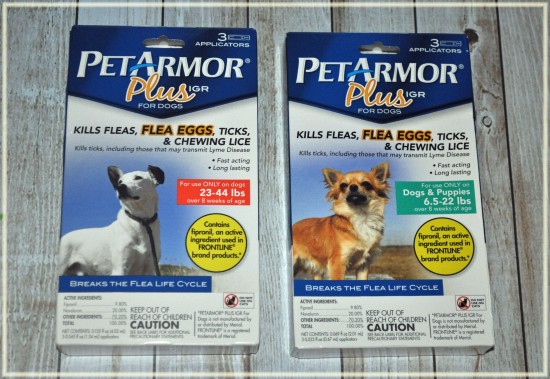 The fleas and ticks not only harm pets but they can harm humans as well. Fleas can transmit tapeworms and worms can carry the bacteria that causes Lyme disease. Being a responsible pet owner, means protecting them from fleas, ticks, and chewing lice.
When purchasing flea & tick prevention there are a few important questions to ask yourself:

Am I buying the right product for my pet's species: dogs vs. cats?
What is my dog's weight?
What is my dog's age? Is the puppy over 6 weeks?
There are numerous doses available depending on the dog's weight so it's important to check your dogs weight to make sure you are purchasing the correct dose. We have to purchase two different varieties since our dogs fall into two different weight categories, 6.5-22 lbs and 23-44 lbs. It's also important to never split the tubes between dogs, and never to apply multiple tubes on one dog. If you have multiple dogs,  separate the treated dog from all other dogs and cats for 24 hours once  the treatment has been applied.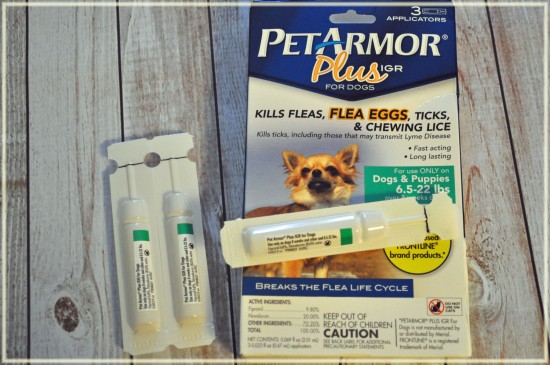 How to apply PetArmor Plus IGR for dogs:
Remove the tube from the package.
Hold the tube with notched end pointing up and away from the face and body. Use scissors and cut off the narrow end at the notches along the line.
Invert tube over dog and use the open end to part dog's hair down the middle.
Squeeze tube firmly to apply all of the solution to dog's skin from the back of the neck to midway between the neck and the tail
Repeat no sooner then 30 days
Where to purchase PetArmor Plus IGR for dogs:
PetArmor Plus IGR for dogs is available at Walmart and Walmart.com,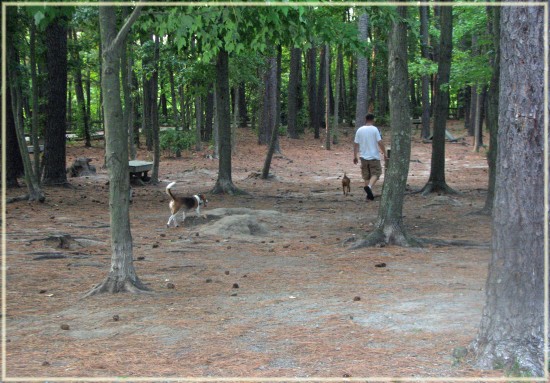 For more information about protecting your pet from fleas and ticks visit, petarmor.com or connect with PetArmor on Facebook, and PetArmor on Twitter.