Crispy Chicken Tenders is of my favorite air fryer recipes.  The chicken strips are covered in Panko Crumbs and air fried to perfection. Serve the air fried chicken tenders smothered in your favorite buffalo or BBQ sauce or serve them plain with dipping sauce.
 
The BEST Air Fryer Chicken Tenders
I have a weak spot for crispy chicken tenders. I could eat them almost daily with my favorite garlic Parmesan dipping sauce or in a Buffalo Chicken Wrap. But I know how unhealthy they can be when soaked in all of that oil, so I've been using my Philips Air Fryer to enjoy one of my favorite appetizers, without all of the oil. These Air Fryer Chicken Tenders made with panko bread crumbs  are my go to and are air fried with just a little bit of olive oil. The chicken strips in this air fryer chicken tenders recipe come out super crispy, just like they've been fried in a deep fryer.
What temperature do I cook the chicken at?
330 degrees F, you'll want to preheat your air fryer to get it at the correct tempurature.
How long to cook chicken tenders in airfryer?
Once the air fyer is preheated to 330 degrees F, air fry the chicken strips for 12-14 minutes. Or until the outside is golden brown and internal temp reaches 165 degrees.
Can you make this

air fryer panko chicken

recipe with chicken breasts or drumsticks?
Yes, you can! My kids love homemade chicken tenders and if I don't have chicken tenderloins in my freezer, I slice the boneless chicken breasts into large strips, in the shape of a chicken tenders. You can also coat the chicken drumsticks in the breaded mixture and air fry. Since chicken legs are low cost, they're easy on the budget.
What kind of Panko bread crumbs do I use?
I typically use the plain panko bread crumbs that can be found at my local Walmart or Amazon. You can also use seasoned panko, like Lousiana Styled or Italian Seasoning.
What to Serve With Air Fried Chicken?
Spaghetti Squash ( we love it baked with a little bit of tomato, basil & mozzorella)
Mac and cheese
potato salad
corn on the cob
What Air Fryer is the Best?
Is an air fryer on your wish list? There are so many on the market, and a few things to keep in mind when choosing the best air fryer. When shopping for an air fryer, take into account the amount of people you plan to cook for. If you plan to use the air fryer to cook for a family, I would recommend purchasing an XL or XXL version. Otherwise you will have to cook in batches as the basket on the 2.75 qt air fryers are on the small side.
Also see what else is included, like a baking dish. The baking dish is great for making breakfast fritattas and one less accessory you will have to buy if it is included.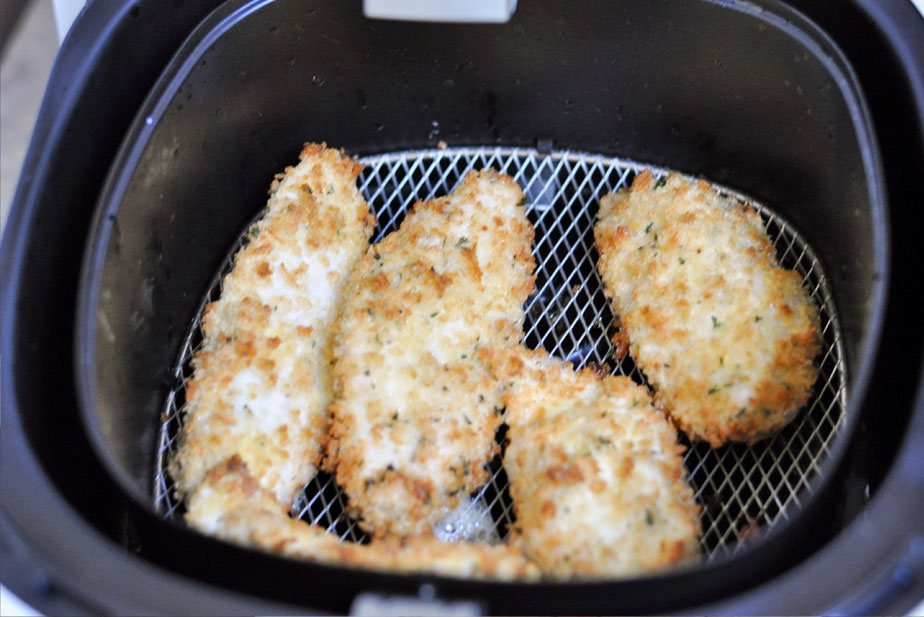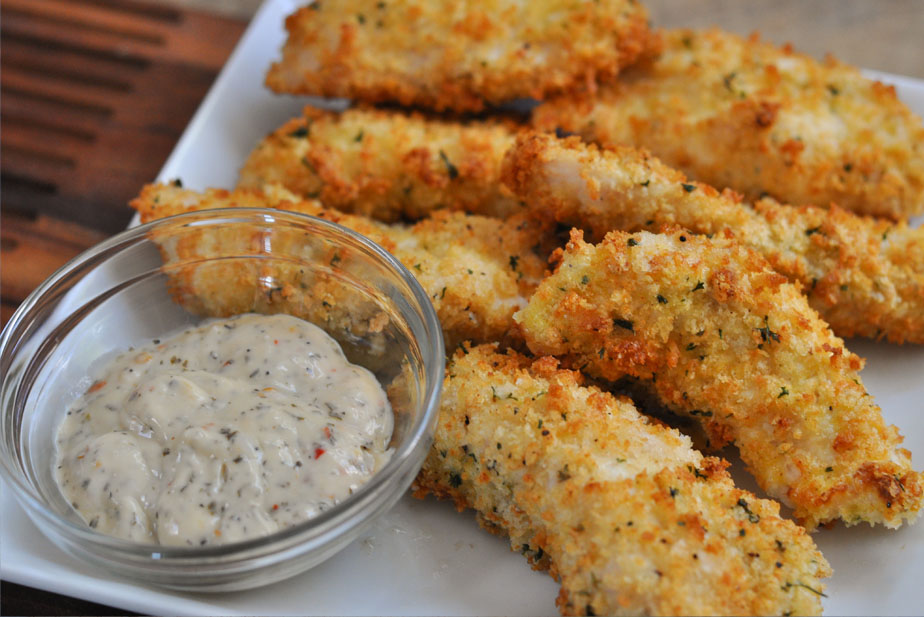 How to make chicken tenders in air fryer: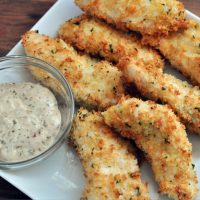 Air Fryer Chicken Tenders
Crispy Chicken Tenders is of my favorite air fryer recipes. The chicken tenderloin are covered in Panko Crumbs and air fried to perfection.
Course:
Appetizer, Main Course
Keyword:
Air Fryer, Chicken
Ingredients
1

lb

chicken tenderloin

3

eggs

beaten

1/3

cup

Panko crumbs

1/2

cup

all-purpose flour

1/2

tsp

salt

1/2

tsp

pepper

2

Tablespoons

olive oil
Instructions
Preheat AirFryer to 330 degrees F

Place flour, egg, and panko crumbs in three separate bowls

Add salt, pepper, and olive oil to the Panko crumbs, mix well

Dip chicken in the flour, then the egg, then the Panko crumbs until evenly coated

Place in the cooking basket in the air fryer. You'll need to cook in batches.

Fry for 12-14 minutes. Or until golden brown and internal temp reaches 165 degrees.

Remove chicken from air fryer.

Toss with your favorite sauce or serve with dipping sauce.
Did you know you can also make breakfast in the Air Fryer? Check out our recipe for a breakfast Fritatta.