Thank-you to TOMY for providing the new Miles From Tomorrowland toys.
Calling all Disney Junior "Miles from Tomorrowland" fans, check out these Miles from Tomorrowland Toys just in time for the season 2 premier! Blast off with the all new Season 2 with a new and exciting theme…GALACTECH! Galactech gives the Callisto family the ability to instantly upgrade spacesuits, gadgets, and vehicles to take on new and exciting adventures.
In addition to the hit Disney Junior TV show debuting it's first Season 2 episode last week, TOMY is bringing space adventure to life with its toy line that captures the sense of wonder and exploration" The product line encourages STEAM learning and inspires children to use their imagination to recreate adventures from the TV episodes or to discover new stories for Miles Callisto and his family and friends.
New Miles from Tomorrowland Toys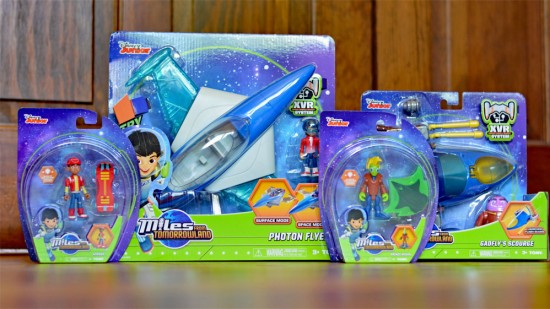 Knowing that Trevor would be having adenoid surgery, I kept the box of Miles from Tomorrowland toys a secret for a few days so that it could help brighten his day post-op. After hearing him watch "Miles From Tomorrowland" on his iPad on the way to the hospital I knew that he would be excited to see the all new characters and vehicles.  His eyes lit up upon opening the box, and he couldn't get to get his hands on the new vehicles and characters – Rygan and Haruna.
Photon Flyer and Gadfly's Scourge: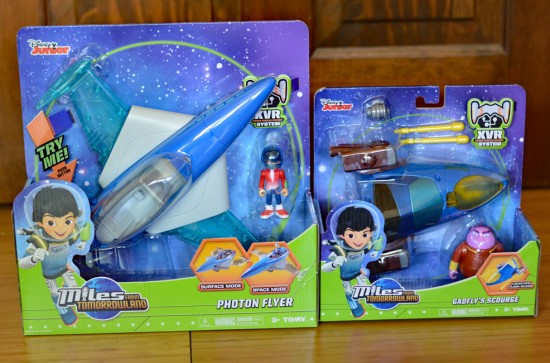 Gadfly's Scourge: Lunches flash beams & includes a poseable Gadfly Figure
Photo Flyer Vehicle: Transforms into 3 modes: Surface mode, Space mode and Hyperspeed mode. Includes Miles Callisto figure.
Two new figures: Rygan and Haruna: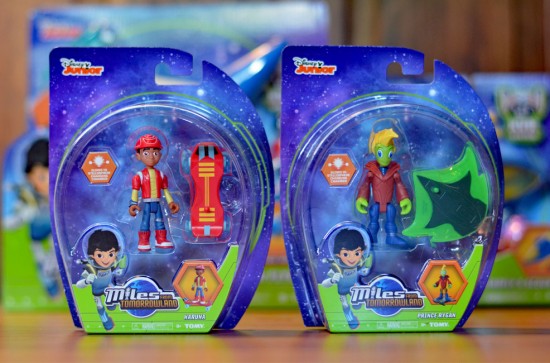 Haruna: Comes with skateboard accessory
Rygan: Comes with Blast board accessory
Miles from Tomorrowland toys are sure to bring new adventures into your home.