Who knew crockpot meals could become even easier to make! A few years ago I decided to make prep a week of crockpot freezer recipes and I have been hooked ever since. Today I'm sharing a month of crockpot recipes, that's 31 easy dinner ideas for chicken, fall off the bone ribs, stews, mac & cheese and soups.
These simple and kid friendly slow cooker recipes save time allowing you to spend more time with your family and not in the kitchen. Almost all of these recipes can be made into freezer meals, saving time during the busy week.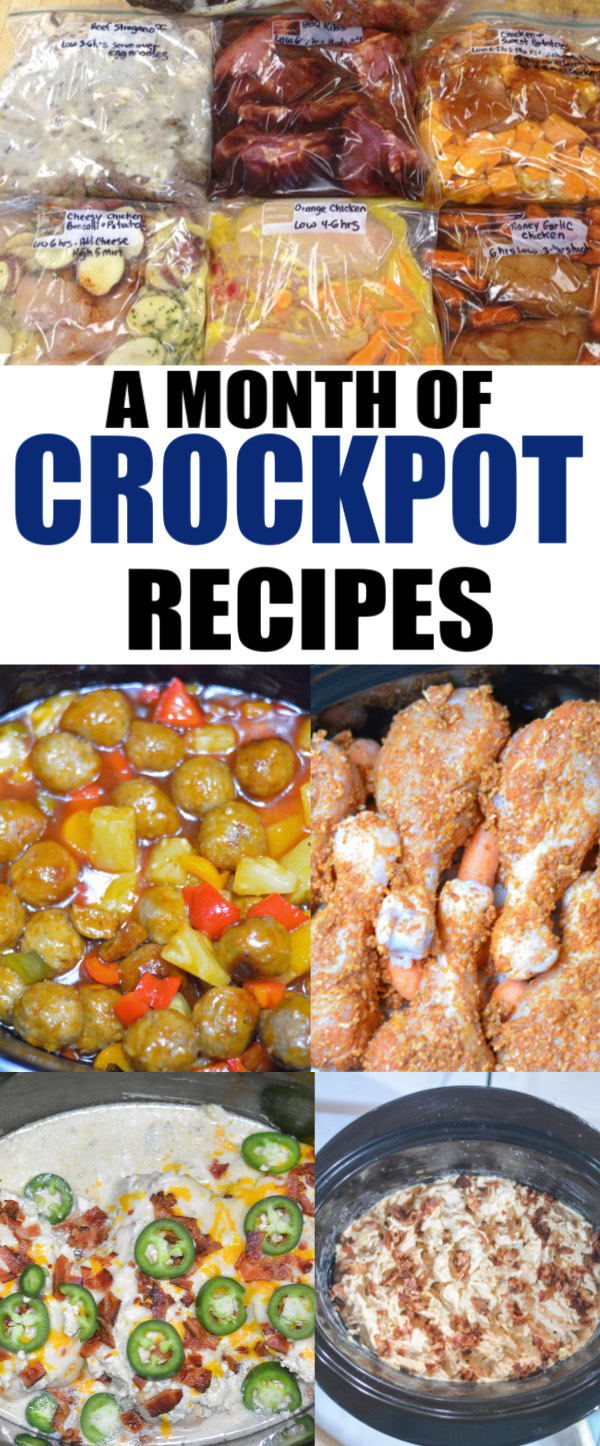 This site uses ad networks and affiliate links to generate revenue.
Who doesn't love coming home to a warm family dinner sitting in the slow cooker and ready to be eaten? After a long day of work and running around with the kids, you can walk in the door to a home cooked meal that the whole family will enjoy, even the toddlers!
My crock-pot is one of my most used kitchen appliances, and it has a permanent spot on my kitchen counter. I bought a programmable one off of Amazon about three to four years ago and have been hooked ever since. I set the cook time or thermometer temperature, and once it is finished cooking the crock-pot will switch to warm which is great if I'm out later than intended.
Most of these crockpot meals are dump and go style. Dump the ingredients into the crock-pot first thing in the morning, the slow cooker does all the work and by 5pm, dinner is ready to be served.
31 Slow Cooker Recipes
1. Smothered Chicken Legs – By far the BEST way to cook chicken legs in the crockpot, and one of our favorite slow cooker chicken recipes to make. Chicken drumsticks are covered in a dry rub and are slow cooked on top of carrots and red potatoes.
2. Slow Cooker Pizza Pasta – An easy weeknight dinner that the kids will LOVE. Made with pasta, pepperoni, ground beef and other pizza inspired ingredients, there's no doubt it will become a new family favorite.
3. Crockpot Creamy Garlic Chicken -If you're looking for an easy weeknight crockpot meal, you need to try this creamy chicken recipe. Chicken breast simmers all day in a creamy garlic Alfredo sauce and is tossed with spinach and tomatoes. Serve over your favorite pasta.
4. Slow Cooker Jalapeno Popper Chicken – Turn your favorite appetizer into a delicious dinner with this Jalapeno Popper Chicken recipe. Every bite is loaded with flavors from your favorite appetizer. It is made with just the right amount of heat and topped with cheddar cheese and crispy bacon.
5. Slow Cooker Bacon Garlic Pork Loin -as soon as my kids hear bacon they coming running! This slow cooker pork loin recipe is kid-friendly and mom approved with just 5 ingredients needed. Serve with mashed potatoes and green beans for complete family meal.
6. Crockpot Bacon Chicken Ranch Casserole – Just four ingredients, but bursting with flavor. Serve with greens, over egg noddles, or on a bulkie roll. Low-carb for those on the KETO diet.
7. Crockpot Hawaiian Chicken – A simple family favorite dinner that the kids loved served over rice. Chicken is slow cooked in a sweet & tangy barbecue sauce with fresh or canned pineapples.
8. Slow Cooker Mac & Cheese – Crockpot Mac & Cheese is a creamy, cheesy family favorite! There's no pre-cooking needed for this mac & cheese recipe. This kid-friendly recipe is perfect for busy weeknights and makes an easy side dish for Thanksgiving dinner.
9. Crockpot Beef Stew – The ultimate Beef Stew recipe. This comforting slow-cooked dish is made with chunks of beef, red potatoes, carrots, peas, corn, and a simple blend of broth and spices. This perfect Sunday family dinner can also be made into a freezer meal.
10. Slow Cooker Chicken and Corn Chowder – If you love corn chowder, then you'll love this Slow cooker Chicken and Corn Chowder.
11. Crockpot Mongolaian Beef – This Mongolian beef recipe is so easy to make. The tender flank steak is full of flavor, and it takes just minutes to toss all of the ingredients into the crockpot for a perfect weeknight family meal. Serve on top of rice.
12. Cheesy Chicken Spaghetti – A super easy slow cooker family meal to make during the busy school week. If you love creamy cheesy spaghetti, then this crockpot pasta recipe is for you!
13. Slow Cooker Pork Chop and Potatoes – This set and forget slow cooker pork chop recipe is loved by our family. Simple ingredients and 10-15 minutes of prep in the morning.
14. Brown Sugar Garlic Chicken – A new take on one of our favorite pork loin recipes.
15. Crockpot Barbecue Ribs – Ribs are slow cooked in the crockpot all day in a sweet & tangy bbq sauce. Just a little bit of work and a whole lot of flavor with these fall of the bone ribs.
16. Sweet and Sour Meatballs – One of our most popular recipes made with frozen meatballs. Made with fresh or canned pineapples, sweet & sour sauce and red peppers. Makes for an easy game day appetizer, or family dinner when served on top of white rice, it's perfect for any occassion.
17. Creamy Italian Chicken – A quick and simple dinner that the entire family will enjoy. Chicken is cooked in a creamy Italian flavored dressing, can be served as-is, with your favorite vegetables or on top of egg noodles.
18. Grape Jelly Meatballs– My go-to recipe for potlucks and parties. Such an easy appetizer to feed a crowd, and always a favorite.
19. Crockpot Chicken and Apples – Too many apples leftover from apple picking? Then you'll just have to make this chicken and apple recipe! You won't be disappointed!
20. Crock-pot Nacho Chicken – Taco Tuesday or Sunday family dinner? Set the crockpot and walk away. Serve with corn tortillas and top with your favorite taco toppings.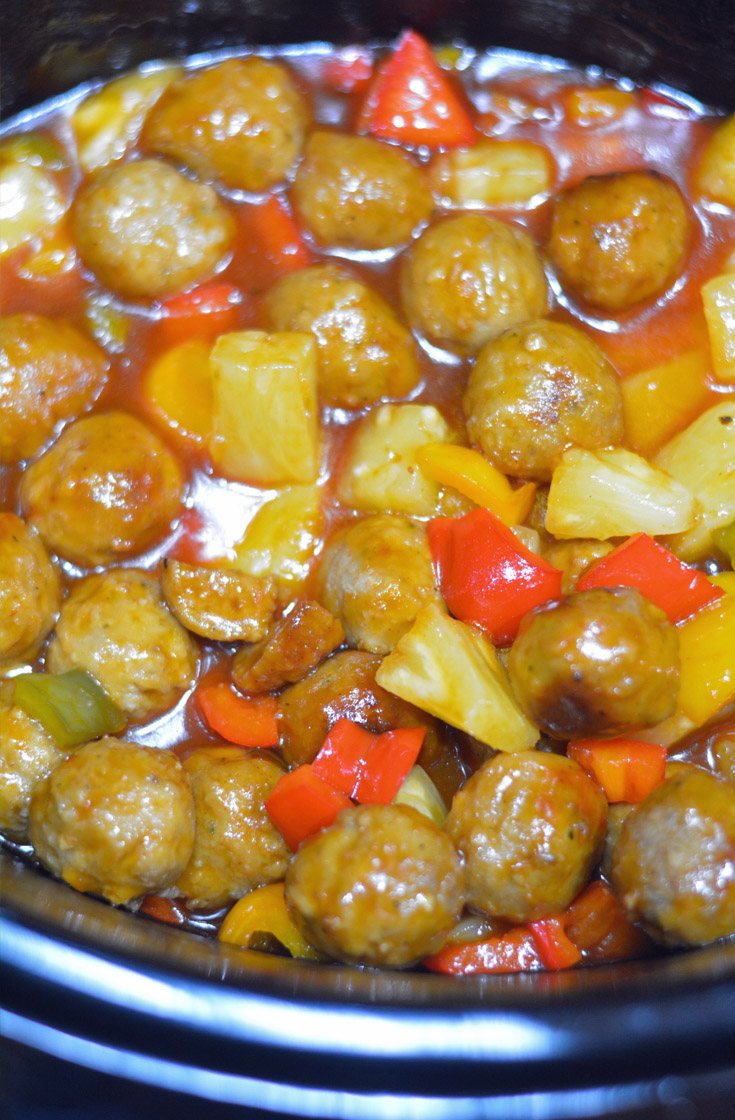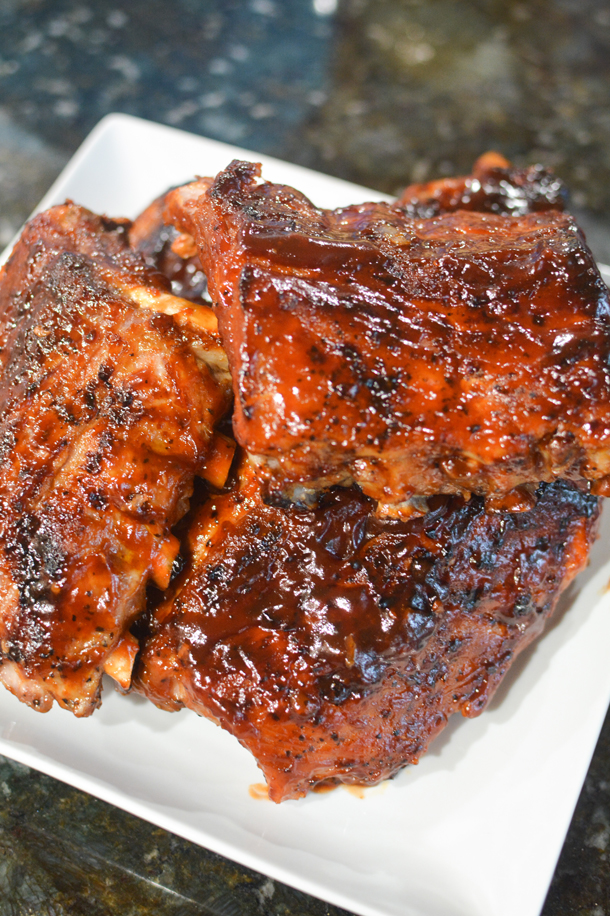 21.
Sausage and Peppers
– Toss the sausage and peppers in the slow cooker for an easy game day recipe, or simple weeknight lunch or dinner.
22. Slow Cooker Lasagna – Layers of lasagna noodles, ricotta, italian sausage and marinara are the perfect combination for an easy Sunday dinner.
23.Slow Cooker Chili – The ultimate comfort food on a crisp winter day. Freeze half in a gallon ziplock bag to reheat at a later time.
24. Butternut Squash Sweet Potato Soup – Colder temperatures calls for soup and comfort. Cozy up on the couch with a bowl of Butternut Squash soup.
25. Crockpot Chicken Teriyaki – This Teriyaki Chicken recipe will quickly become a family favorite! So simple to make and tasty!
26. Slow Cooker Chicken Noodle Soup – Warm comforting soup, perfect for cold weather, or when you're feeling under the weather. My kids love to bring leftover soup to school for lunch the next day in their thermos.
27. Honey Sesame Chicken – A take out classic that is full of flavor, bite sized pieces of chicken are covered in a sweet and savory honey sesame sauce.
28. Crockpot Pulled Pork – This easy pulled pork recipe is perfect for summer barbecues, game day, potlucks and graduation parties. Pork Butt is slow cooked with a homemade spice blend. Add in your favorite BBQ sauce for delicious pulled pork sandwiches, or serve the shredded pork on top of tortilla chips with cheddar cheese for or barbecue pulled pork nachos. Sure to please any crowd on a budget.
29. Crockpot Beef Stroganoff – Love beef Stoganoff? Then you'll love this homemade creamy Stroganoff recipe made easily in the crockpot. Double the recipe, and make it into a freezer meal.
30. Leftover Ham & Shredded Potato Soup – Too much leftover ham from the holidays? Use it up with this delicious ham & potoato soup recipe.
31. Garlic Lime Chicken – Slow Cooker Garlic lime chicken is a simple, easy crockpot meal that is perfect for any day of the week. Incredibly flavorful this Garlic Lime Chicken recipe doesn't get much easier.