While searching the Christmas clearance a couple weeks ago at Target I spotted a bag of Hershey Kisses Mint Truffle. While debating on purchasing them or not when I saw the Mint Truffle Brownie Bites recipe on the back of the package, at that moment I knew I had to purchase them and try out the chocolate brownie recipe.
Mint Truffle Brownie Bites
How to make Mint Truffle Brownie Bites:
Ingredients:
1 bag Hershey Kisses Mint Truffle, unwrapped
2/3 cup butter or margarine, softened
1-1/4 cups granulated sugar
1 tablespoon water
1 teaspoon vanilla extract
2  eggs
1-1/2 cups all-purpose flour
1/2 cup Hershey's Cocoa or Hershey's Special Dark Cocoa
1/2 teaspoon salt
1/4 teaspoon baking soda
Powdered sugar
Directions:
1. Heat oven to 350°F. Remove wrappers from chocolates, set the chocolate aside while preparing brownie bites.
2. Beat the butter, granulated sugar, water and vanilla in large bowl on medium speed until well blended. Add eggs, beat well.
3. In a separate bowl stir together flour, cocoa, salt and baking soda. Slowly add to sugar mixture, beating on low speed until blended.
4.  Line 48 small muffin cups with baking cups or lightly spray with vegetable cooking spray. Shape dough into 1-inch balls; place in prepared muffin cups.
5. Bake 11 to 13 minutes or until brownie surface is set. Brownie bites will appear soft and moist. Do not overbake. Cool about 5 minutes on wire rack. Sprinkle with powdered sugar. Press chocolate piece into each brownie bite. Cool completely before serving.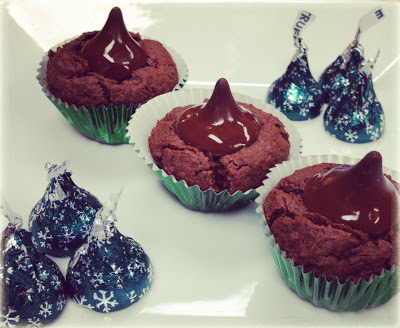 The Mint Hershey Kisses melted pretty quickly, so next time I plan to unwrap and put them in the freezer while I prep the brownie bites and bake them. I'll also sprinkle the powered sugar before I place on the Hershey Kiss.
*Recipe found on the back of the Hershey Kisses Mint Truffle package.