I participated in an Ambassador Program on behalf of Influence Central for Hood Cream. I received product samples as well as a promotional item to thank me for my participation.
Have you ever eaten at a restaurant and wished that you could make the same meal at home? Many recipes you can, and the premium quality ingredients are easily accessible in local grocery stores.
I was recently invited to the Deuxave Restaurant located on Commonwealth Ave in Boston as a Hood Cream Ambassador. Opened in 2010 by Chris Coombs, Deuxave provides a casual dining experience with uniquely prepared fresh ingredients. During our immersion dinner, we sampled 5 different courses created by owner & chef, Chris Coombs, that all featured Hood cream. The dinner allowed me to try foods that I would not normally cook, and opened up my eyes on how to use Hood cream in recipes.
While I have cooked with Hood cream in the past, most of the time it was for a dessert or a thick & creamy sauce, which my husband is not a fan of, but after indulging in the five courses made by Chris Coombs I found out how versatile cooking with Hood cream can be.
Hood was founded in 1846 in Charleston, Massachusetts by Harvey Perley Hood, and is one of the largest branded dairy operators in the United States. The premium quality cream is trusted by home chefs like myself, as well as professional chefs, like Chris Coombs of Deuxave. Cooking with cream doesn't mean that you must have a creamy thick entrée, that leaves you feeling full, it can be used in a number of light recipes as well. Growing up in New England, you could always find either Hood Half & Half, Hood Light Cream, or Hood Whipping Cream in my mother's fridge.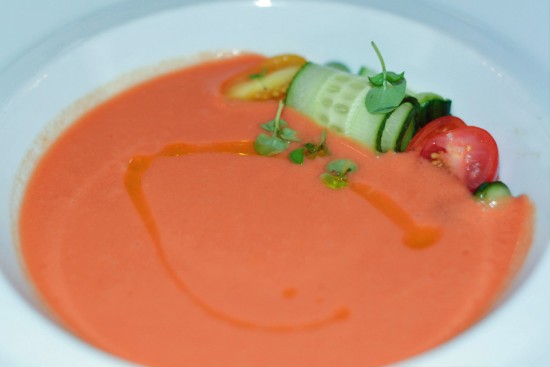 Our night started out with a chilled Heirloom Tomato Gazpacho which was perfect with the warm outside temperature. When I think of a tomato soup, I think of a thick & creamy, but this Heirloom Tomato Gazpacho was a light version and full of flavor with fresh ingredients.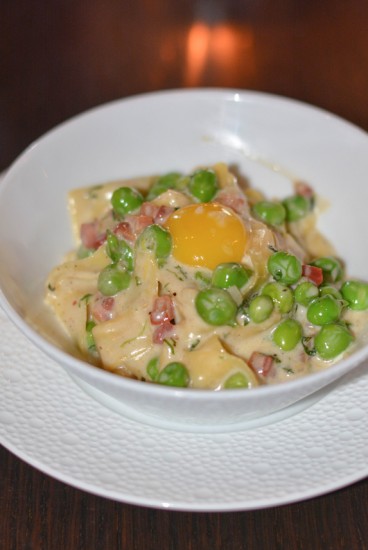 Next up was the Spring Carbonara topped with a quail egg. The bright green spring peas & light herbed cream sauce served as a delicious combination to this pasta dish. This was one of my favorite courses and I look forward to re-creating at home.
The third course was the Pan Seared Cod with Tomato Clam Nage. This dish took myself as well as a few others by surprise as we expected a fishy taste. The cod and clams were caught local and cooked to perfection with a thickened broth made with heavy cream. Each bite was full of flavor with no "fishy" taste, this dish certainly opened my eyes to cooking with fish & cream.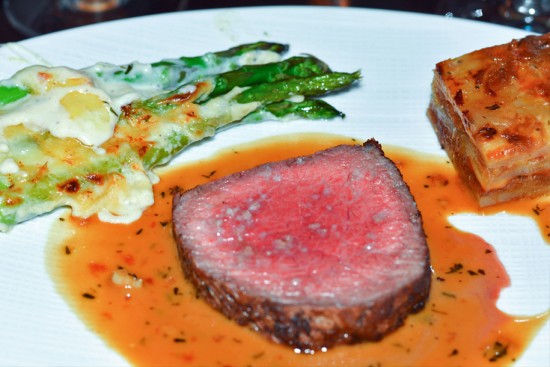 My husband would have enjoyed the fourth course, a cast iron roasted Niman Ranch Prime New York Strip served with Madeira Cream Sauce. While I normally would have never eaten a steak so rare, I'm pretty sure this dish won me over.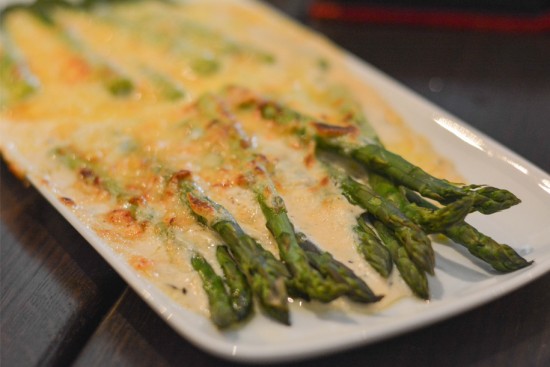 The steak was served with a side of Asparagus Gratin and Potato & Caramelized Onion Gratin. My husband often makes a cheesy potato gratin, and I'm looking forward to adding in a little caramelized onion next time. When cooking gratin, the cream can separate at high temperatures so they key is to use a quality cream, like Hood.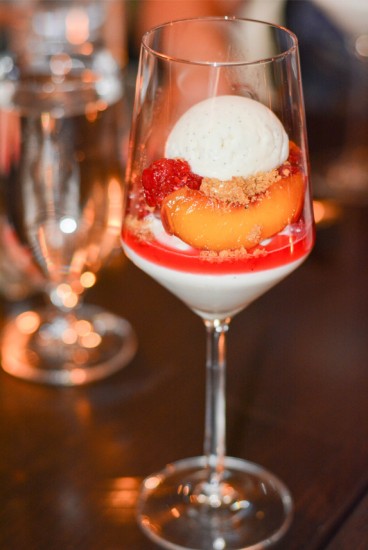 Our final course was the Peach Melba, and I love how Chef Coombs presented this dessert in a glass. Using a glass instead of a dish added a touch of elegance, and the layers of crumb topping, peaches, raspberries and ice cream were the perfect summer combination. I could picture myself serving this on a girls night.
As you can see, Hood cream is a frequently reached for ingredient not only in homes, but in the kitchens of some of the best restaurants.
Did you realize how versatile Hood cream is? 
What are some of your favorite recipes made with cream?