Luckily I have never had trouble getting the boys to eat fruit, they love fruit and will usually prefer it over most snacks any day, veggies on the other hand…that's another story. Although the boys do love their fruit and will eat it any way I serve it I try to think of new ideas and to make it fun, the Fruit Kabobs are always a huge hit, with not only my children but with friends when we have get together.
Healthy Snack For Kids: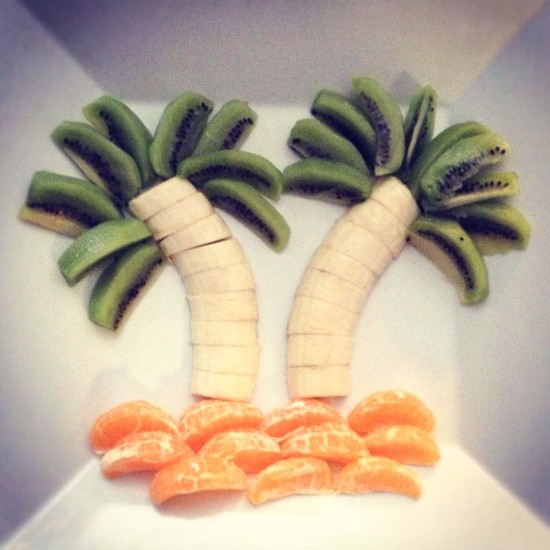 When I spotted this Fruit Palm Tree on Facebook months ago I knew I had to give this healthy snack idea a try.
How to make a Fruit Palm Tree
What Ingredients You'll Need:
2 Clementines/Mandarin oranges
3 Kiwis
1 Banana
Directions:
Peel the kiwi, cut in half. Then cut into thin slices.
Peel and section the clementine's
Peel the banana, and cut in half lenghtwise. Then slice into bite sized pieces.
Put your fruit palm tree together.
We don't have Kiwi too often, well at least we didn't up until this point so I thought it was a fun way to re-introduce it to the boys. Once I had all of the kiwi cut up, the clementines pealed and sectioned, and the banana sliced in half I began to put it together. I started with the banana and positioned it on the plate, half going in opposite directions, I then sliced it up to bite sized pieces. Next I placed the kiwi like leaves and the clementines on the bottom like sand.
The boys were so anxious and couldn't wait try this healthy snack, of course I had to take a few pictures and made the dreaded wait even longer. Once finished, I let the boys split it, within minutes the plate was empty. The kiwi was the last to go, but once the boys each gave it a try it didn't last long. Kiwi has become one of their most favorite fruit and they now ask for it every time we go to the grocery store.
Every couple of weeks I will make the Fruit Kabobs & Palm Fruit Tree, and every time the boys get so excited and their faces are full of smiles….a simple fun & healthy snack makes their day.