I was invited to an event hosted by McDonald's and received a gift card & goodie bag. Although this is a sponsored post, all opinions my own.
When it comes to the kids choosing lunch or dinner, their number 1 answer is always McDonald's so I knew when I accepted an invitation to attend a Kids in the Kitchen event at McDonald's this past week that they would be pumped. During the event we learned about recent changes that have been made with the chicken nuggets, talked with a local nutritionist about healthier food options, and participated in a few fun activities. Of course you can't visit McDonald's with eating so we also got to taste test the new Chicken McNuggets, and the kids got to enjoy a kids meal.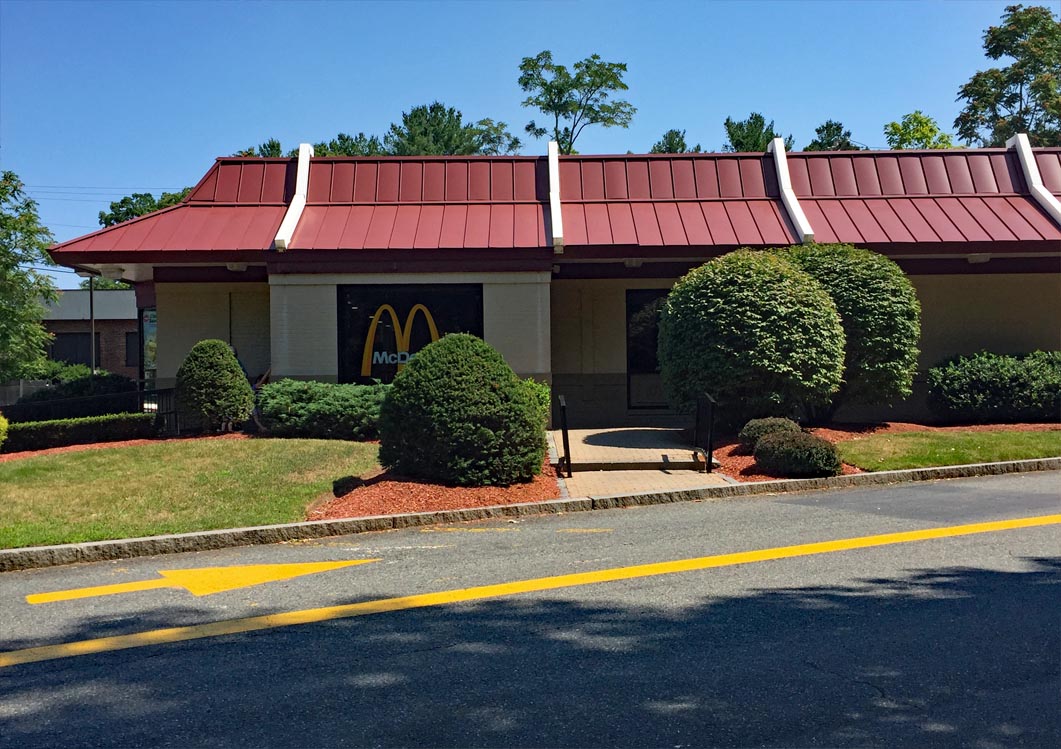 There was an interactive, kid-friendly healthy eating presentation from local nutritionist where they talked about MyPlate and what kinds of food fit into each category –  fruits, vegetables, grains, protein, and dairy. Seeing the pictures on the plate gives the children a visual of what they should be eating. Another fun activity was naming fruits of the rainbow, red (peppers), orange (oranges), yellow (bananas), green (cucumbers), blue (blueberries), and purple (grapes) ect.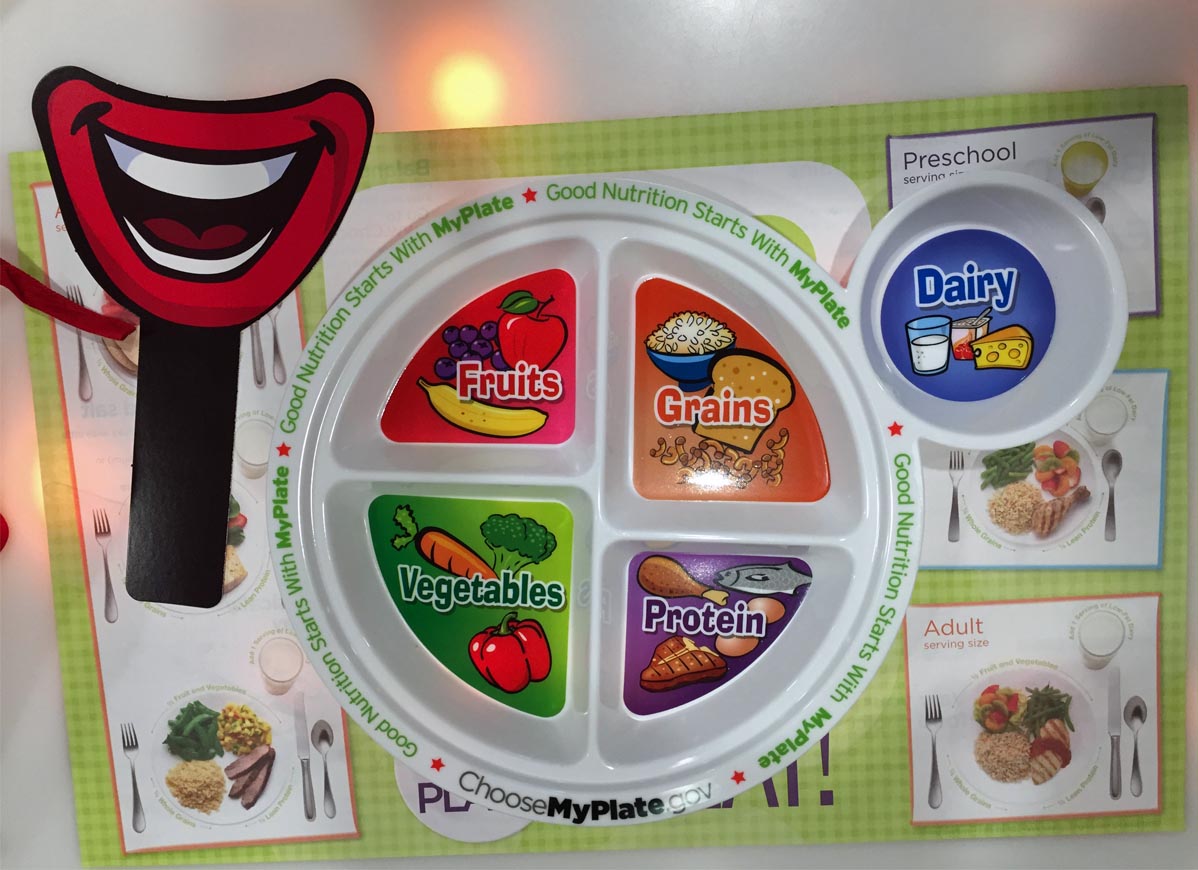 After the presentation the kids got to decorate their own lunch boxes with a variety of paints, glitter glue, sequence, pipe cleaners and stickers.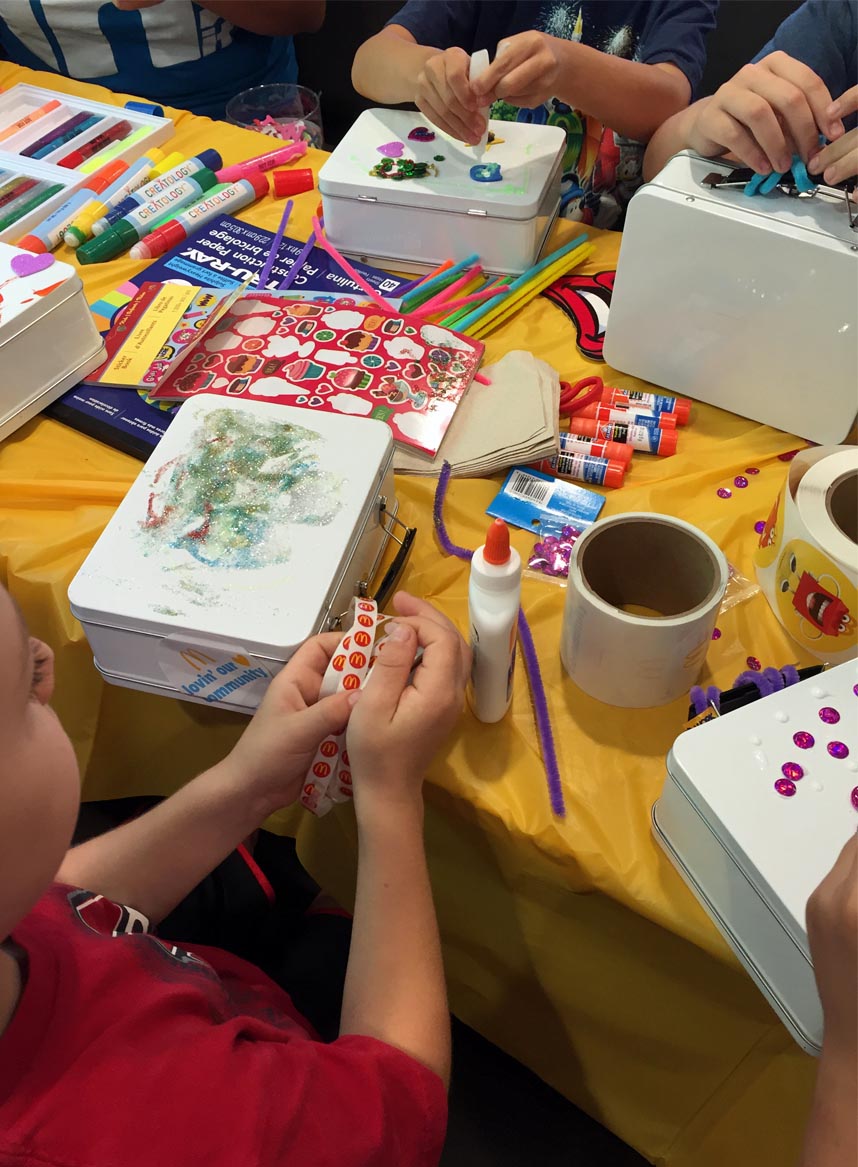 The most exciting part seemed to be the hands-on, kid-friendly healthy lunch making tutorial where the kids made their own lettuce wraps filled with their choice of fresh ingredients including tomatoes, cucumbers, shredded cheese, choice of dressing and bite sized pieces of Chicken McNuggets. While I often think about making lettuce wraps, we have never made them but will have to now as Trevor was a big fan.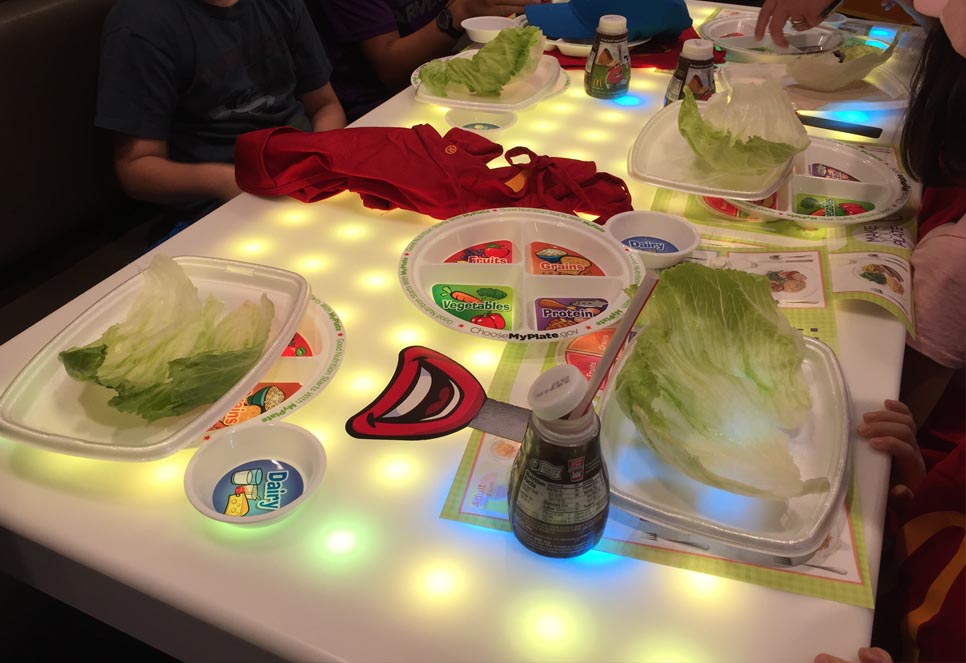 For over 55 years, McDonald's has been evolving its menu to meet the changing needs of its customers. They're committed to giving  more delicious choices to feel good about now and in the months and years to come, which is why they have recently made some changes in their popular Chicken McNuggets.
Real & Fresh Ingredients in Chicken McNuggets
McDonald's Chicken McNuggets are now completely free of artificial preservatives
Chicken used in all McDonald's food including McNuggets is no longer raised with antibiotics important to human health
The change comes as part of McDonald's continued commitment to being transparent about its food so you, the consumer, can enjoy the best food experience possible
Real & Fresh Ingredients in Additional Signature Menu Items:
Chicken:
The Artisan Grilled Chicken Sandwich and Premium Grilled Chicken Bacon Clubhouse Sandwich are made with 100% chicken breast filet with no preservatives and are seared right in McDonald's kitchens.
The Premium Crispy Chicken Bacon Clubhouse Sandwich is made of a tender and juicy chicken breast filet
McChicken sandwiches are made with a filet that's made with a blend of dark and white meat chicken, so it's juicy and flavorful.
McDonald's works with three dedicated Chicken McNugget suppliers: Keystone Foods, Tyson and Dorada – all located in the U.S., in states such as Tennessee, North Carolina and Georgia.
McDonald's has committed to using chicken that is not raised with antibiotics important to human medicine. McDonald's has been working closely with farmers for years to reduce the use of antibiotics in our supply, thus are able to commit to stop using said antibiotics for McDonald's USA by March 2017.
Eggs:
McDonald's cracks USDA Grade A fresh eggs into an 'egg ring' which forms the iconic round shape for the Egg McMuffin
Beef:
McDonald's uses 100% beef that is ground, formed into patties and then flash frozen.
Flash freezing is when beef is freshly ground and then quickly frozen to seal in flavor. From there, it usually takes about two to three weeks until the burger is served from the day it was formed.
McDonald's burgers are made with no additives or preservatives; just seasoned with a pinch of salt and pepper when cooked.
Potatoes:
The potatoes used for McDonald's World Famous Fries are made from varieties including Russet Burbank, Ranger Russet, Umatilla Russet and the Shepody.
The suppliers McDonald's works with first peel, cut and blanch the potatoes. They then dry, partially fry and flash freeze the fries for restaurants. Once in kitchens, the fries are cooked in a Canola blend oil so that they are served crispy and hot.
Produce:
McDonald's finds most of the leafy greens for salads right here in the U.S., but some come from Mexico, too.
The majority of McDonald's lettuce comes from farms in the U.S., supplemented with a small amount imported from Mexico.
McDonald's uses three kinds of lettuce in its Premium Salads — Romaine and Iceberg for crunch, and Spring Mix for flavor.
Tomatoes originate in Florida, the Carolinas, California and Mexico.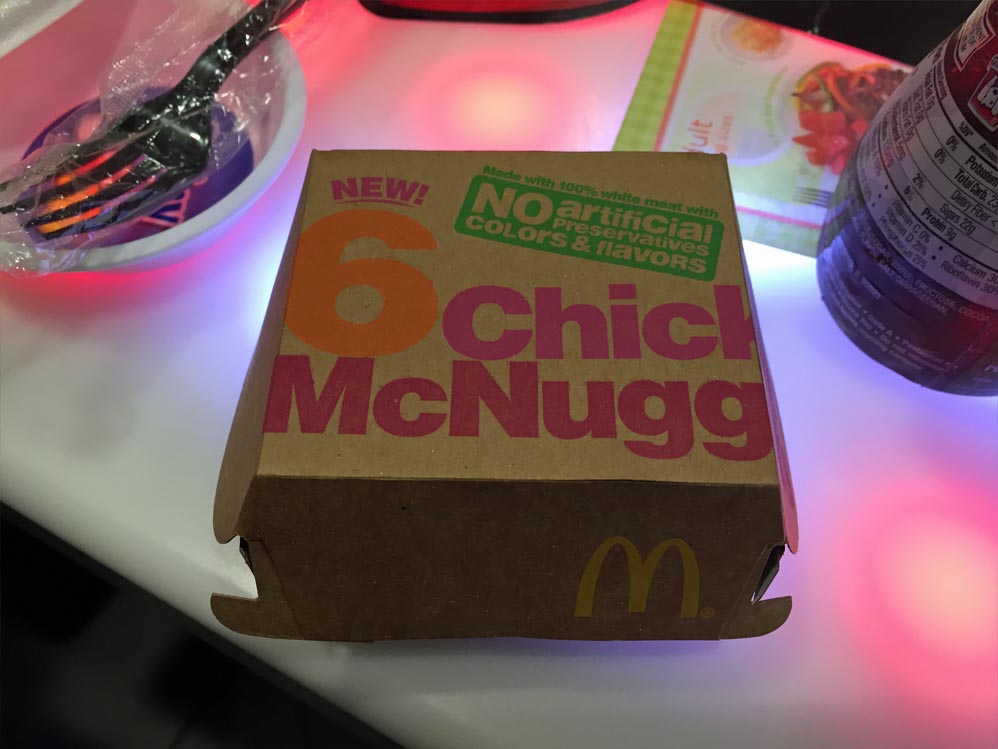 Have you tried the new Chicken McNuggets at McDonald's?