This review was made possible by Double Duty Divas and Dawn. I was provided the featured product free of charge to facilitate my review, but all opinions are 100% mine.
Although I'm not the biggest fan of washing dishes, at the end of the night it's a way for me to wind down from the days activities. I often choose scents that will help to put me in a calm in relaxing mood.  This summer, I'll be escaping to paradise while I'm washing dishes with Dawn Destinations.
Dawn Destinations offer the grease-cleaning results that Dawn is known to have and is available in Mediterranean Lavender, New Zealand Springs,Caribbean Breeze, Fuji Cherry Blossom, Hawaiian Pineapple and Thai Dragon Fruit scents.
This past week I have been escaping to the New Zealand Springs after I put the children to bed. Cleaning all of the dishes as I breathe in the exotic aromas, since I won't be going on vacation anytime soon, I can at least pretend I am surrounded by glacer- carved streams. While the New Zealand Springs is not a scent I would normally purchase, as I usually pick the fruit ones, like Fuji Cherry Blossom and Hawaiian Pineapple, the aromas created a calm and relaxing environment.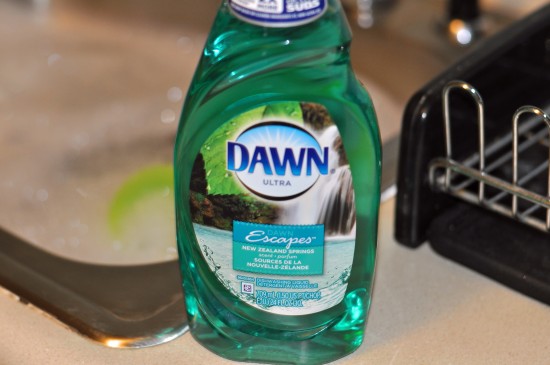 Seek out simple, everyday Zen moments, like breathing in the calm and relaxing aromas, to stay balanced and centered. Once the dishes are done, sit down and relax with a DIY aromatherapy neck/shoulder pillow.
What you'll need to make a neck/shoulder pillow
1 tube sock
A mini sewing kit
8-10 oz. of dry rice
8-10 drops of lavender oil
Directions:
Fill the tube sock with the dry rice so that is about two-thirds to three-quarters full.
Add 15-20 drops of lavender oil
Carefully sew the sock shut so that the rice does not fall out
Microwave and apply as needed to help relieve neck and shoulder tension.
Stay up to date on news and new product offerings by visiting Dawn on Facebook and Twitter.
Simplify Your Summer with Dawn Destinations Giveaway:
A sock
Aromatherapy neck and shoulder pillow recipe/how-to
A Bottle of Dawn Destination
Lavender oil
Rice
$25 iTunes gift card (for spa music)
a Rafflecopter giveaway

By entering this giveaway you agree to the Giveaway Rules. This giveaway will end on June 30, 2014 at 11:59pm EST. The winner will be chosen via Rafflecopter. The winner will have 24 hours to respond or a new winner will be selected. You must be 18 years or older. Open to U.S. residents.  No P.O. Boxes. Information, product, and giveaway prize provided by sponsor.