This review was made possible by Double Duty Divas and Pampers. I was provided the featured product free of charge to facilitate my review, but all opinions are 100% mine.
Being a mother has always been a dream of mine, in my younger years I would constantly carry my dolls around and dress them up like they were my children. I remember one year in particular all I wanted for Christmas was a full size stroller so that I could take my baby on a walk. I couldn't wait for the day to come when I would have my own children.
"When a baby is born, a Mother is born."
The 4th of July will also be embedded in my heart, not only as Independence Day, but as the day I learned that I would become a mother.  I can remember being overwhelmed with joy, fear, and excitement as we started to get ready to welcome a new baby into our house. Becoming a mother has put life in a whole new perspective, every day revolves around my boys as I watch them grow and learn new things. Quick trips are a thing of the past, laundry and cleaning floors has become an almost every day task, but that random hug or "I Love You" that I receive throughout the day just makes my heart melt and I can't help but smile no matter how exhausted or overwhelmed I feel.
Before becoming a mother I didn't realize how much love I could have for someone. From the moment I laid eyes on you, I couldn't help but burst into smiles and to this day I can't help but smile thinking about you. You have brought so much joy during the darkest days, and I can't get enough of those random "I Love Yous" and bear hugs. I cherish being able to watch you grow from learning how to eat table food and learning how to walk and talk. – Thank-you baby, for bringing so much joy and laughter into my life.
With Mother's Day just under two weeks away, Pampers recognizes the special that special bond between mom & baby.  For every view of the
#ThanksBaby video
between May 2nd and May 25th,
Pampers
will donate one diaper to Feeding America (up to one million diapers).
Connect with Pampers on Facebook & Twitter.

Pampers "Thanks, Baby" Twitter Party:
Join us for the Pampers "Thanks, Baby" Twitter Party on Thursday May 8th at 9pm EST. RSVP here
To participate, follow the hosts @DoubleDutyDivas, @BridgetteLA, @CeceliaMecca @AngieKcom @WhatMommiesNeed @RamblingChick, and the sponsor @Pampers.
Hashtag: #ThanksBaby
Twitter Party Prizes Include:
2 packs of Swaddlers and a $50 Sephora Gift Card
2 packs of Swaddlers and a $100 Kohl's Gift Card
2 packs of Swaddlers and a $100 Gallery Direct Gift Card
2 packs of Swaddlers and a BOB Revolution Jogging Stroller($350) Stroller and FitBit Zip ($50)
RSVP: 2 packs of Swaddlers

Pampers "Thanks, Baby" basket Giveaway: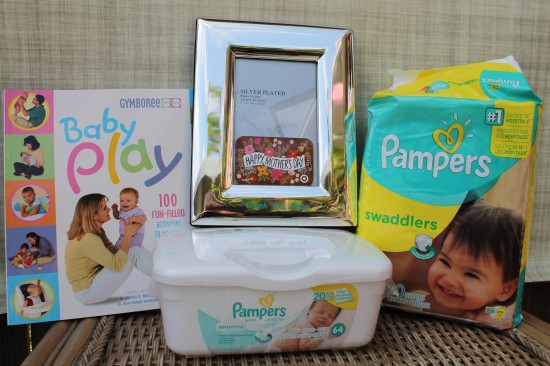 One lucky reader will win a "Thanks, Baby" basket to celebrate your special bond with your children.
Pampers Diapers (size 5 diapers)

Pampers Wipes

$75 Target Gift Card for a Family Photo

Picture Frame

Baby Play Book
a Rafflecopter giveaway

By entering this giveaway you agree to the Giveaway Rules. This giveaway will end on May 16, 2014 at 11:59pm EST. The winner will be chosen via Rafflecopter. The winner will have 24 hours to respond or a new winner will be selected. You must be 18 years or older. Open to U.S. residents. No P.O. Boxes.  Sponsor is responsible for prize fulfillment.  Please allow 4-6 weeks for prize fulfillment.