During my childhood years I used to always dream of having a dog. I used to be envious of all of my friends who had dogs, but since my siblings and I were allergic to them we were unable to have one. From the age of 5 until I was 15 I continued to get monthly allergy shots for dogs and my allergies significantly got better. Once I got married and moved out of my parents house my husband and I decided to foster a dog from the local animal shelter. Fast forward 7 1/2 years and we now have two dogs, we ended falling in love and adopting the first dog we fostered and a few months after that we rescued a second dog. I have found that as long as I keep the house and carpets clean, the less boxes of tissues we go through and the less my son & myself have to use our inhalers, my 6-year-old was lucky enough to inherit my allergy/asthma genes.
With our vacuum on its last leg and knowing how important it is to keep our carpets clean, I was beyond thrilled when Dyson offered the Dyson DC65 Animal for our family.  Within minutes of receiving my husband had the vacuum assembled, it practically comes already assembled you just have to put together a few pieces, no screwdrivers needed.
The real test came when it was time to clean the hallway rug that is constantly covered in dog hair as it is one of the most common areas that they walk through daily. It's a must to clean this rug weekly especially right now as their shedding their winter coat, as you can see it is covered in dog hair from just one week. I was amazed how much dog hair was picked up in just one passing.
Dyson DC65 Animal Features:
Twice the suction than any other vacuum
Instant release hose and wand – reaches up to 16 feet
No additional costs – the HEPA filters are washable.
Nylon bristles for carpets & anti-static carbon fiber filaments for fine dust on hard floors
Designed to remove pet hair
Ball technology for easy steering
Easy to empty
Airtight seals – ideal for allergy sufferers
Certified asthma friendly by the Asthma and Allergy Foundation of America
Includes tangle-free turbine tool
5 year warranty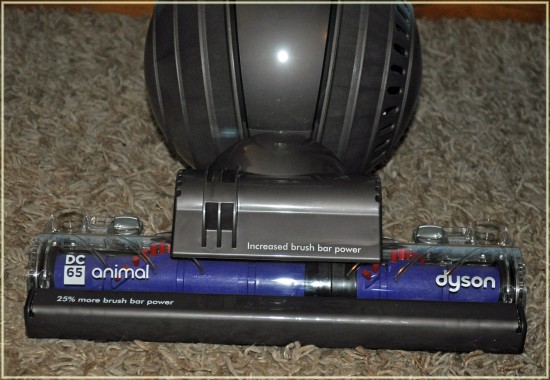 The Dyson DC65 Animal is a full size upright vacuum that is designed for families with pets and is also asthma & allergy friendly. It features the ball technology which took a little bit to get used to, but after a few times vacuuming it no longer feels awkward and I find myself getting in hard to reach places easier.  Being bagless, we're able to cut down on the dust and allergens that can linger in our house by getting caught in the bag and we do not have the added expense of buying bags.
I couldn't believe how much dust, dirt and dog hair was in the canister after vacuuming with the DC65 Animal the first time, I had to empty it twice the first day we used it.  The clear canister really brings to reality how dirty our carpets can get. I now make sure to tray to vacuum the main parts of the house where the dogs hang out at least twice a week, cutting down on the allergens that my son and I breathe in.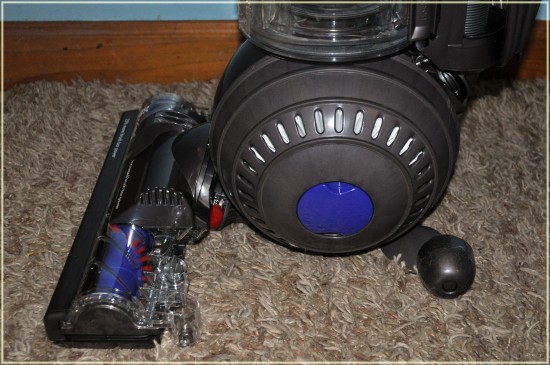 With the ball technology, I can easily maneuver around the furniture and with the brush bar fully extending from side to side, there is no missed space next to the baseboard.  The Dyson DC65 Animal includes a tangle-free turbine tool to remove dirt and hair from carpets and upholstery which helps cleaning the carpeted stairs and couches a breeze. Additional accessories including the soft dusting brush to help clean flat surfaces and delicate upholstery.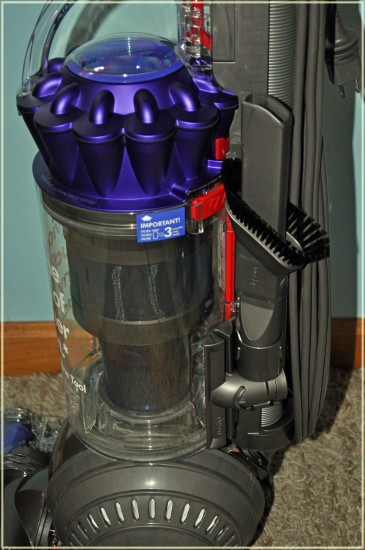 In addition to how easily it is to maneuver, one of the other convenient features of the DC65 is the hygienic dust bin, simply press a button, and the bin opens up to empty right into the trash. There's no worry about a dirt trail as you walk to the trash and there's no having to touch the dust. To close the bin, you can press it next to the top or side of the trash and it will click close.
Unlike most vacuums that are designed for one type of floor, the Dyson DC65 is designed for multiple floor types including vinyl, laminate, ceramic, stone, wood, and carpet. I can't think of any house that I have been to in the past year that only has one type of flooring, most friends and family members have a combination of linoleum, carpet, and wood floors including myself. For the hard floors, the DC65 Animal features anti-static carbon fiber filaments for catching fine dust while the carpet option also uses nylon bristles to get down into the dirt and pet hair.
While we've had a few vacuums in the past, the Dyson DC65 Animal is hands down the best vacuum we've had for pet hair. I continue to be amazed at how much appears in the canister every time I vacuum. While I know we'll always have pet hair, allergens, and dirt in our house especially with two dogs and two active boys, at least I know I can improve the cleanliness with our new AAFA-certified vacuum.
Save $100 Through June 14th!
Through June 14 you can save up to $100 on Dyson machines and $50 on Dyson fans at Dyson.com and at major retailers nationwide including Best Buy.