This post is brought to you in partnership with Febreze.
My husband and I both enjoy having family and friends over and often have friends stop by unexpectedly, especially on the weekends. I always try to keep the house clean, as I hate it being dirty when we have a friend or family member stop by and while the counters are usually clear and the toys put away, we always have a dog smell in our guest bedroom. Most of my days are spent in the guest room as that is also where our desktop is, but it's also the room where the dogs love to hang out and sleep. We have air purifiers around the house to help out with my allergies as well as my son's allergies, but I am always having to spray scents in the guestroom to help hide the dog smell. Thanks to the new Febreze Air Purifier, our guest room now smells fresh and clean 24/7.
Febreze™ Mini Tower HEPA-Type Air Purifier: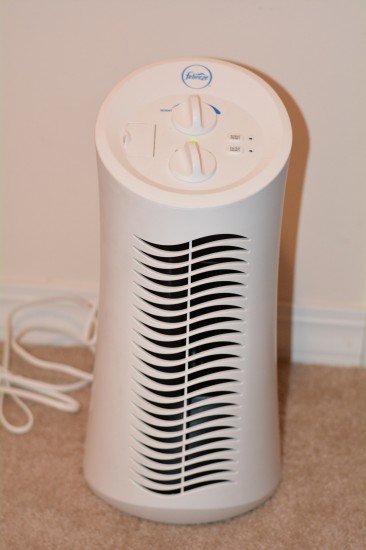 The new air purifier from Febreze features a HEPA-Type filter that traps up to 99% of airborne particles such as dust, pollen, pet dander and odors and allows for hands-free and stress-free cleaning.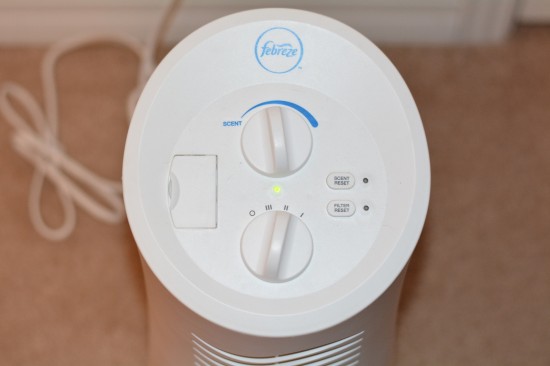 Our Febreze Air Purifier arrived just in time for our holiday visitors, and took a little stress out of making sure our guest bedroom was kept clean and odor free. Even on the highest setting, the Febreze™ Mini Tower HEPA-Type Air Purifier is quiet, it sounds as if a fan is running on low. You have control over which scent is disbursed and how much. Strong scents often set off my allergies, so I was a little concerned at first, but the Febreze™ Mini Tower HEPA-Type Air Purifier scents are not over-powerful, they're just enough to give the room a clean and fresh smell without causing me to constantly sneeze. My brother who also suffers from allergies visited during the holidays and stayed in our guestroom where the Febreze™ Mini Tower HEPA-Type Air Purifier was on and was also not affected by the scents.
The Febreze Air Purifier features a unique four stage system to help clean and freshen the air.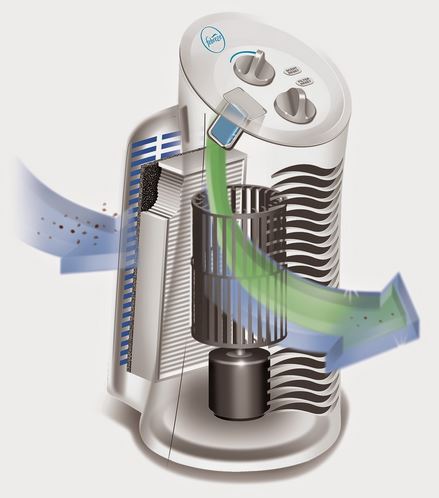 Dirty, stale, odor-filled air is drawn into the air purifier by a strong fan.
The Dual Action filter has a specifically formulated carbon pre-filter that traps household odors and larger airborne particles, such as pet hair, lint, and dust.
As the air moves through the HEPA A-Tyle filter, up to 99% of the microscopic particles, 2 microns and larger, are captured.
Fresh Febreze scent is added to the filtered air before it is released back into the room.
Three different sizes to choose from:
Febreze™ Tabletop HEPA-Type Air Purifier- White
Febreze™ Mini Tower HEPA-Type Air Purifier: Graphite Gray or White
Febreze™ Tower HEPA-Type Air PurifierGraphite Gray or White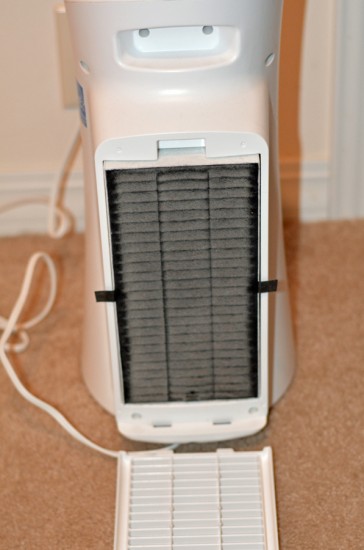 Cleaning tips from Julie Edelman, The Accidental Housewife:
Some of you may be familiar with Julie Edelman from the The Accidental Housewife, she has some fabulous tips and tricks to help keep your home clean, and to help get it ready if you are expecting any visitors. I'm going to have to use her lemon/water microwave tip, as my husband is constantly heating up spaghetti sauce without covering it in our microwave. No matter how many times I tell him to cover it with paper towel, my advice goes in one ear and out the other.
Cleaning on the Clock: With work, kids, and pets, we're all busy, and sometimes we just don't have enough time to deep clean the house the way we want to before our guests arrive. In fact, the endless hours of cleaning may even deter your desire to entertain. Before your next dinner party or family gathering, turn on the Febreze Air Purifier and your home will smell fresher and cleaner in minutes.
Don't add VOCs when Cleaning: Volatile Organic Compounds (VOCs) are harmful gases that can be emitted by paints, solvents, cleaners, adhesives, furniture, new carpeting, etc. To avoid VOCs from lingering in your home after a scrubbing, turn on a Febreze Air Purifier. Not only will it help to remove VOCs from the air, it will also add a little extra freshness to elevate that "just-cleaned feeling".
Manage Your Microwave: Microwaves are always tough to clean. To get rid of dirt and gook and leave your microwave smelling good, squeeze lemon into a microwavable dish or cup filled with water, add the lemon, and microwave for at least 5 minutes, then wipe off the inside with a paper towel.
Embarrassing Pet Odors: We love our furry friends, but we're not so fond of the embarrassing pet odor that they leave around the house—from kitty litter and pet mishaps to wet dog smell. Try using the Febreze Air Purifier to reduce odors and add a fresh, clean scent back into the air.
To learn more about the new Febreze Air Purifiers, visit
http://www.febrezeairpurifiers.com/
.
Febreze™ Mini Tower HEPA-Type Air Purifier Giveaway:
One lucky reader will win a Febreze™ Mini Tower HEPA-Type Air Purifier. To enter, simply fill out the form below.
a Rafflecopter giveaway

By entering this giveaway you agree to the Giveaway Rules. This giveaway will end on January 22, 2014 at 11:59pm EST. The winner will be chosen via Rafflecopter. The winner will have 24 hours to respond or a new winner will be selected. You must be 18 years or older. Open to U.S. residents only. No P.O. Boxes. Giveaway prize and information provided by sponsor. Allow 4-6 weeks for prize fulfillment.