Celebrate the outdoors man or child in your life with this deer cake that is perfect for a hunting birthday party. Learn how to make this camouflage cake using hunting cake toppers and step-by-step instructions.
This hunting cake with a camouflage center looks harder than it is, piping the camouflage pattern on the sides takes the most time. If you don't have the Wilton tips, you can just use a butter knife to spread the frosting.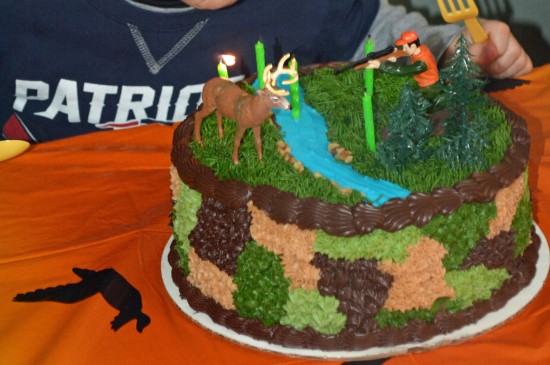 Hunting Cake:
What you'll need to make this hunting cake
Boxed cake or homemade cake batter
(2) 8 in or 9 in lighty greased cake pans
Chocolate Frosting
White Frosting
Hunting Cake Toppers
Wilton Tips: 18 (sides), 233 (grass), 32 (border)
Decorating bags
Spatula
Walnuts (rocks) or chocolate rock candy
Food coloring: to make dark brown, tan, dark green, light green, and blue
I use Wilton food coloring which comes with a handy booklet with a color chart to help blend colors.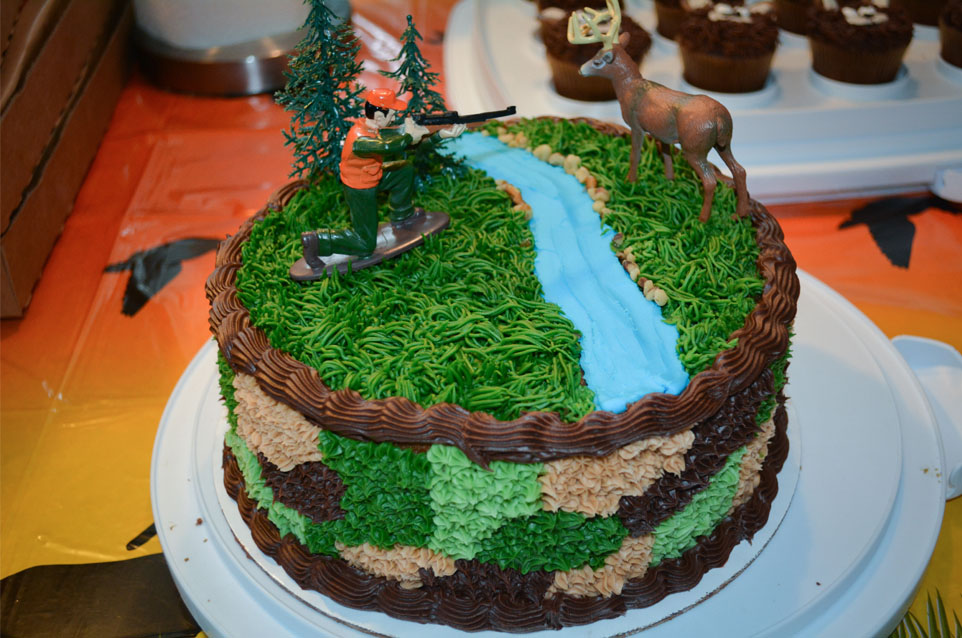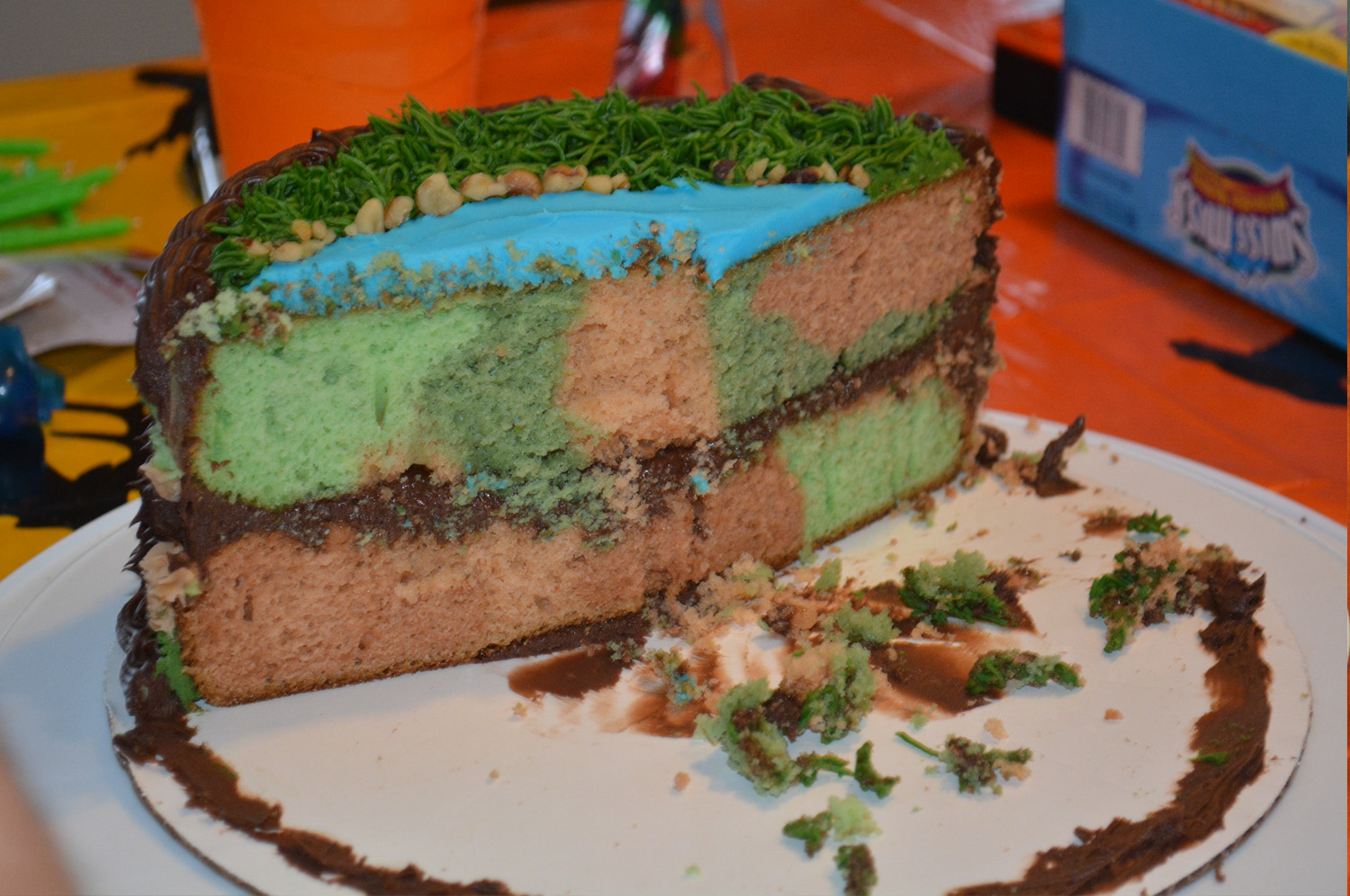 How to Make Camouflage Cake.
To make a camo cake with food coloring, divide cake batter into four bowls.
Tan: add a few drops of brown coloring.
Light green: add a few drops of green food coloring.
Dark green: green food coloring with a few drops of brown
Dark brown: brown food coloring until dark brown.
Drop spoonfuls of each batter into two 8 in or 9 in cake pans in an alternating pattern. Make sure batter is even in both pans.
Bake cake according to directions on box. Allow to completely cool before decorating.
Decorate the Hunting Cake:
Layer the two cake on top of each other with a layer of chocolate frosting in between. Make sure cakes are even on top of each other. I usually put the top layer on upside down so that the top is more smooth.
Separate white frosting into 4 separate bowls. Color one tan, one dark green, one light green and just a little bit blue for the river.
Wilton Star Tip #18 to fill in the sides with the tan, dark green, light green, and brown to create the camo pattern.
Use a spatula or butter knife to spread the blue frosting and make a river.
Wilton Tip #233 for the green grass on the top of the hunting cake
Pieces of walnuts work great for rocks or you can use chocolate rock candy.
Wilton Tip #32 with chocolate frosting to create the edges along the top and base of the cake.
Add the hunting cake toppers and the pine trees.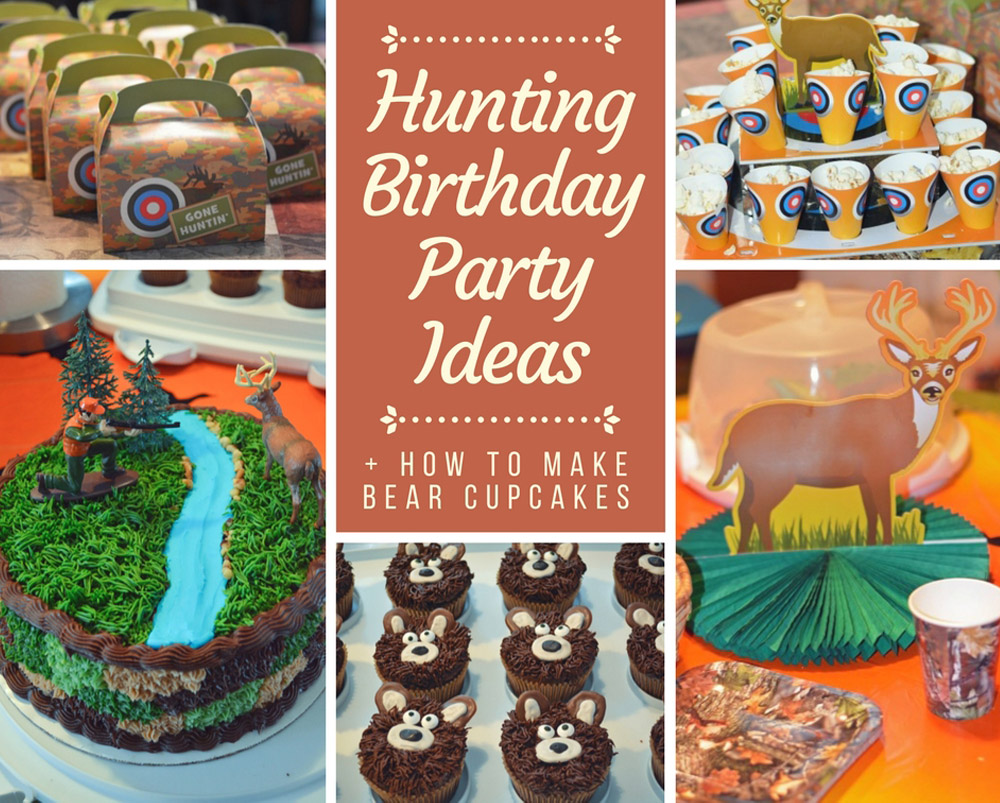 Check out our other fun Hunting Birthday Party Ideas and how to make bear cupcakes.