Ever since I learned that I was pregnant, my kids have always come first. My world revolves around them and so does my shopping. While they have a newer bedroom set  and bedding, our master bedroom is mismatched, springs are coming through our mattress and we have never owned a headboard/footboard that fit our bed. The headboard that goes with our dressers is a full while we have a queen bed and our bedding was much more appealing when we purchased it almost 8 years ago. I have been wanting to upgrade our bedroom for years but we never did, until a few weeks ago when I decided to splurge for once and purchased a matching bedroom set that I fell in love with at the local furniture store. We went in for a headboard and walked out with a 5 piece bedroom set.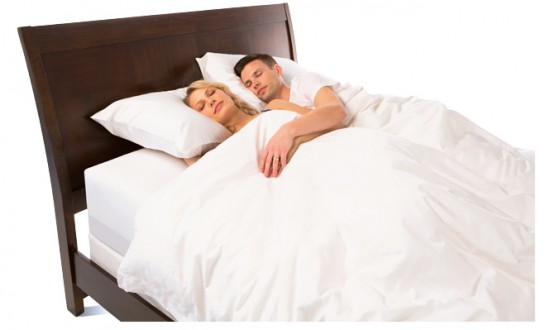 Along with our new bedroom set we also now have  luxurious silk-filled duvet – thanks to Novosbed . I always dreamed of having a picture perfect bedroom and now it's quickly coming along, new furniture, new blanket, the only thing left is a new mattress. I had always been jealous of friends with down-comforters and their warmth but with allergies, I was never able to own one.  The silk-filled duvet from Novosbed.com is made with 100% Mulberry Silk fiber that naturally repels dust mites, and bugs. The silk is also hypo-allergenic, great for individuals with allergies to feathers and down comforters like myself.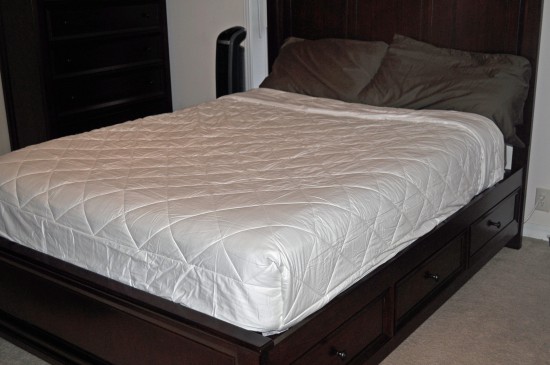 Don't let the thinness of the silk duvet fool you like it did to me. I thought we would need an additional quit after seeing how thin it was, but with silk being a natural insulator,  the duvet is quite warm. With the cold New England winter's I'm looking forward to not having to bundle up with a few different comforters to keep warm.
Before you never would have found me in my bedroom unless I was sleeping during the night, but now it's a room where I enjoy being. I'm more then happy to hang out under the silk duvet while watching cartoons on the weekends instead of in the living room. The kids have also commented on how soft and comfortable the duvet is, and are always hopping into my bed for snuggles.
A little about the Silk Duvet:
Novosbed's silk is obtained from the cocoons of the mulberry silkworm, which produce only the highest quality, protein-rich silk fibers
Silk has a smooth, soft texture and is one of the strongest natural fibers
Quilted pattern keeps silk filling from shifting or bunching
Compatible with standard size duvet covers
While you should always use a duvet cover to help protect the silk duvet this week we are using the silk duvet as is, I just can't go back to my old comforter after experiencing the softness and comfort. We will soon be adding a cover to it, we just need to find the perfect color pattern and design to match with our previous wall paintings.
Have you ever owned a silk duvet? I don't see myself ever going back to a regular comforter.
Stay up to date on the latest product offerings from Novosbed.