This post brought to you by Listerine. All opinions are 100% mine.
Having recently moved into a new house I have been busy trying to add a decorative touch to the rooms while keeping them simple. While the boy's room is almost complete, I have started working on the master suite. One of my favorite places has been the bathroom, now that I don't have to share one with the kids. We have gone with a Morning Sky colored theme, and have loved how it is turning out. I'm not one to leave a bunch of products on the counter, I tend to keep them all in cabinets, but the newly designed LISTERINE® bottles have added a decorative touch to the counter-top.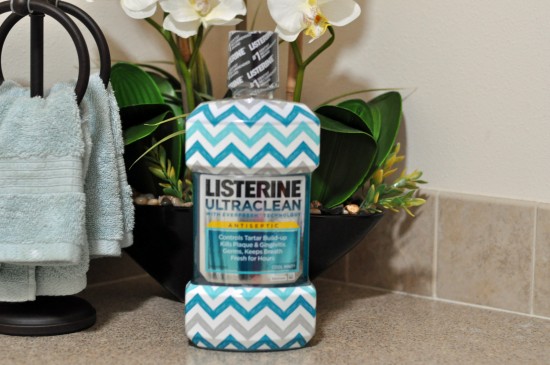 Listerine is the #1 dentist recommended brand and it gives you a cleaner, healthier mouth and is now available in fun new chevron-patterned bottles.
Johnson & Johnson has recently designed LISTERINE® UltraClean & Total Care bottles that are only available at Target. The exclusively designed bottles come in fun colors and patterns and are available in four flavors Cool Mint, Fresh Mint, Arctic Mint, & Fresh Citrus.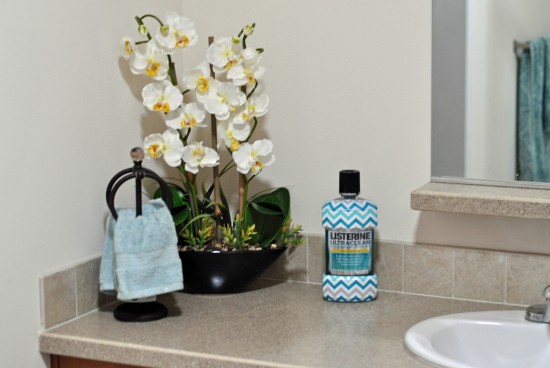 Add some spunk to any bathroom and wake up greeted with bright colors and patterns. With four different colors available you'll be able to choose which one goes best with your bathroom. Not only does the Cool Mint goes perfect in our master bathroom but it is also my favorite flavor. Next time we head to Target, the Fresh Mint is on our list as our guest bathroom is decorated in purple.
The newly designed bottles will be available for a limited time only at Target. Save Now with Target Cartwheel.
Have you spotted the new LISTERINE® bottles at Target?