Find and save ideas for throwing a fun hunting theme party, complete with camo party decorations, favors, and tableware. Also, learn how to make bear cupcakes and a camouflage birthday cake using hunting cake toppers.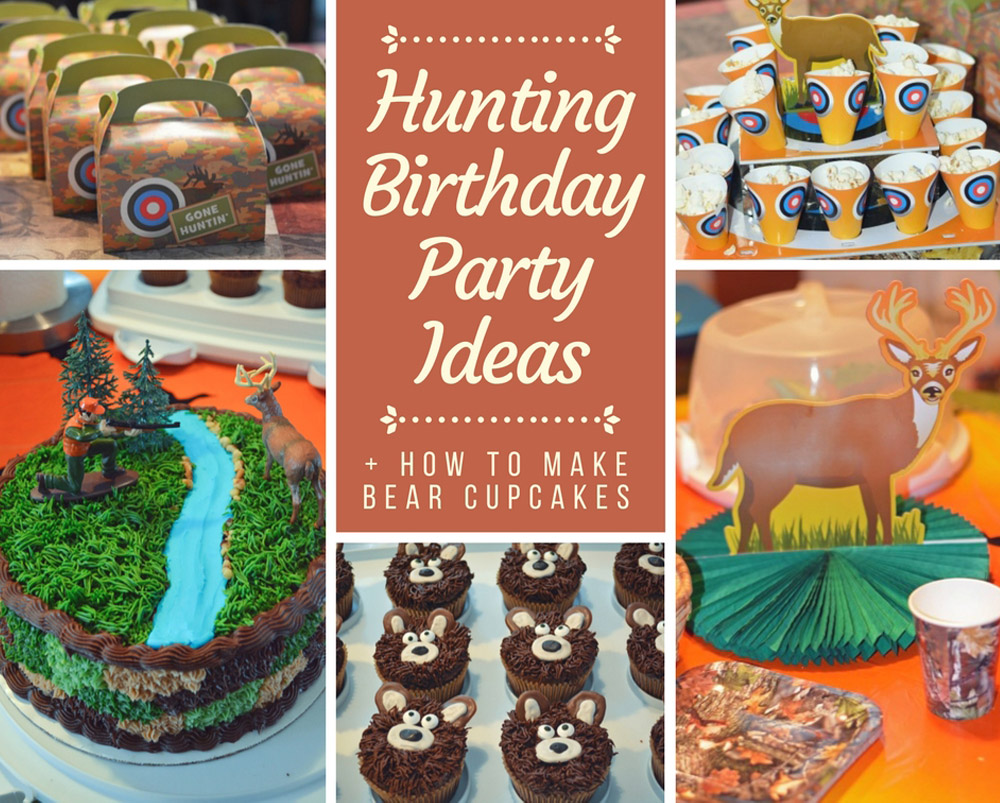 A special thanks to Oriental Trading for providing Hunting Birthday Party Supplies.
For the past few months Trevor has been set on having a hunting theme birthday party and there was no changing his mind. He is mini version of his father and his grandfather, and loves all things outdoors and hunting. Just this past Christmas, his wish list was full of camouflage clothing, snow shoes, hiking boots and an orange hunting hat "just like dad's".  It didn't take long for him to spot the hunting party supplies from Oriental Trading, and soon our counter was taken over by camouflage plates, napkins, cups, and green and brown party accessories.
Oriental Trading had a fabulous variety of hunting party supplies to host the ultimate birthday party. In addition to the basic plates, napkins, cups, and silverware, they also offered some fun accessories including The Hunt Is On Treat Stand with Cones that can be used to serve a variety of foods, and Deer Picks that added a fun take on our fruit tray. These fun camouflage birthday supplies were an easy way to add a decorative touch, without having to spend a lot of time decorating.
Hunting Birthday Supplies:
The Hunt Is On Treat Stand with Cones
The Hunt Is On Tablecloth
Hunting Tissue Centerpiece
Camouflage Dessert Plates
Camouflage Beverage Napkins
The Hunt Is On Cups
Hunting Target Piñata
Deer Picks
Cake
Hunting Goodie Bags:
The Hunt Is On Prisms
Hunt Is On Treat Boxes
The Hunt Is On Mini Flying Disks
Every birthday I make the cake so a few weeks before the party we looked at a few hunting cakes to narrow down an idea so that I could make sure to have all of the products on hand. But then a week before the party he spotted bear cupcakes while I was browsing on Pinterest and since we already had all of the ingredients at home we ended up making chocolate bear cupcakes and a vanilla camouflage cake. The cupcakes were easy to make, just a little time consuming, but seeing the look of excitement on his face when the bear cupcakes were complete made it worth the extra time.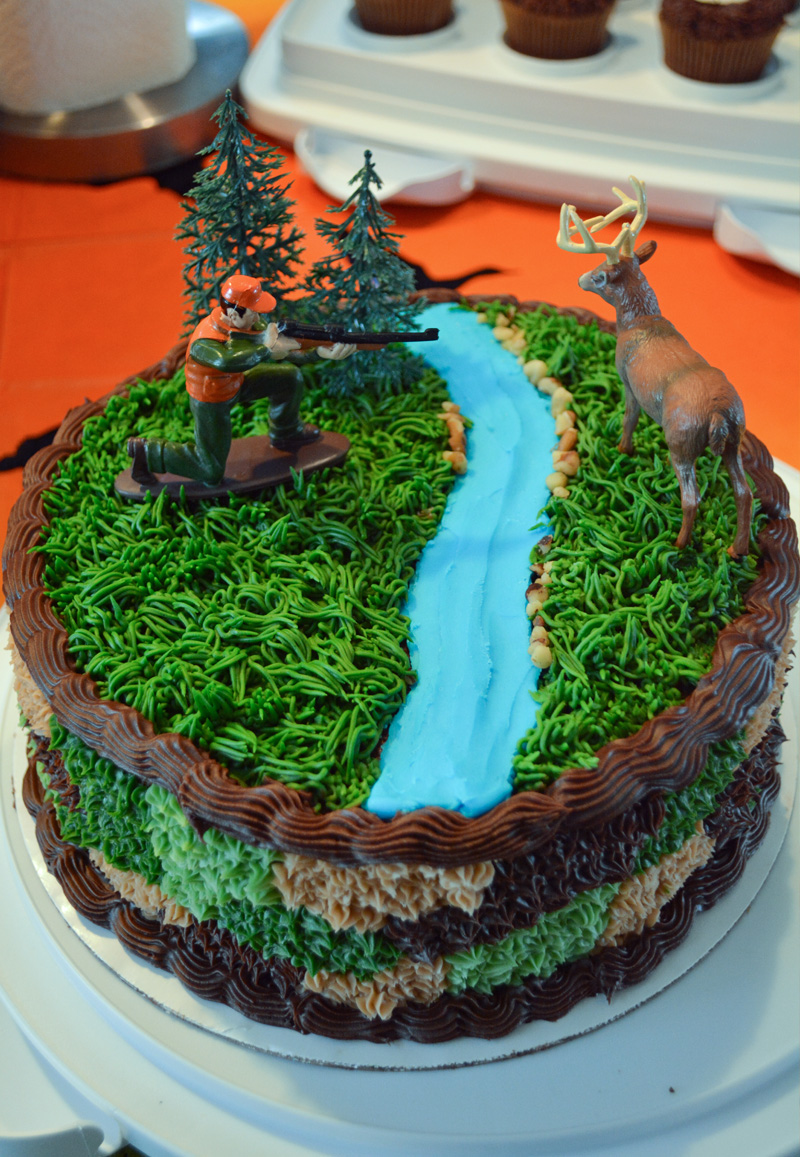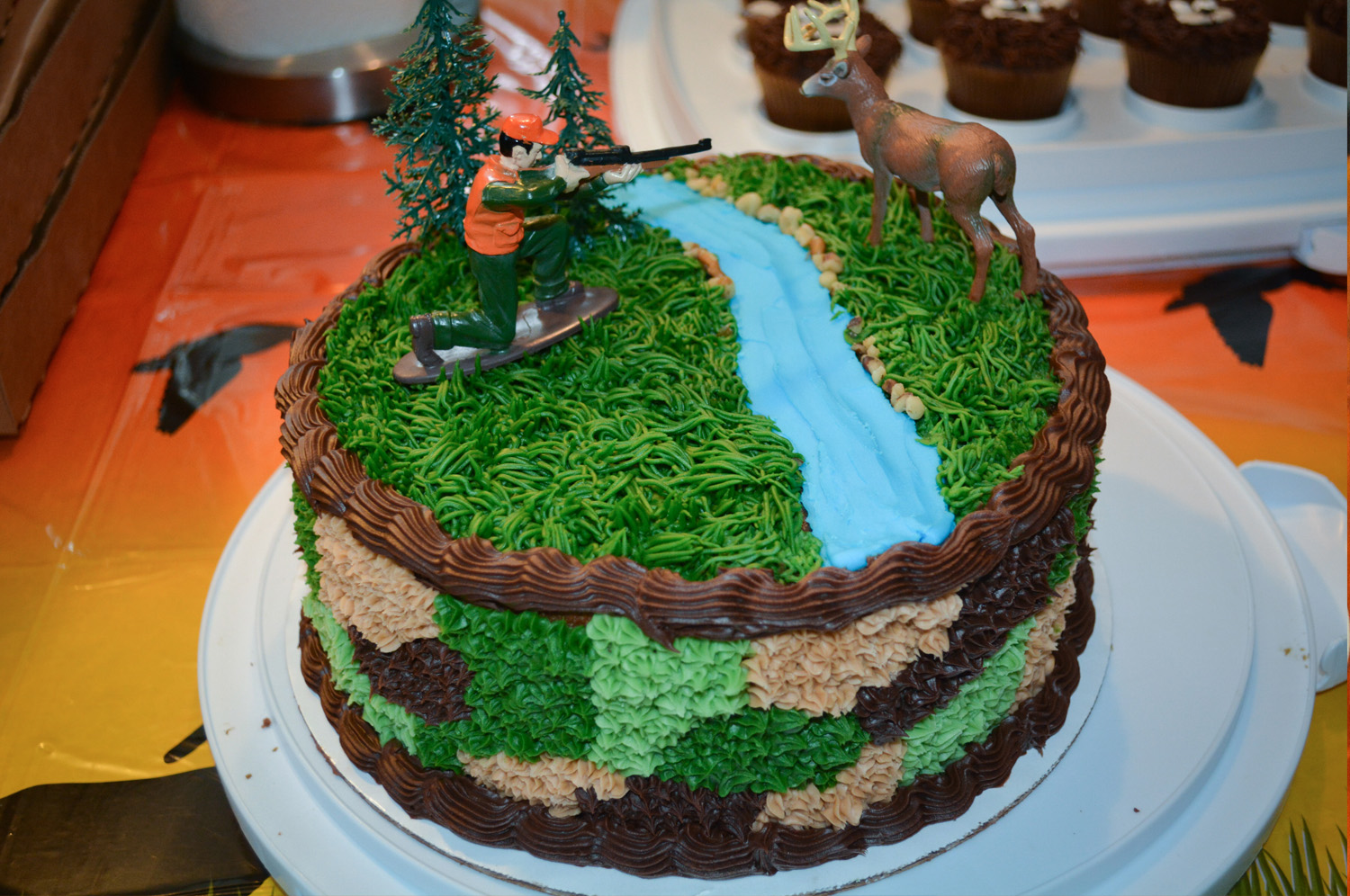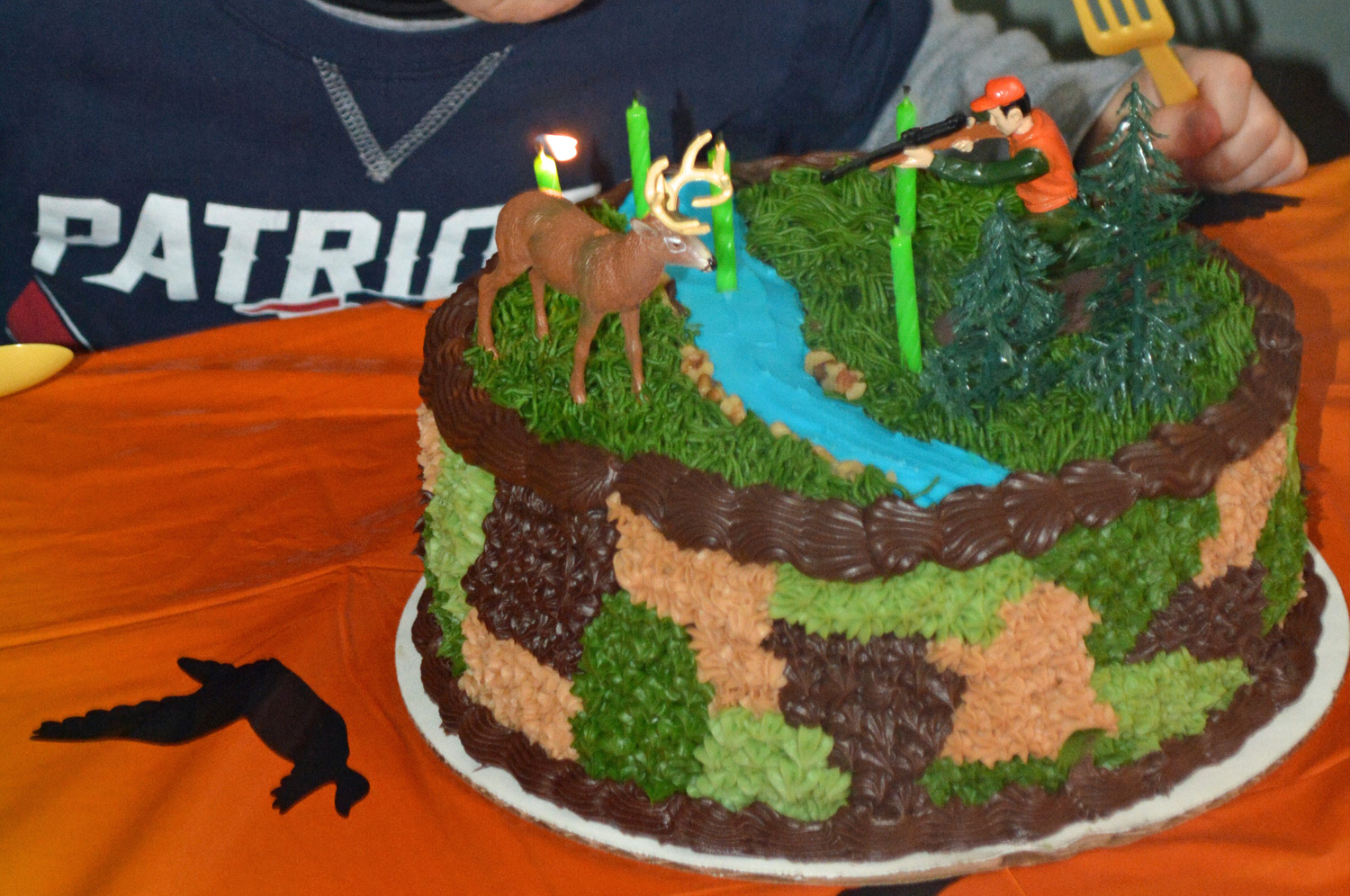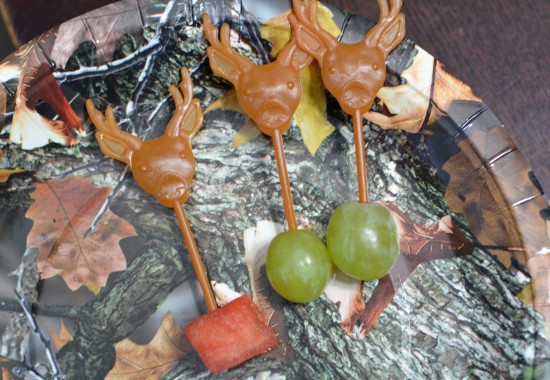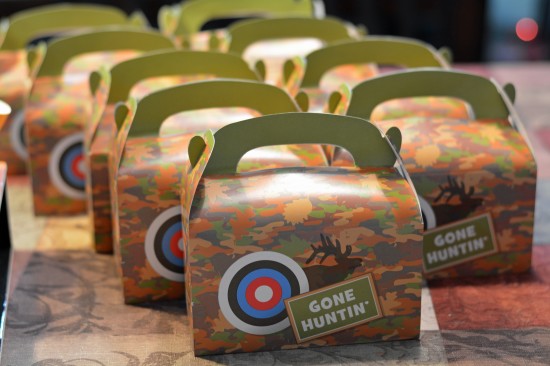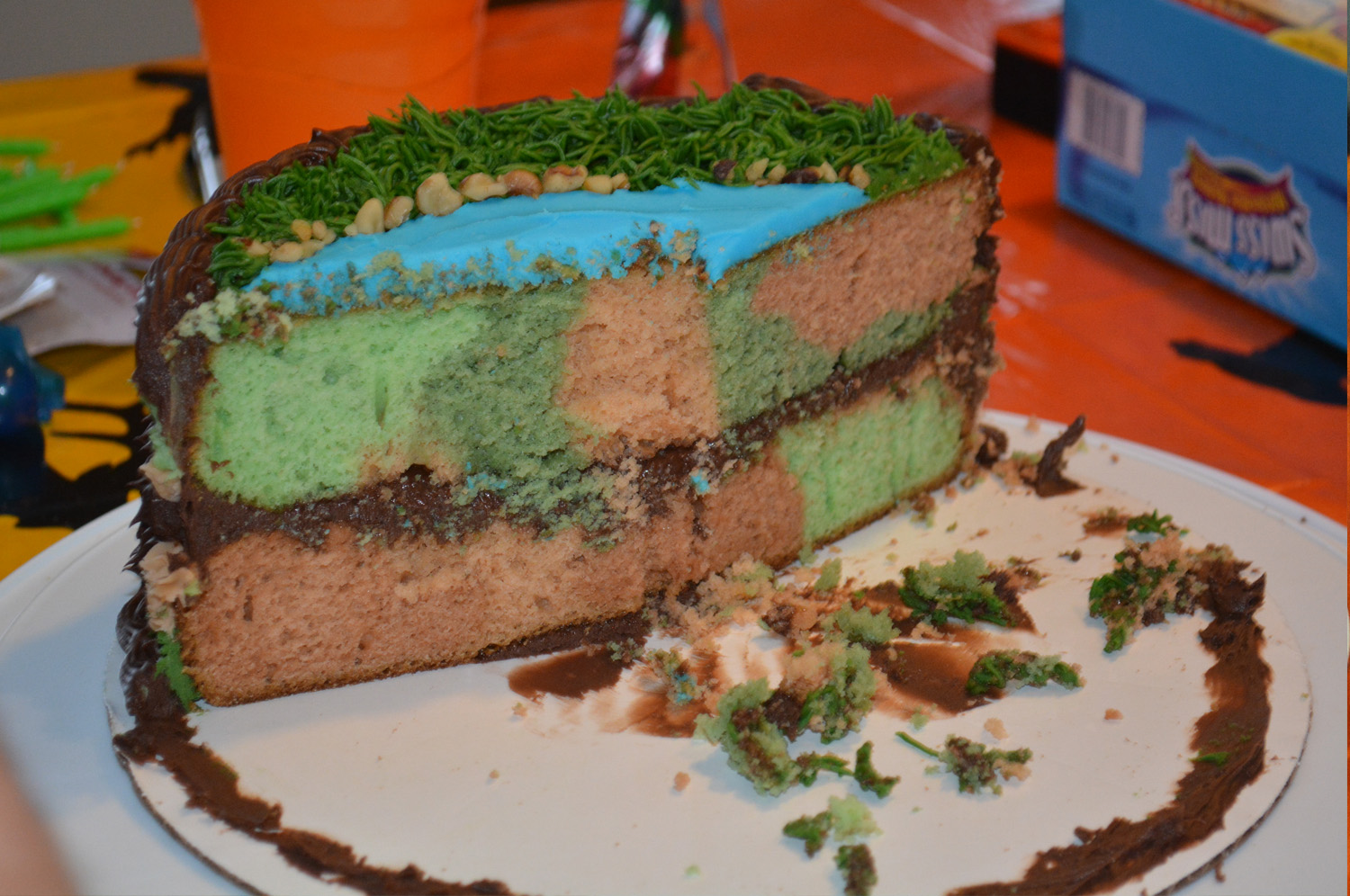 How to Make Camouflage Cake.
Food coloring needed: brown & green
Directions: Divide white or yellow cake batter into four bowls.
Tan: add a few drops of brown coloring.
Light green: add a few drops of green food coloring.
Dark green: green food coloring with a few drops of brown
Dark brown: brown food coloring until dark brown.
Drop spoonfuls of each color into cake pan in an alternating pattern.
Read our step by step instructions on how to make this hunting cake.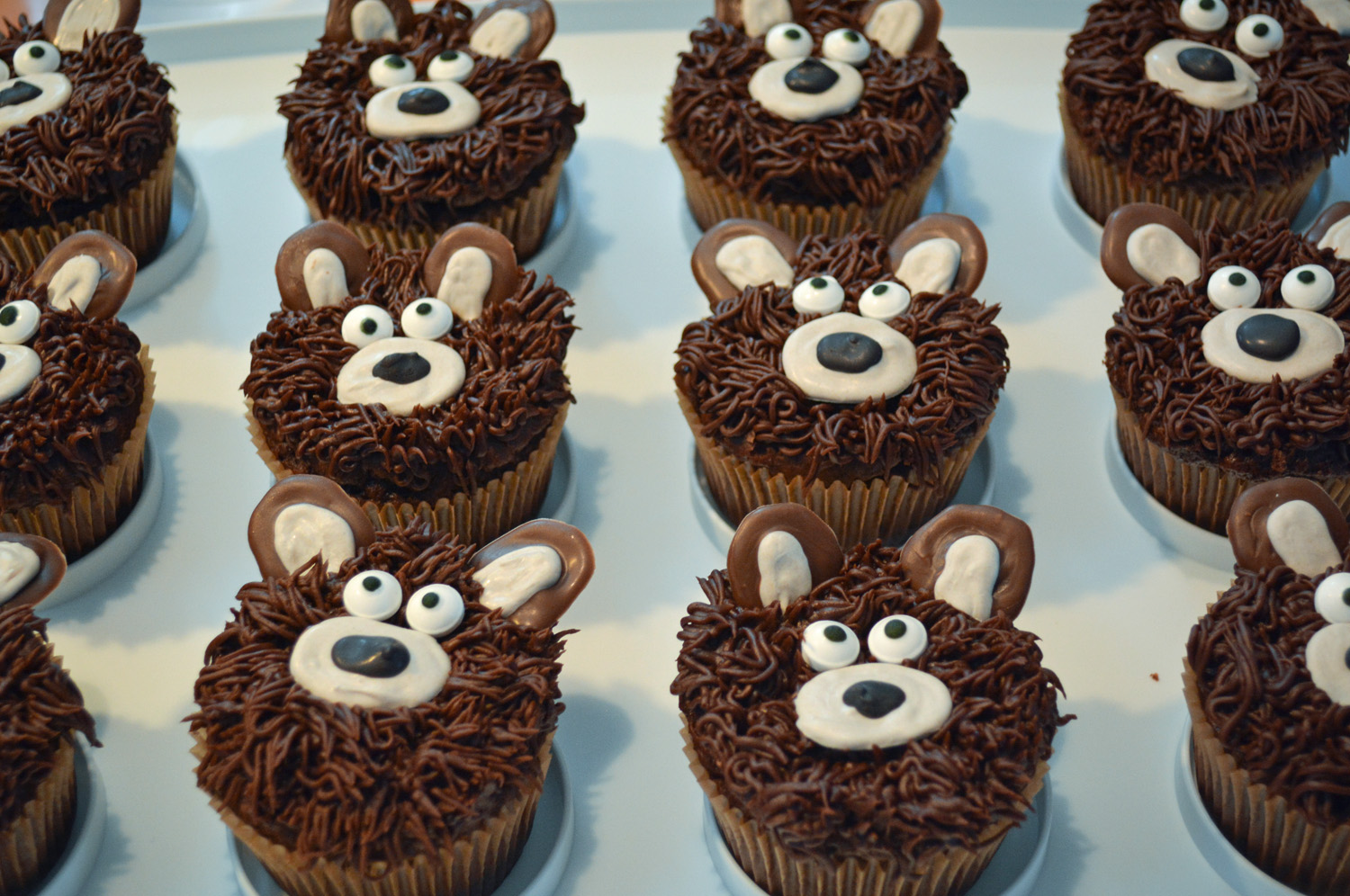 Make sure you have all the ingredients you need beforehand to make these bear cupcakes, if your like me and have a crazy schedule, save time and order all of your supplies online, you can find almost everything you need on Amazon including frosting, cake mix, and even vegetable oil needed to make the cupcakes.
Bear Cupcakes:
Ingredients:
Directions:
Pre-make the bear's ears and eyes. Melt candy melts, each color in a separate cup. For the tan inside the bear's ear, add a few drops of brown food coloring to the white & mix.
Place melted chocolate in separate piping bags or in plastic ziplock and cut small tip.
Place wax paper down on counter. Use the brown as a base for the ears and make a small oval, then add tan in the center. For the nose, use the brown as a base then black for the nose.
Once hardened, used Wilton tip #233 to pipe chocolate frosting on cupcake, remove the ears and nose from the wax paper and add them on the cupcake to make a bear face. Add the eyes.
Are you planning any upcoming parties?