Looking for an easy Valentine's Day recipe? Try these Valentine's Day Chocolate Covered Pretzels, they are easy to make and are a huge hit with not only children but adults. While you have the milk chocolate and white chocolate melted you can also dip strawberries to make chocolate covered strawberries at just a fraction of the price.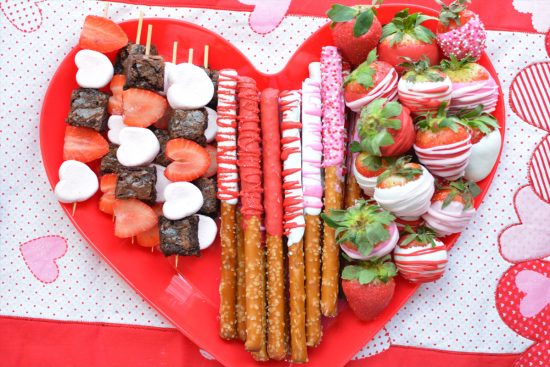 Valentine's Day Chocolate Covered Pretzels:
To make these easy Valentine's Day chocolate covered pretzels you will need:
Candy melts (can be purchased at Michael's, AC Moore, Jo Anne Fabrics, or even Amazon ect).
Sprinkles
Pretzels
Waxed paper
Microwave or double boiler
Directions:
Melt the candy melts in a microwave safe bowl/cup, or use the double boiler on the stove. To use the microwave, melt the chocolate in 15-20 second intervals on 50% power, mixing in between.
Dip the pretzel into the melted chocolate and let the excess drip off
Cover with sprinkles.
Lay on wax paper to harden
Once the chocolate is hard, store in an airtight container or Ziploc bag.
*If the chocolate is to thick, you can thin it out by adding a tsp of shortening in with the chocolate. Depending on the amount of chocolate you are melting, you may need to add a little more.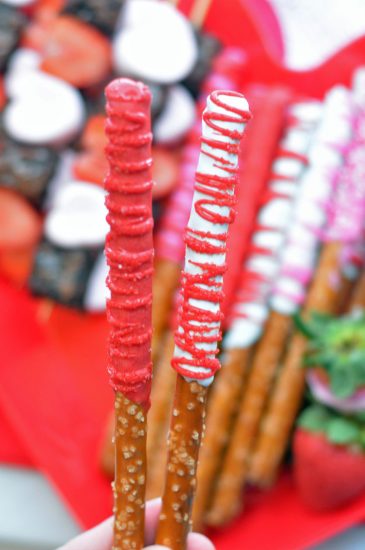 I have found that melting the chocolate in a coffee cup is perfect for the pretzel sticks and covers them about half way.  I leave some pretzels a solid color and once the chocolate hardens, drizzle an additional color on it. If you don't have any icing decorator bags, you can place the melted chocolate in a Ziploc bag and cut a small piece of one corner. You can then use a back and forth motion to drizzle the melted chocolate on the pretzels.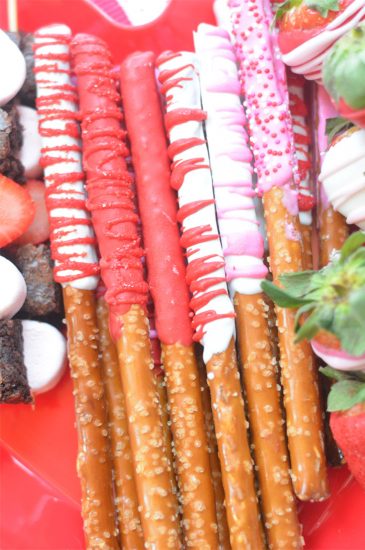 The possibilities are endless with these pretzels covered in chocolate. Make white chocolate covered pretzels for Valentines day and drizzle with red and pink candy melts. You can also dip the pretzel rods in milk chocolate and drizzle with pink and red. The kids seem to always reach for the chocolate pretzels covered in sprinkles too.
These Valentine Chocolate Covered Pretzels can be served on a platter or individually wrapped in a Wilton Pretzel bag to hand out to classmates, family, co-workers ect.
More great Valentine Day Food ideas: