Do you have a Valentine party to go to within the next week? Or maybe you just want to make a special Valentine's Day treat for your child? Below are six inexpensive Valentine's Day Treats to make. Cupid's Crunch is a huge favorite and we like to change it up for each holiday, it's also perfect for goodie bags. We'll also be making Valentine Rice Krispie Treats tomorrow for our family to enjoy with heart shaped cookie cutters. This time I plan to have the boys help me, and let them each decorate their own with a variety of pink and red sprinkles.

6 Valentine's Day Treats:
Chocolate Covered Strawberries:
These Chocolate Covered Strawberries can be made for just a fraction of the price and are ready in 10 minutes!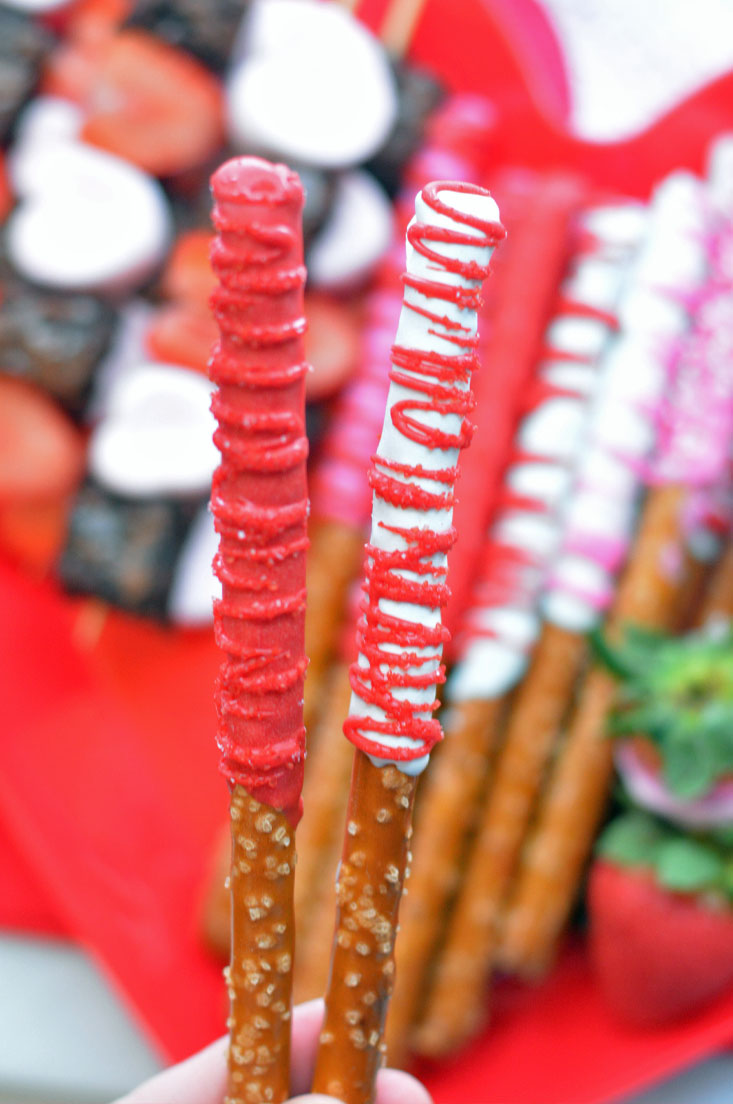 Chocolate Covered Pretzels: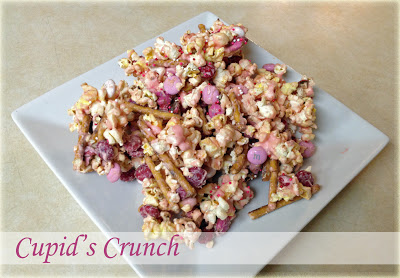 Cupid's Crunch: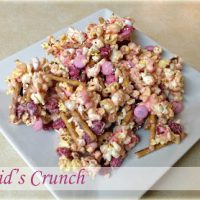 Ingredients
2

bags microwave popcorn or 1/2- 2/3 cup popcorn kernels

popped

12

oz

bag Wilton candy melts

2

cups

pretzels- broken into pieces

1

– 1/2 cups M&Ms

Sprinkles

Nonpareils, or any other Valentine's themed candies
Instructions
Pop popcorn & set aside. Make sure to pick out any unpopped kernels.

Melt the candy melts at 30 second intervals in the microwave, or use a double boiler.

Place broken pretzels and M&Ms into a large bowl with popcorn. Then pour 1/2 the melted candy over the top and mix with a rubber spatula.

Spread the mixture out on a sheet of wax paper- drizzle remaining melted candy over the top.

Sprinkle the nonpareils, candy bits or sprinkles.

After the chocolate dries/hardens, break into bits and store in an airtight container.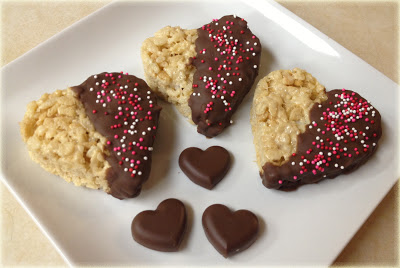 Valentine Rice Krispie Treats
Use a heart shaped cookie cutter to make these cute Valentine Rice Krispie Treats. You can dip either half of the heart, or the whole heart in milk chocolate and decorate with pink and red Valentine's Day sprinkles.
Chocolate Covered Heart Rice Krispies Treats
Ingredients
3 tablespoons butter or margarine
1 package (10 oz., about 40) regular marshmallows
OR
4 cups miniature marshmallows
6 cups Kellogg's® Rice Krispies® cereal
Sprinkles / nonpareils
Chocolate melts
Instructions
In large saucepan melt butter over low heat. Add marshmallows and stir until completely melted. Stir in food coloring (if desired). Remove from heat.
Add KELLOGG'S RICE KRISPIES cereal. Stir until well coated.
Using butter spatula or wax paper evenly press mixture into 15 x 10 x 1-inch pan coated with cooking spray. Cool slightly. Using heart shaped cookie cutters coated with cooking spray cut into desired shapes.
Heat chocolate in 30 second intervals in microwave until smoothe. Dip Rice Krispies Treat in chocolate and cover with sprinkles/nonpareils
Let chocolate harden and serve.
Microwave Directions:
In microwave-safe bowl heat butter and marshmallows on HIGH for 3 minutes, stirring after 2 minutes. Stir until smooth. Follow steps 2-5 above. Microwave cooking times may vary.
 Valentine's Day Dessert Kabobs
These Valentine Day Kabobs can be made any way you want. Use Angel Food Cake instead of brownies, and you can even drizzle melted chocolate, pink candy melts, or caramel on top.
 Raspberry Hugs Cookies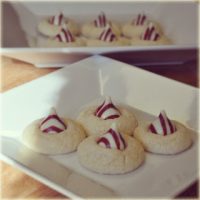 Ingredients
1

Bag Hershey's Hugs Raspberry Favored White Creme Candies

1/2

cup

1 stick butter or margarine, softened

1/2

cup

shortening

1

cup

sugar

1

egg

1

tsp

vanilla extract

2 1/4

cups

all-purpose flour

1

tsp

baking powder

1/2

tsp

salt
Instructions
Heat oven to 350 degrees. Remove wrappers from candies

Beat butter, shortening and sugar until well blended. Beat in egg and vanilla.

In a separate bowl stir together flour, baking powder and salt. Gradually beat into butter mixture.

Roll dough into 1-inch balls; place on ungreased cookie sheet

Bake 9-11 minutes or until cookie is set. Remove from oven to wire wrack. Cool 5 minutes.

Press candy pieces into center of each cookie. Remove from cookie sheet to wire rack; cool completely.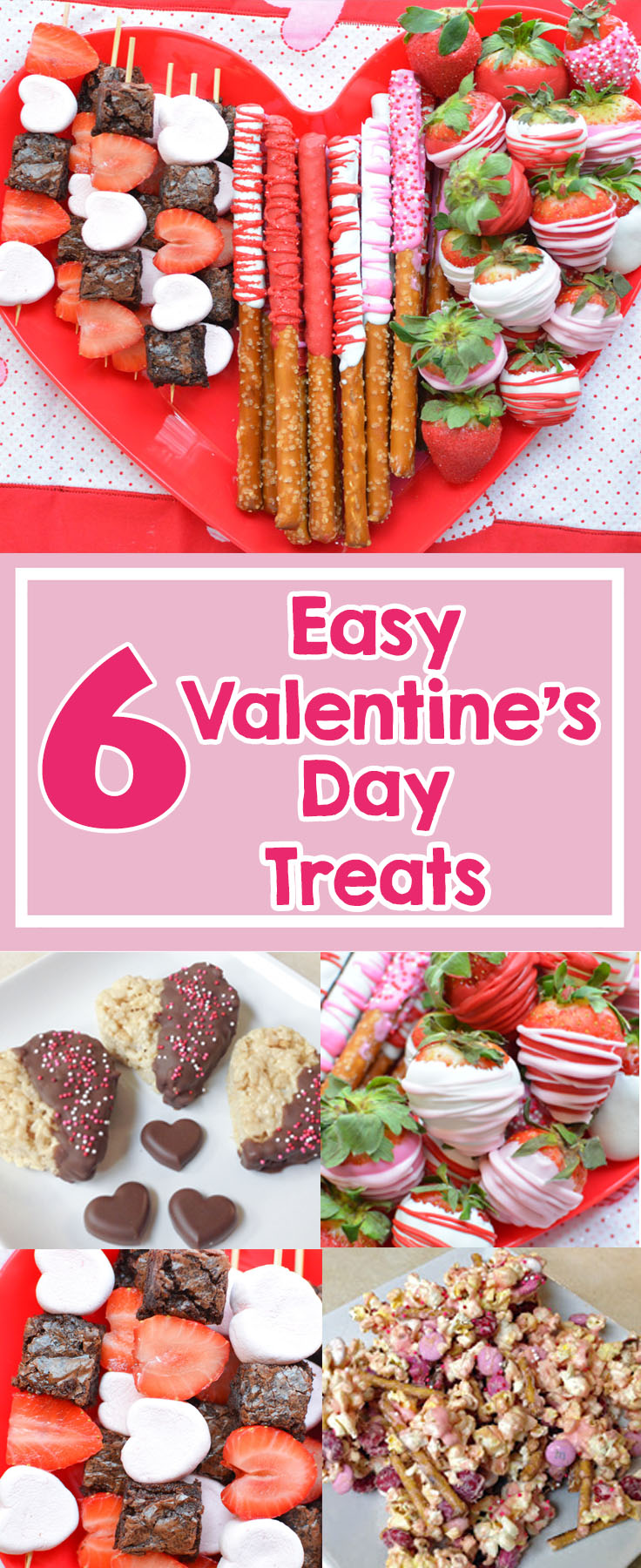 *Sources  Rice Krispies Hearts