We've had blueberries sitting in our freezer for over a month now from when we went blueberry picking so yesterday when I was craving crepes, I decided to make crepes filled with a blueberry sauces, topped with powdered sugar and whipped cream. I know these are not the healthiest, but boy were they delicious! Tyler usually sticks with cereal or waffles for the morning, but he decided to give them a try and soon found out how yummy they were. He even snuck a second one when I went to clean up the dishes.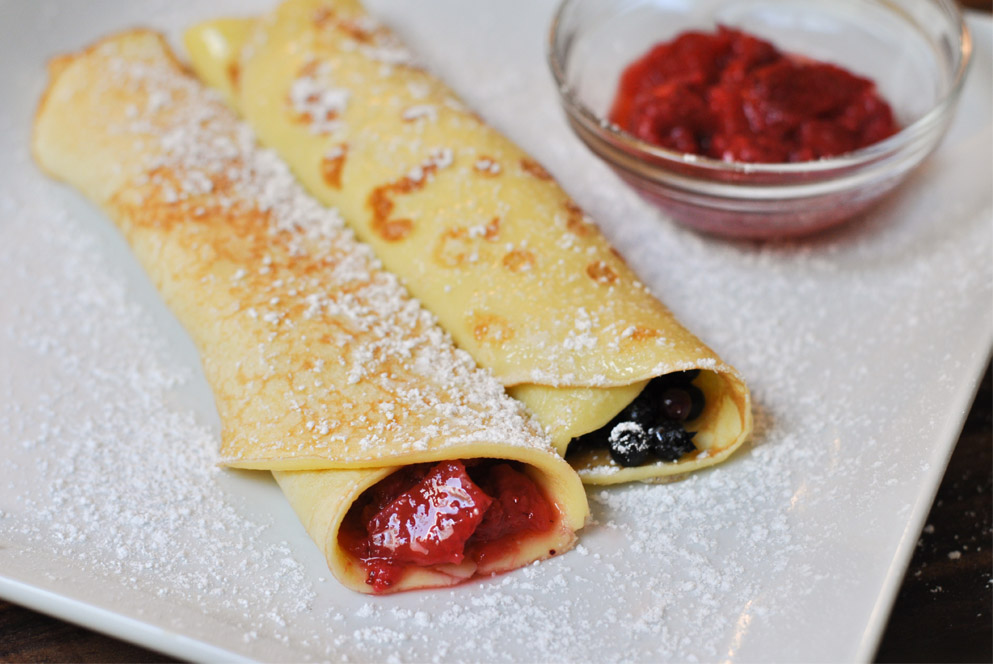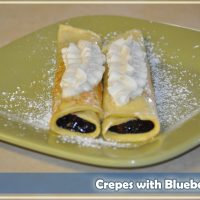 Ingredients
2

cups

blueberries

1/2

cup

sugar

1

tbs

lemon juice

1 1/2

tbs

cornstarch
Instructions
Using a fork smash up blueberries

In a small saucepan whisk together blueberries, lemon juice, and sugar. Bring to a boil for 1 minute.

Whisk in cornstarch and boil for 1 additional minute.

Serve warm or cooled. - Great for crepes, pancakes or waffles.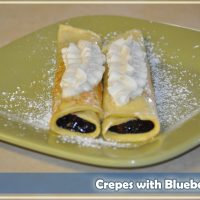 Ingredients
4

large eggs

1

cup

milk

1/2

cup

flour

1

tbs

sugar

1/8

tsp

salt

butter or cooking spray
Instructions
In a large mixing bowl, whisk together the eggs and milk, then gradually add in the flour, sugar and salt; beat until smooth. I have found that using an electric mixer for about 30-45 seconds blends it a lot easier and quicker.

Heat a lightly oiled or buttered frying pan over medium heat. Pour or scoop about 1/3 cup of the batter onto the griddle. Tilt the pan with a circular motion if needed so that the batter coats the surface evenly.

Cook the crepe for about 1- 1 1/2 minutes until the bottom is light brown. Loosen with a spatula, turn over and cook the other side for 1 minute.

Serve with your choice of fillings/toppings.
We still have a whole zip-lock filled with fresh blueberries so I'm thinking next week we'll have Belgium waffles covered in Blueberry Sauce. Yum!