I received a LongHorn Steakhouse gift card for the purpose of this review. This post was made possible by Mom Spark Media. Thoughts are my own.
Take a step outside and you'll be able to tell its fall here in New England, the trees are filled with red and yellow leaves and the weather's starting to get a bit cooler. Fall is my second favorite time of the year besides summer, fresh apples picked from the apple farm, and pumpkin recipes galore. I used to hate anything that was made with pumpkin as a child, but now as an adult it is one of my favorite ingredients, especially around fall time.
Yesterday after  I picked the boys up from school we ran a few errands and then I decided to surprise them with a little date night, just me and the boys which doesn't happen too often. We headed to LongHorn Steakhouse to check out their fall inspired menu.
A few ingredients that are a "must eat" this fall:
o Apples can be great in desserts like tarts or pies, but can also add a satisfying crunch to a salad. It's a very versatile fruit and gives salads, such as LongHorn's new Peak Season Apple Harvest Salad, a tart crunch and balances out earthy flavor of leafy greens.
o Sweet Potatoes are a hearty side to go along with a great grilled steak, but they can also work well in a salad. Think outside of the box and try them as a crouton substitute, like LongHorn does in the new Peak Season Harvest Apple Salad that also includes crisp Fuji apples, pecans, dried cranberries, bacon and spinach in an apple cider vinaigrette.
o Brussels Sprouts have made their comeback and are the perfect accompaniment to steak and ribs dish. LongHorn's new Brussels Sprouts Au Gratin feature bacon in a four cheese cream sauce topped with provolone and parmesan bread crumbs.
o Pumpkin is the epitome of fall flavor and is a perfect ingredient for bread or seasonal cake. LongHorn's new Pumpkin Spice Lava Cake is a warm pumpkin spice cake filled with cream cheese icing and drizzled with Maker's Mark® bourbon-caramel sauce and candied pecans.
Two New Chef's Showcase Entrees
Each served with choice of side & hand-chopped salad.
o New Porcini Portabella Ribeye: Ribeye rubbed with porcini dust, brushed with balsamic butter sauce and topped with a cedar-grilled portabella.
o New Pork Osso Buco: Tender, meaty, slow-cooked pork shanks. Topped with wine and roasted vegetable sauce over creamy mashed potatoes.
When we arrived at LongHorn Steakhouse, the restaurant looked like it was just starting to get busy for dinner, luckily we hit it early so there was no wait and we were seated. For most of dinner we all sat on the same side in the booth and had a fabulous time talking about school, laughing, and playing tic-tac-toe, the boys even got to splurge and ordered a banana-strawberry smoothie instead of their usual milk for dinner. It was so nice to be able to get out of the house and enjoy dinner with the boys, without having to prep and cook it myself. The atmosphere was warm and cozy and having a friendly waitress made the visit so much more enjoyable.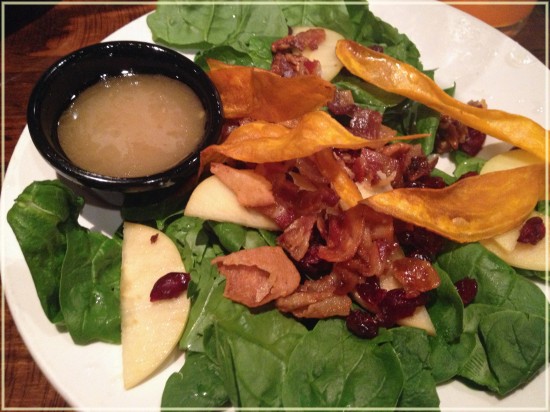 We started off with the Oktoberfest Pretzel Sticks, they arrived warm and were delicious, I especially enjoyed them dipped in the Sam Adams® beer cheese while the boys preferred theirs plain. For dinner the boys enjoyed each ordered the kid's macaroni and cheese with fries, and I got the Apple Harvest Salad,  spinach topped with sweet potato crisps, Fuji apples, pecans, dried cranberries and bacon with an apple cider vinaigrette. I always enjoy the crunch of croutons in my salad, and the sweet potato crisps were the perfect fall substitute. Our stomachs were quite full after dinner, but we're hoping to head back with my husband within the next couple of weeks to enjoy the Pumpkin Spice Lava Cake – if I thought about it I would have ordered it to take home.
For the nearest location and more information on new menu items, check out: https://www.longhornsteakhouse.com or connect with LongHorn Steakhouse on Facebook.
I received a LongHorn Steakhouse gift card for the purpose of this review. This post was made possible by Mom Spark Media. Thoughts are my own.