This is a sponsored post written by me on behalf of Atlantic Luggage. All opinions are 100% mine.
After a few moves, and 10 years of trips, our luggage has been on it's last leg. While it has allowed us to sight see and visit family, the handle is broken and it is an instant dog hair collector. While I love my two dogs, I'm not a big fan of their hair all over our luggage, especially when traveling or visiting family. Are you in need of new luggage as well? How about a vacation?
Win a Trip to New York City or San Diego!
Through November 15, enter the Atlantic Luggage sweepstakes for a chance to win a trip for four to New York or San Diego! The winner will be chosen within 7-10 days following the close of the sweepstakes and the trip must be booked by 9/30/15 and travel must be completed by 10/31/15.
The grand prize winner will receive a trip certificate valid for round-trip economy air transportation valued at up to $450 per ticket for the Grand Prize winner and three guests
Hotel accommodations at a participating Delta Vacations hotel in New York City or San Diego, California
4 Atlantic® carry-on sized suitcases
$300 allowance to spend on their choice of Delta Vacations Tour or Activity packages.
The total prize value of $3,700.
Go to: Enter to win a family trip and fill out the form to enter.
Speaking of trips, I'm looking forward to January when we head on our annual winter weekend getaway. While I would prefer someplace warm and out of New England, it will be nice to be able to get away from school and work for a few days and spend time with my extended family.
Packing Tips:
Make a list: Don't over pack like I used to do, make a list and only pack what is needed.
Roll, don't fold. My husband has always insisted on folding all of his clothes when he packs for a trip, and after watching him numerous times unpack my bags and repack them with rolled clothing, I was amazed at how much extra room there was. I now roll everything except for shirts that we do not want to have creases/wrinkled.
Check restrictions: If you are flying, check on luggage restrictions, there may be an oversize fee on luggage and it could be wise to pack two bags instead of one, or put heavier items into a carry on.
Prepping for vacation with the Atlantic Luggage Lumina 28 Inch Spinner:
The Atlantic Luggage Lumina 28 Inch Spinner is unlike our previous luggage, it features a satin finish (that does not attract dog hair, YAY!) and has a hard shell with an expandable packing compartment for additional space (additional 2 inches). The interior compartments make it easy for my husband to separate his clothes from mine, while the additional zipper interior compartment can be used to separate dirty clothes.
Atlantic Luggage Lumina 28 Inch Hardside Spinner:
Polyurethane satin finish
Dual-wheel spinner system that provides 360 degree mobility
Adjustable handle with multiple stops at 38" and 41"
Interior – split construction allows for packing on both sides
Straps to keep pressed shirts and pants wrinkle free
Zipper divider that can be used to separate dirty clothes
Side carry handle
Built in TSA lock
10 Year limited warranty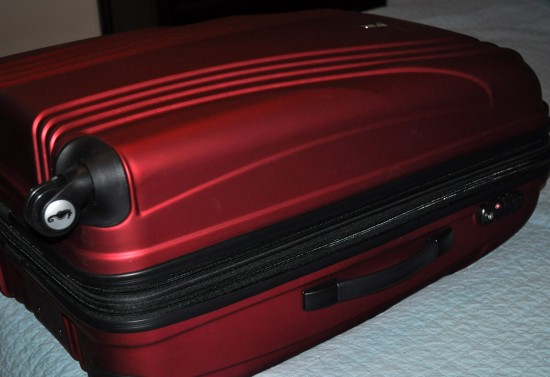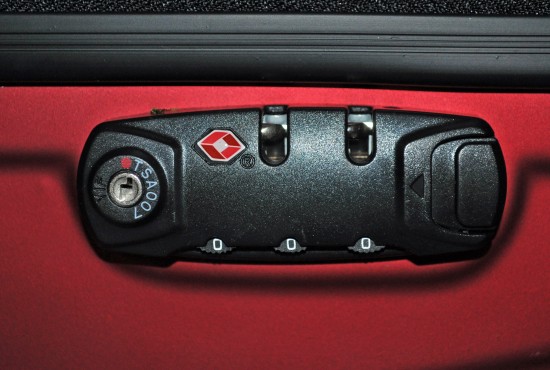 Packing Challenge:
In preparation for our upcoming trip, I took a little Challenge to see how much we could fit into our Atlantic Lumina Collection: Lumina 28 Inch Hardside Spinner. I was amazed that I could fit all of our clothing, 4 beach towels, and 4 pairs of sandals for a 4 day, 3 night stay. Rolling was definitely the way to go, otherwise I do not see all of that clothing fitting in the luggage.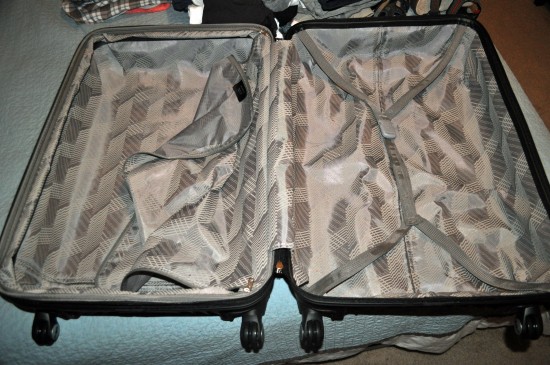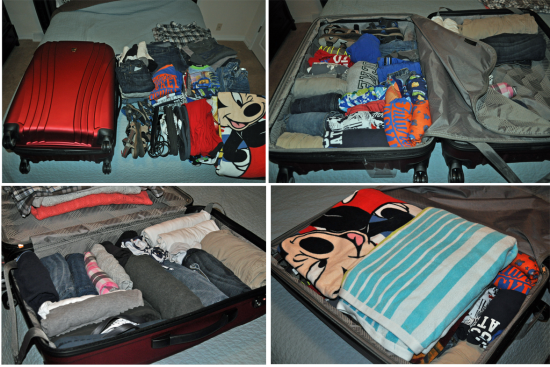 Packing for our family is now easy and more convenient with the Atlantic Luggage Lumina 28 Inch Spinner. Instead of multiple bags for clothing, I now know that I can fit clothing for a four day, and three night stay in one bag. We often only take weekend trips, and it will be more convenient to only take one luggage for clothing, and a small one for personal hygiene products, and a third for food. Not only is it less to carry, but now there is more room in the trunk.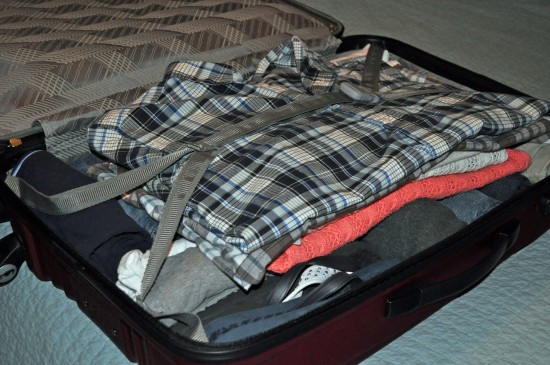 Want to try out the Atlantic Luggage yourself? In addition to entering to win a family trip, enter below for a chance to win a 4-piece set of Atlantic Luggage: The Atlantic Compass Unite in Cobalt Blue!