It's hard to imagine that Trevor will be heading off to kindergarten in a few short weeks. Having been home with him since he was born, I know I'm going to miss having my buddy around to keep me busy, but I'm looking forward to the changes that this year will bring.
Kindergarten did wonders for Jonathan and I was amazed me when he would come home spelling words, reading books, and his vocabulary significantly expanded. One of my favorite things about his Kindergarten classroom was their book library, and the ability to send two books home with each child a week in a "book bag" to read, in addition to the one book that they borrowed on library day. His teacher purchased plastic folders, and used some of her own money, plus donations, to start a book library, which parents contributed to throughout the year. Each week, the children would look forward to selecting new books to bring home, which was always a highlight for Jonathan. I always enjoyed seeing how excited he was for Friday to come along so that he could select a new book.
Reading is the important cornerstone of literacy, and children will have a better chance of developing strong language skills if literacy is promoted in their early childhood.  It's important to not only promote literacy in the classroom, but at home as well. Not all children have access to books at home which is why I'm nominating our local elementary school for the Tyson Project A+™ so that every classroom has the ability to build their own library with books for children to borrow at home.
Nominate your school through Tyson Project A+™:
Visit Walmart.com/ProjectA+
Nominate your school by sharing why your school needs a head start on collecting
Once you nominate your school, you will get the option to share your post on your social feeds to drive your community's involvement.
The school with the most nominations will receive a packet of labels worth $1,000.
A little more about the Tyson Project A+™:
Tyson Project A+ labels can be found on more than 40 packages of Tyson® products. Simply clip, and redeem, and for every label redeemed, Tyson® will give your school 24¢ to use on whatever it need – including art supplies, band instruments, school trips, and athletic equipment.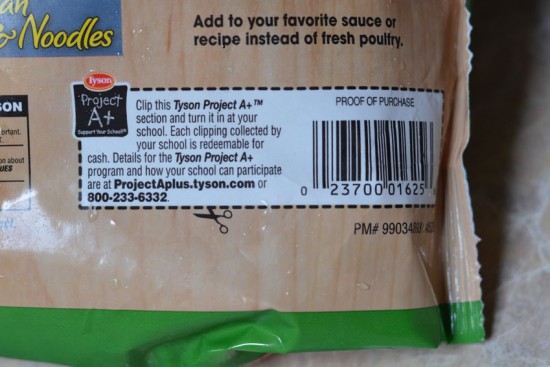 Help your school get head start on collecting Tyson Project A+™ labels, nominate today.
This is a sponsored conversation written by me on behalf of Tyson. The opinions and text are all mine.