Samples provided. All opinions are 100% my own.
While I don't mind doing laundry, I am not a fan of ironing, especially ironing my husband's work shirts last minute on hot summer days. I tend to leave the ironing up to him but lately we have been getting the wrinkles out of his shirts with Downy Wrinkle Releaser Plus.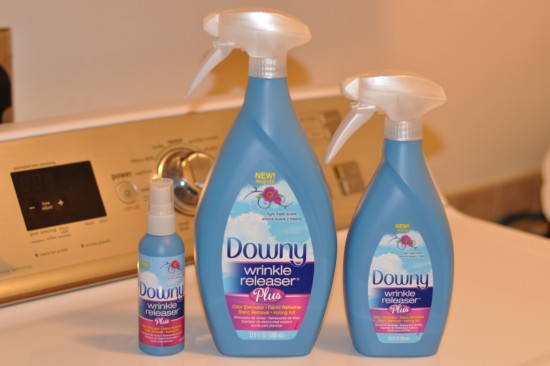 Do you have time to take out an ironing board and let it heat up while trying to get all of the kids and pets taken care of in the morning? I don't especially these next two weeks when the boys have swimming lessons first thing in the morning 4 days a week. Having recently moved, almost all of my clothes have been in boxes and were not ironed before I hung them up so my choices have been pretty slim.
Downy Wrinkle Releaser Plus
Rescues wrinkles
Odor Eliminator & Static Remover
Ironing Aid
Great for Travel – convient 3 oz spray-bottle
Use on curtains, tablecloths, sheets, pillow cases and more
Now with Downy Wrinkle Releaser Plus I spray the shirts in a sweeping motion, give them a little tug and watch the wrinkles start to disappear.  While we mainly use it on my husband's button up work shirts, this morning I really wanted to wear a shirt, but it was covered in wrinkles. I used the Downy Wrinkle Releaser Plus in between getting the boys breakfast and within minutes could notice the wrinkles diminishing.
Before & After
Say goodbye to the  iron this summer, spray and save time with Downy Wrinkle Releaser Plus.
How do you simply laundry during the summer?