I participated in a campaign on behalf of Mom Central Consulting for Maytag. I received a promotional item as a thank you for participating. All opinions are my own personal and honest thoughts.
Now that the kids are back in school, my to-do list never seems to never end. Make the kids breakfast, pack their snacks and lunch, pack the hockey bag, make sure their cleats and shin guards are ready to go, run to the grocery store while they're in school and most of all….make sure they have clean clothes. I can always count on our Maytag Bravos XL high-efficiency top-load washer and dryer when it comes to laundry time.
Maytag Bravos XL Washer & Dryer: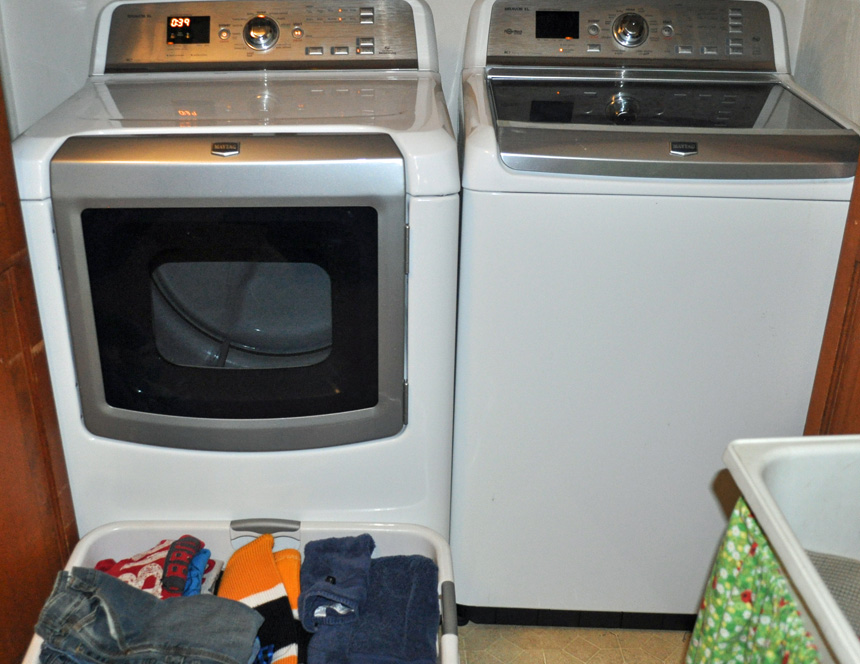 As a Maytag Laundry Mom we've had our Maytag Bravos XL for a little over a year now, and I couldn't be more pleased then the day it arrived. There have been no issues, and now a year later it still looks and works as if it were brand new. There's not many people who enjoy doing laundry, but I do. I'm always amazed at how much I can fit into a single washer and dryer. ( The Maytag Bravos XL fits up to 21 towels in a single load!) My washing and drying time has significantly decreased, now if only I can find a way to have the clothes automatically fold themselves…
The Maytag Bravos XL top load washer & dryer has been a huge help in keeping our family's clothing clean and looking like new, especially with two active young boys whole love to run around in the dirt and mud, and a husband would enjoys hunting, fishing, and hiking.
I usually do laundry twice a week, but with back to school comes extra curricular activities and additional laundry. This year both of the boys are playing hockey and soccer, with hockey twice a week. We all know how stinky hockey gear can get, and grass stains from soccer but I can always rely on our Bravos XL for fighting all of the tough odors and stains.
Our Maytag Bravos XL high-efficiency top-load washer and dryer has been a life-saver this past year, especially during the back-to-school season,I don't know what I would do without it.