This Little Tikes Picnic Table is the perfect gift for young children. Use it all summer long outside, or even inside when you need extra seating or for art time.
We recently moved, and while the boys love our new house we had to leave a few things behind that wouldn't fit in the moving truck, mainly all of their outdoor toys including their climbing structure, playhouse, table, and sandbox. Since we spend most days outside during the summer months and often eat lunches & dinner in the front yard I knew one of the first things on the list to replace was their picnic table.
Knowing we have three neighborhood kids that are J & T's age that often come over I wanted a picnic table big enough for all 5 of them. Thanks to Little Tikes, the children have been enjoying their snacks, lunches and dinners on the Easy Store™ Picnic Table with Umbrella.
Little Tikes Easy Store Picnic Table with Umbrella: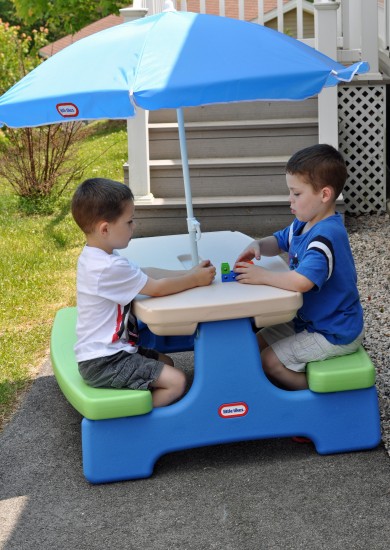 The Easy Store™ Picnic Table with Umbrella is exactly what it sounds, a picnic table that is easy to store. It can be easily set up  in the morning and taken down at the end of the night to store in the shed or garage. The table can be used indoors or outdoors and in the middle is a multi-use tray for condiments, crayons, or small toys. There are also two cup-holders.
The Little Tikes Picnic Table folds up for easy storage.
I love having a spot that will fit all of the kids during snack or lunch time, and the sturdy table also comes in useful for storing their drinks while they're running around having fun. The added umbrella gives the kids extra shade and also comes apart for storage. For holidays or rainy days I can bring the picnic table indoors for extra seating for the younger children.


Recommended Age:
The Easy Store Picnic Table is recommended for children 2 through 8.
How many children?
Six children can fit comfortably, three on each side. We have used the Little Tikes Picnic Table for a 7, 6, 5, 4 and 3 year old and they all of plenty of room to eat their meals.

Where to purchase?
This Little Tikes picnic table with Umbrella retails for $94.99, but you can usually find it on sale at  LittleTikes, Toys R Us and Amazon. It is currently on sale for $60.33 on Amazon
.
Samples provided by Little Tikes. All opinions are my own personal and honest thoughts.