This post brought to you by VTech Communications. All opinions are 100% mine.
Looking at our first baby monitor that I received at my baby shower it is amazing how far technology has come in just a short 5 years. Pan, tilt, zoom, infrared LED, 1,000 feet of range! Our old baby monitor was a hit or miss if it would work, we'd charge it up only to have the battery die just a short time later. It would only work if we were within closer range and was only a one way system, we could hear the baby, but there was no picture or video.
If you're looking for a better sense of security, the Vtech VM333 Safe & Sound® baby monitor is a prime choice.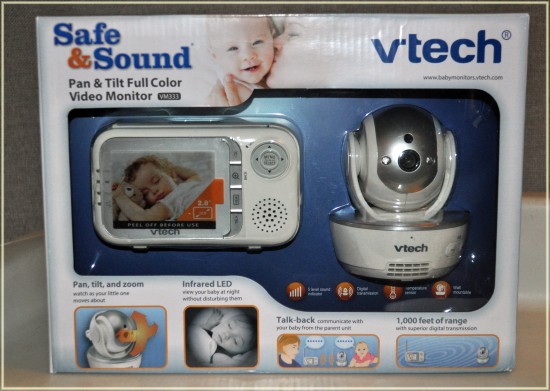 VM333 Safe & Sound® Baby Monitor Features:
Full Motion Video: 230×240 pixel display
Pan, Tilt & Zoom: Watch as your baby or infant moves about
Automatic Infrared Night Vision: View your baby at night without waking them up
Two way communication: Communicate with baby from the parent unit, provide comforting words without going in their room.
1,000 feet of range
Temperate sensor
Rechargeable batteries
2.8 inch video screen and 2x's zooming capability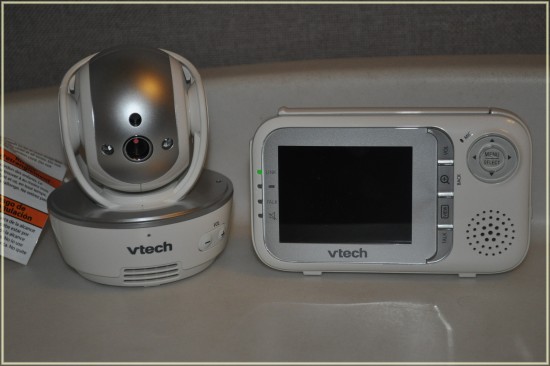 I was happy to see that there was no set up required, I literally took it out of the box, plugged the camera into the wall, put the battery into the parental unit and turned it on, within seconds it was ready to use. While you can fix the camera to the wall, if your like our family and travel often the VM333 Safe & Sound® Baby Monitor offers the flexibility while on the go. Easily pack it up to bring it to grandma's house, or to a vacation rental.
2.8 inch video screen and 2x's zoom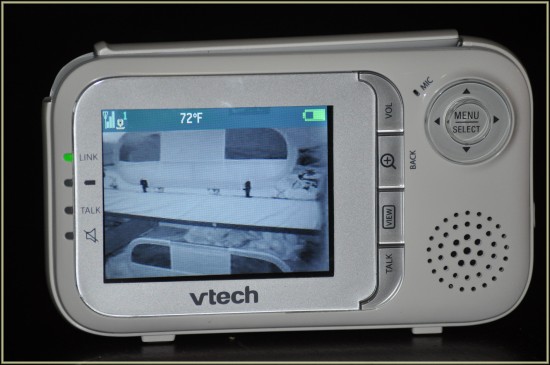 Night view, when all of the lights are off.
The VM333 Safe & Sound® Baby Monitor provides peace of mind, anytime, anywhere. Secure the camera in a fixed location and keep an eye on your child from anywhere in the house. With over 1,000 feet of range you can have peace of mind cooking dinner, folding laundry or even laying in your bed knowing you can view baby in the parental unit.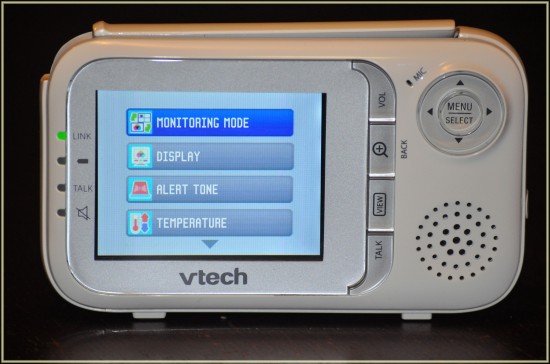 Press the up, down, left and right buttons on the parental unit to swiftly move the camera for a different view of the room. Have a toddler that loves to climb out of the crib? Now you can spot them while in a completely different room. As soon as I heard commotion on our old baby monitor I would know Tyler was up and moving around, but a few times I didn't realize he was out of his crib until I physically went into his room, with the VM333 Safe & Sound® Baby Monitor I can now see first hand what he is doing.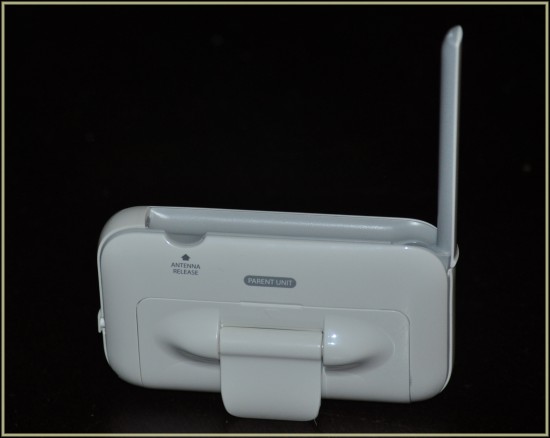 Stand for easier viewing on tabletop.
The VM333 Safe & Sound® Baby Monitor would have saved some surprising moments, like the time Tyler was supposed to be napping in the bedroom at our lake house, instead he found a chocolate bar and had it smeared all over the walls and the bedding. But I'm glad we have it now, and I'm able to keep a better eye on the boys during naptime, and bedtime.
Overall, I am impressed with the quality of the quality of the VM333 Safe & Sound® Baby Monitor, it is a big step up from our previous baby monitor that only projected sound. The VM333 Safe & Sound® Baby Monitor provides a peace of mind whoever I am, laying in bed, cooking dinner, or trying to get work done on the computer.
Buy It: You can purchase the VM333 Safe & Sound® Baby Monitor for $179.95 at retailers nationwide including online at Vtech and Amazon.com.