Disclosure: Samples received. All opinions are my own personal and honest thoughts.
Whether you are shopping for an infant, toddler, preschooler, or an early grade school student, there are some fabulous new items from available from TOMY, Fairy Tale High and Educational Insights for the holidays. One of my favorite gifts this year for toddlers is the TOMY Toys Octopal Squirters, bath time was always a huge hit in our house, and still is. Plus the squirters can also double in the summer as a kiddie pool toy.
My preschooler & kindergartener jumped with excitement when they spotted a couple of the toys geared towards there age including the Chuggington Stack the Track line, John Deere Monster Treads Wheelers, and Dino Construction Company trucks. I'm looking forward to fun in the sandbox with the Dino Construction Company trucks  this summer, playing in the sand was always a favorite of mine growing up.
Top ideas from TOMY, Educational Insights and Fairy Tale High: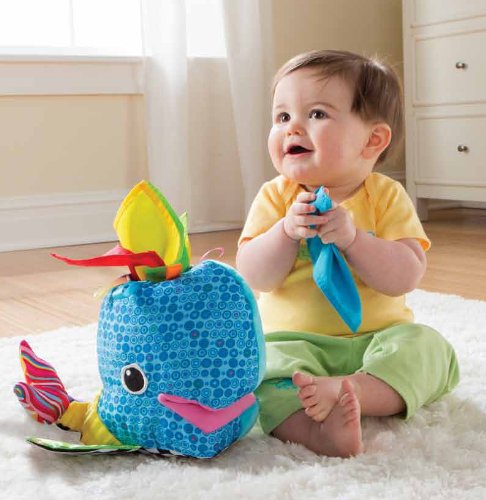 Lamaze Franky the Hanky Whale:
Babies love pulling tissue out of the tissue box, but Moms hate the mess. Franky the Hanky Whale is a great alternative that engages baby with treasured pull-out play and so much more! Put the colorful tissues in Franky's mouth and then magically pull them out of the spout. Baby will love the surprise play and the cuddly whale character. Full of premium textures to explore, Franky's bright, bold colors and patterns stimulate developing vision.
Recommended Age: 6 months & up.
Buy: MSRP: $24.99, Available at Babies R Us, and currently at Amazon.com for $19.99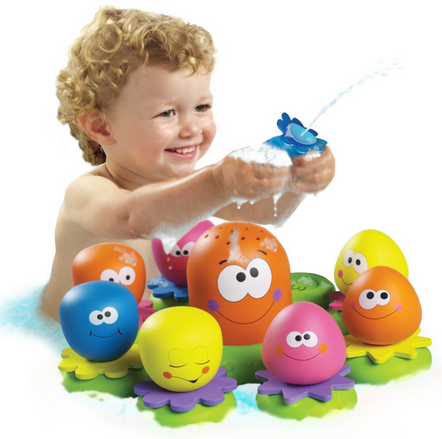 TOMY Toys Octopal Squirters:
Get tangled up into tentacles of fun with this new bath toy from TOMY. An octet of octopus babies each squirt water, while the mommy octopus is a fun water pouring toy. Each octopus baby is numbered and matches to a base, so your child can learn numbers and counting. Stick the baby squirters to tubs and tile for extra fun!
Recommended Ages: 12 months & up.
Buy : MSRP: $19.99, Available at Amazon.com.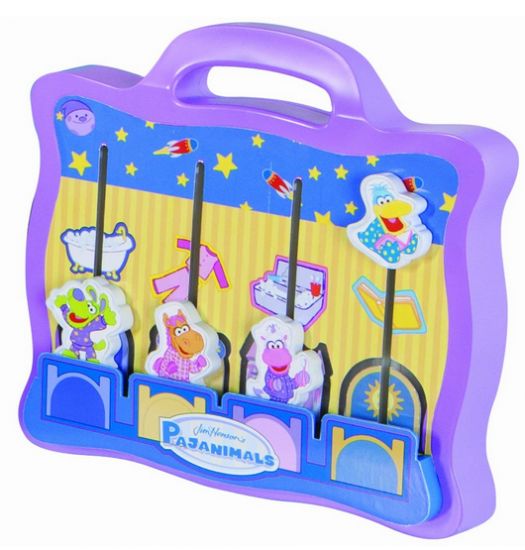 Pajanimals Bedtime Routine Board:
The new Pajanimals Bedtime Routine Board makes bedtime fun and helps little ones transition from play time to bedtime. The board highlights pre-bedtime activities such as taking a bath, brushing teeth, putting pajamas on and getting into bed. Fun sounds ping as your child slides each character to perform and complete each task. Complete all tasks to hear "La-La-Lullaby."
Recommended Age:  12 months & up.
Buy: MSRP: $29.99. Available at Amazon for $20.
GeoSafari® Jr. Animal Eye Viewers by Educational Insights:
Take a walk on the wild side—backwards! Slip on your Shark Eye Viewer and use the rear-view mirrors to get around, but look out for your blind spot—sharks can't see directly in front of themselves. Or see what certain bugs see with their prism-like eyes. Choose from three different Animal Eye Viewers (Shark, Insect, and Chameleon) and get a whole different view of the world.
Recommended Age: For ages 4 and up.
Buy: SRP: $27.99 for boxed set of 3. Available at Amazon.com for $25.75.

The Sea Squad™ Puppet-on-a-Stick™by Educational Insights:
Take a swim on the wild side! Meet The Sea Squad: Flipper the anglerfish, Dipper the octopus, Chomper the shark, and Bob the clam. Their googly eyes, vivid colors, and hilarious expressions will inspire all sorts of creative play in an instant. Children will flip over these silly creatures from the sea as they dive into worlds of dramatic play, while developing communication skills and practicing real and imaginary dialogue! Has easy-glide child-sized thumb lever and a chunky, secondary knob, giving kids two ways to articulate each puppet's mouth.
Recommended Age: 3 and up.
Buy: Sold separately (SRP: $9.99) or in a box of four (one of each character) for SPR: $39.99. 4 pack currently available at Amazon.com for $35.99.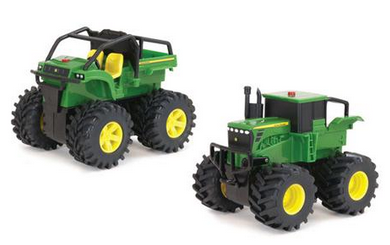 John Deere Monster Treads Wheelers:
Motorized wheelie action!  With a push of a button, activate the monster motor sound and watch as the Monster Treads take off doing a wheelie! Available in 4WD Tractor or Gator styles.
Recommended Ages: 3 to 8.
Buy: MSRP: $19.99 each, available at johndeeregifts.com, local John Deere dealers, Walmart and Toys R Us.
Dino Construction Company™ by Educational Insights:
It's a sandbox knockout! Part dino, part construction vehicle, there's no project too tough for the four member of the Dino Construction Company! These dino construction vehicles are perfect for carpet, dirt, and sand; this mega vehicle can build and bash anything, anywhere!
Recommended Age:For Ages 3 and up.
Buy: Available at Amazon.com. Triceratops Bulldozer (SRP: $39.99); T-Rex Skid Loader (SRP: $39.99); Brachiosaurus Backhoe (SRP: $39.99); and, Anklylosaurus Steam Roller (SRP: $36.99).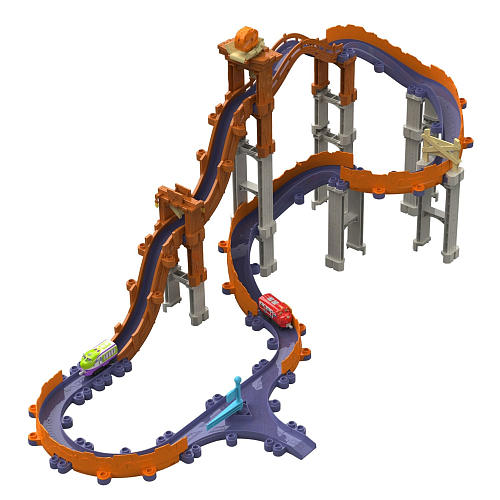 Chuggington StackTrack die-cast Railway Rescue at Rocky Ridge Playset:
Beware of the tumbling boulder, steep hills and crash gates in this playset based on the 2013 "Rescue at Rocky Ridge" Chuggington episode! This height-defying four-level playset—featuring the same innovative track used to build the World's Tallest Toy Train Track and earn a GUINNESS WORLD RECORDS title in 2013—includes a mine tunnel, boulder trap and High PerformanceTM Wilson and Koko engines.
Recommended Ages: 3 & up.
Buy: MSRP: $29.99. Available at Amazon.com
Fairy Tale High Dolls:
Fairy Tale High features a collection of beautifully designed 11 ½" fashion dolls sporting today's trendiest clothes, hairstyles and designer shoes. Fully articulated bodies enable girls to create stories, posing and bringing together characters for the first time. Collect all eight Fairy Tale High dolls and create your own fantasy.
Recommended Age: 3+, mostly likely appeal to ages 6-10.
Buy: MSRP $17.99 per doll. Available at Amazon.com
.
Who are you shopping for this year?