Disclosure: I received a complementary ROMO in exchange for this review. All thoughts and opinions are my own.
Looking for a holiday gift for your Techie? Meet ROMO  – an app-controlled robotic pet. Download the app on your iPhone, plug the iPhone in and let him explore the world on his roving base. You can use a web browser or other iOS devices and control Romo from anywhere in the world, allowing you to stay connected to distant friends and family. You can also train him to follow objects, the kids love watching him chase after a ball.
ROMO Features:
Control Romo from anywhere in the world
Two-way audio/video between smart devices – great for parents who travel for work
Let ROMO roam, and snap pictures of what he sees
Learn as you play – Learn ROMO 's amazing story as you complete missions designed to teach the basics of computer programming
Simple visual programming customized with hundreds of fun behaviors.
Train your ROMO – Complete programming missions to unlock new abilities and features
Object follow – ROMO can learn to magically follow certain objects – throw a ball and watch him chase it!
Designed for ages 8 and up.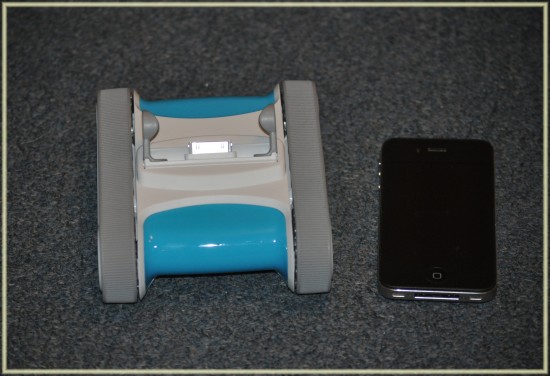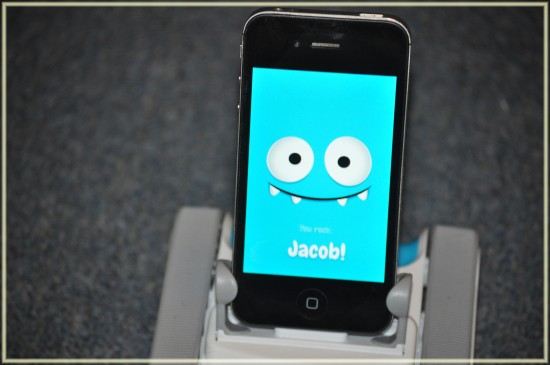 My husband has been spending a lot of time out of town for work, and the kids miss him incredibly. Thanks to our iPhones and ROMO, my husband is able to walk around our house pretending he is here, although he's hundreds of miles away. He can control Romo and go room to room following the children, into the bathroom as they brush their teeth, in their bedrooms for story time, and says goodnight as they hop into their beds.
Having Romo has made being away from each other easier as the children can include Dad in their everyday activities when he has some free time. I just pop my iPhone 4S into the rover, and he can follow the boys and interact with them. ROMO also keeps me on my toes, knowing at any time he can show my husband the sink full of dishes or the laundry over flowing. We've been using ROMO almost everyday to keep in contact with my husband and we're looking forward to teaching ROMO new behaviors.
The only downfall to ROMO, is my iPhone 4s will not fit into the base unless I take the cover off. I'm going to have to find a cover that can either fit in the base or comes off easily as my current cover is getting worn out from taking it on and off so much.
Buy It: ROMO is currently available for iPhone 5, iPhone 5S, iPhone 5C, iPod touch (5th generation), iPhone 4, iPhone 4S and iPod touch (4th generation) at Brookstone, Brookstone.com and Romotive.com. $149.
Download the FREE ROMO App in the iTunes store.