The kids have recently become obsessed with Miles From Tomorrowland, and enjoy watching it on Nick Jr. whenever possible.  They often mimic the show and pretend that they are Miles Callisto and Merc, the family's robo ostrich. While we don't shop at Toys R Us too often, every time we do visit they have been checking out the aisles for the new Miles toys.  It didn't take them long to spot the Miles From Tomorrowland toys during our last visit and they have had their eye on the Blastboard and Stellosphere.  Little did they know, that I've had a box of Miles From Tomorrowland toys hiding in my closet waiting for their big debut.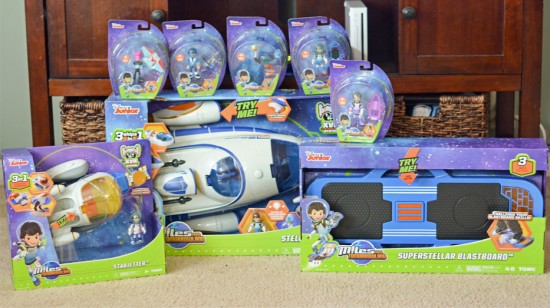 Friends, food, and Miles From Tomorrowland!
The boys and their friends were sent a number of toys from the new Miles & Tomorrowland toy line thanks to TOMY & House Party.
Miles From Tomorrowland Stellosphere: 3-ships-in-1 playset is the Callisto family's home base
Miles From Tomorrowland Superstellar Blastboard: Provides 3 fun balancing games with lights and sounds to keep kids engaged.
Miles From Tomorrowland StarJetter:  Transforms from a flying ship to a land vehicle for rough terrain. Legs also extend for extreme height while on missions.
Miles From Tomorrowland Small Figures: Loretta, Galactic Miles, Super Stellar Miles, Merc, Pip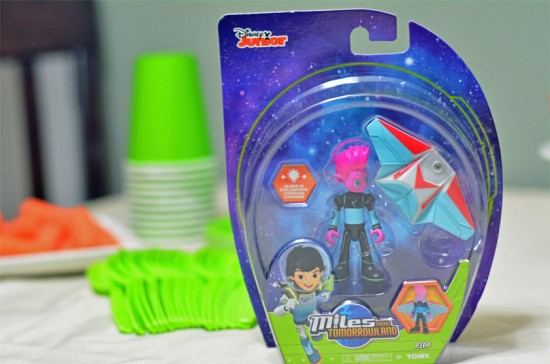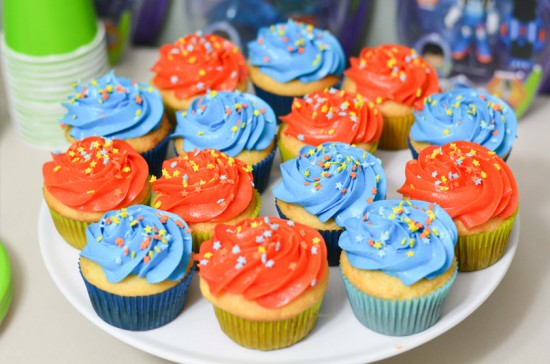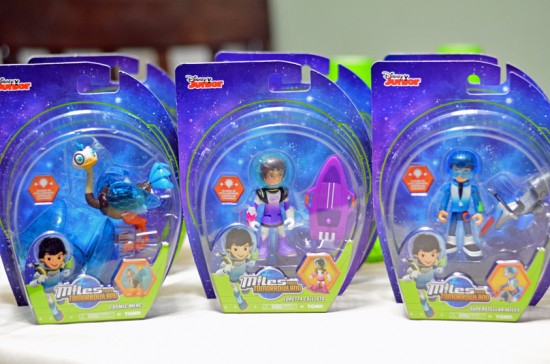 The Stellosphere and StarJetter each came with a Miles figure and since we were sent additional figures, each of their friends was able to pick one to bring home. Although the kids loved all of the Miles From Tomorrowland toys, I have to say the Miles From Tomorrowland Superstellar Blastboard was by far the biggest hit, and caused quite the bickering at times. If you looking for a gift for Miles fan, I highly recommend the Blasterboard.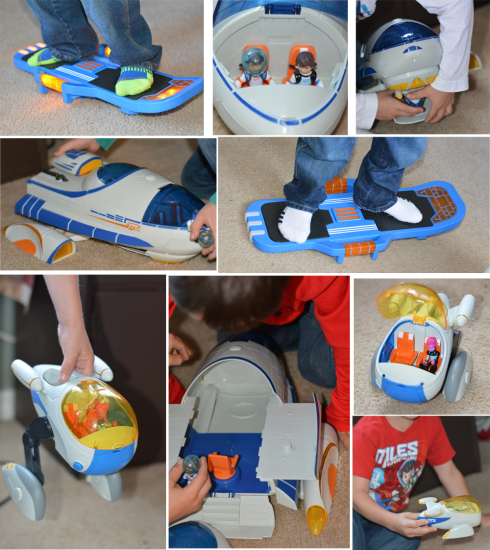 Once the excitement from opening the new Miles toys ended, it was time for some fun cupcakes. Since there were no Miles From Tomorrowland party supplies at any of our local stores yet, I did find these cute little star sprinkles to go along with the outer space theme.
 Do you have any Miles From Tomorrowland fans? Who is their favorite character?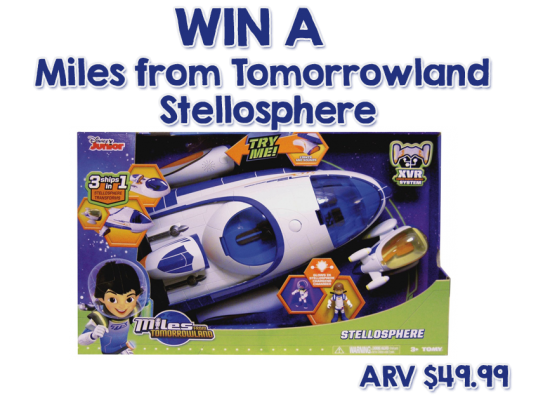 Thanks to TOMY, one lucky reader will win a Miles from Tomorrowland Stellosphere. To enter, simply fill out the form below. Open to U.S. only.
a Rafflecopter giveaway

Sample, giveaway prize and information has been provided. By entering this giveaway you agree to the Giveaway Rules. This giveaway will end on October 4, 2015 at 11:59am EST. The winner will be chosen via Rafflecopter. The winner will have 24 hours to respond or prize will be forfeited. You must be 18 years or older. Open to U.S. residents only. No P.O. Boxes.  Allow 4-6 weeks for prize fulfillment.  All opinions are 100% my own.