Little Man loves whenever we go to a birthday party at a bounce house place, he will run around and bounce for hours, and it is always a struggle to get him to leave. I have been looking into purchasing an inflatable bounce house when I came across Blast Zone and noticed all of their amazing bounce houses, did you know that they now have bounce house water slides?! I am so jealous, we had a trampoline when I was younger but these inflatable bounce houses look like so much fun!
Blast Zone Rock Crawler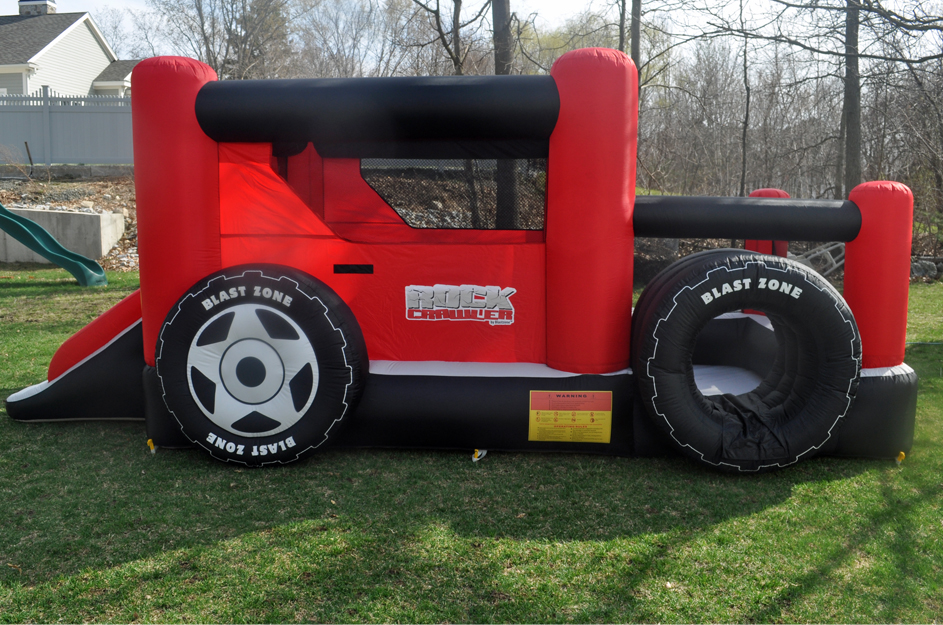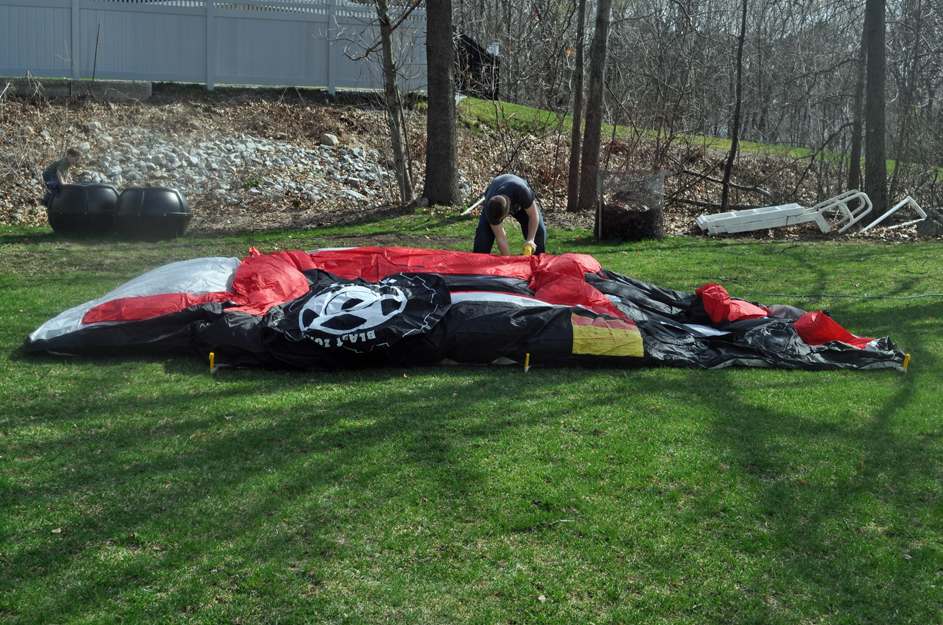 After looking over the Blast Zone website for about an hour, I decided on the Rock Crawler Bouncer and Ball Pit. It has an inflatable bounce area, as well as a slide, and also a small ball pit area that Baby Boy could use.
Blast Zone Rock Crawler Features:
18x11x7
7.5×7.5 Inside Dimension Bounce Floor
UL Blower included
Includes Carry-Case
90 Day Warranty
Ball Pit Add-  Optional Play Balls
Capacity – Up to 6 Kids – Max Weight per user: 100 lbs
Made with X-Weave and Commercial Vinyl Material
Recommended for ages 3 and up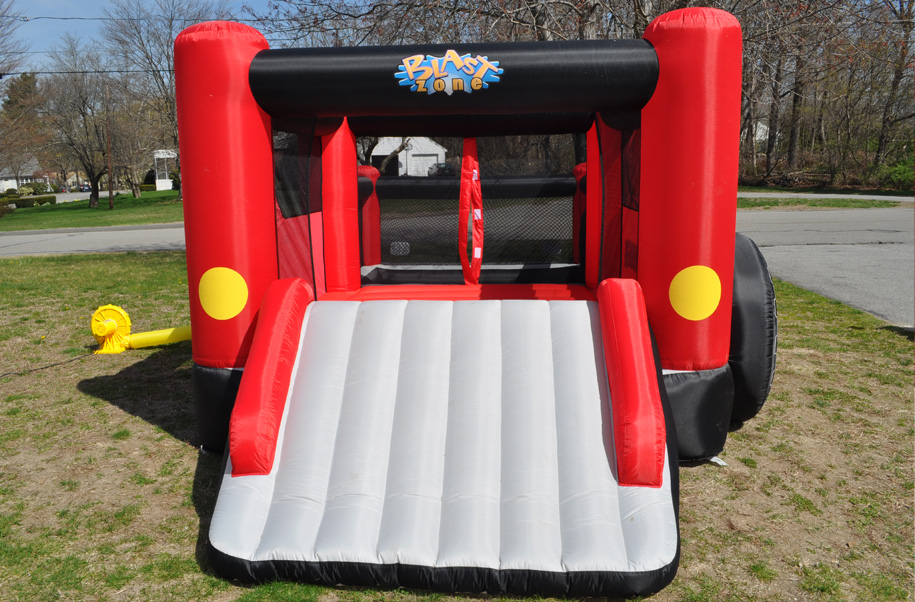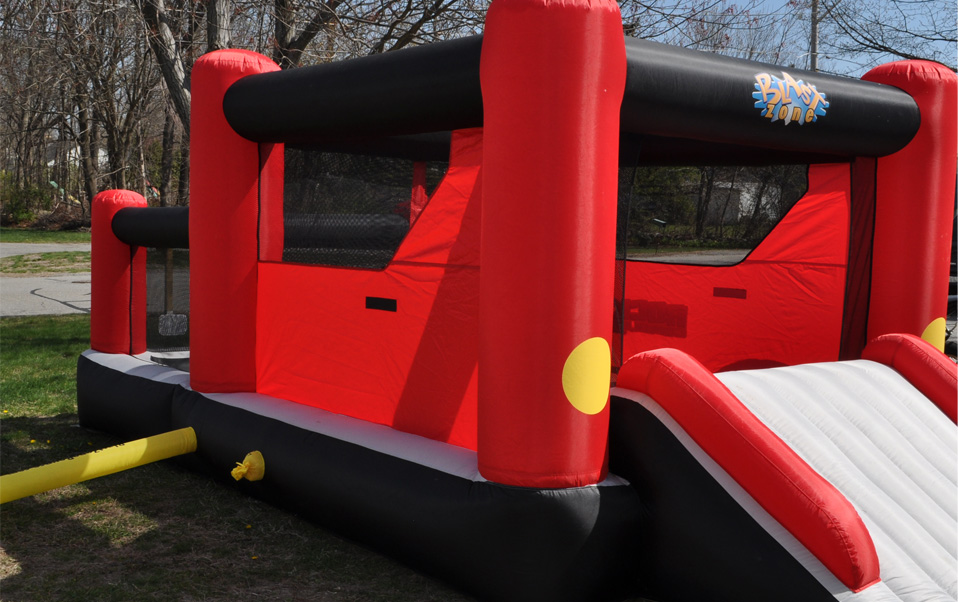 Set Up:
The Rock Crawler Bouncer and Ball Pit came in one large box.  Set up was easier and much quicker than I thought it would be. We laid the Rock Crawler Bouncer and Ball Pit out, secured it to the ground using the included stakes and attached the blower. Within seconds of turning the blower on the Rock Crawler Bouncer and Ball Pit was completely inflated and and Little Man was jumping for joy. He was so overwhelmed and couldn't believe he had his own bounce house in his own back yard!
Blower:
You have to keep the blower turned on the whole time you want to bounce, and when it is not in use you can turn it off. Turning it on and off is super easy, just the push of a button. The bounce house deflates pretty quick as soon as the blower is turned off so you want to make sure all children are out of the bounce house before you turn it off. We turn it on and off numerous times throughout the day, when we go inside for nap time or lunch time. I love how quickly it inflates again once we turn the blower back on.
Large Bouncer In The Cab:
The Rock Crawler Bounce House has a 7.5×7.5 Bounce Floor that can safely hold 4 children at no more than 100 lbs each. The bounce floor is a good size for both of the boys and for a couple of their friends.  There is also enough room for Daddy to sit in the corner and supervise Baby Boy as he is still a little young and cannot bounce too good by himself.
Crawl Tunnel Tire & Ball Pit in the Engine Compartment Area:
Baby Boy's favorite part of this combo unit is the ball pit area and the crawl tunnel tire that leads to it. He enjoys rolling around and throwing the balls at the netting. The ball pit does take a lot of balls, no balls came with the Rock Crawler Bouncer and Ball Pit so we purchased 300. I thought 300 would be a lot but you need over 500 to make it look decent, 300 spread out evenly didn't even cover the floor.
2-Kid-Wide Tailgate Slide:
I love how this combo unit includes a slide, Little Man and Baby Boy love slides. The slide can safely fit two children sliding down side by side. The material makes it non-slippery, and Baby Boy is able to slide
down himself.
Take Down & Store:
After trial and error my husband and I now have a certain way we fold up the bounce house to put it into the bag. We lay it out, and fold it the long way into fourths and then roll from one side to the other. It fits nicely into the bag which my husband then carriers into the shed. It takes no more than 10 minutes for us to fold it all up.
The Rock Crawler Bouncer and Ball Pit is durable, well made and will provide hours of fun. I can see many summer parties in the future and look forward to having all of the neighborhood kids over to bounce and play.
Buy It:
You can purchase the Blast Zone – Rock Crawler Bouncer and Ball Pit on Amazon for $499.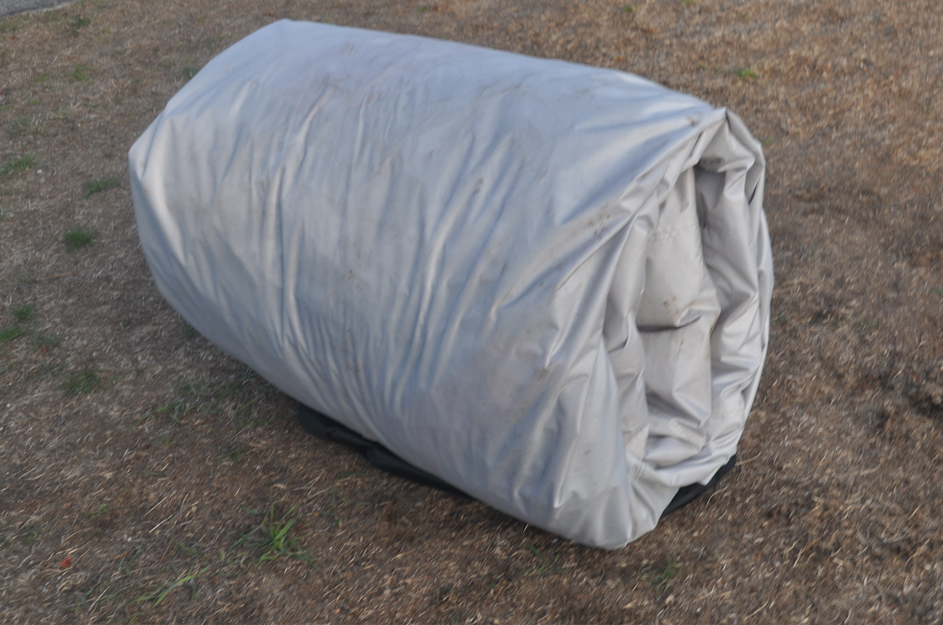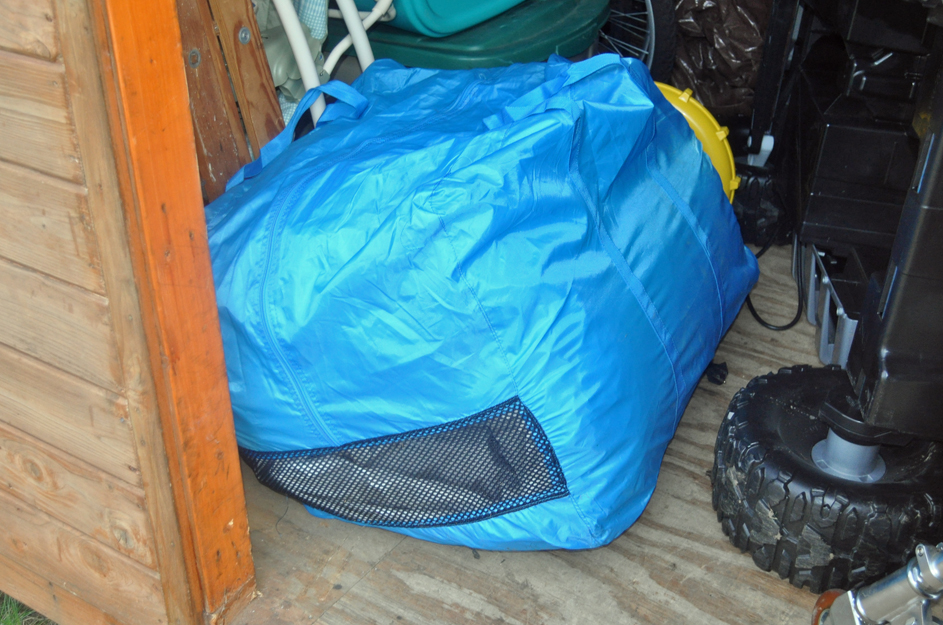 The Blast Zone Rock Crawler includes a convenient zippered storage bag with carry handle.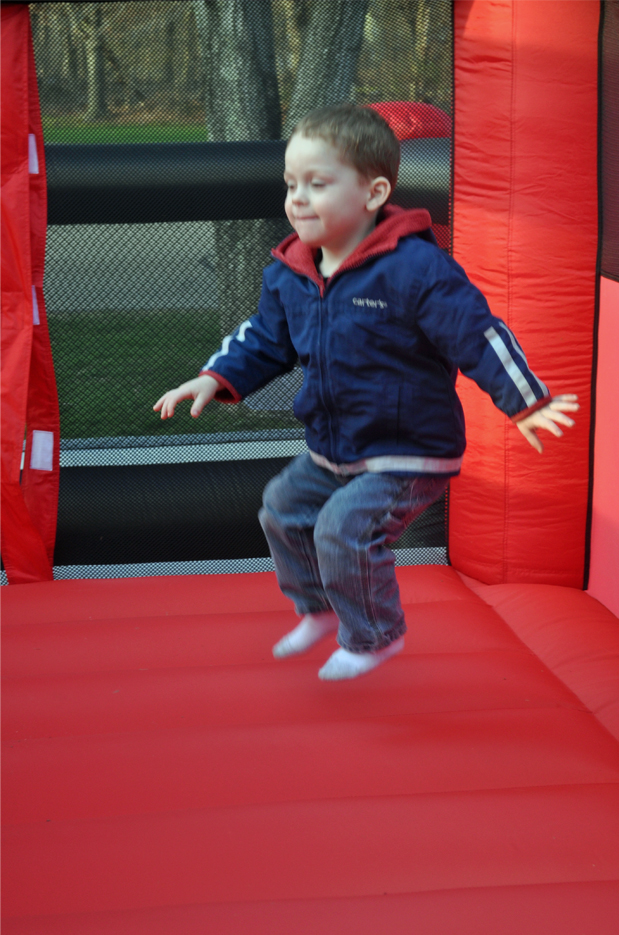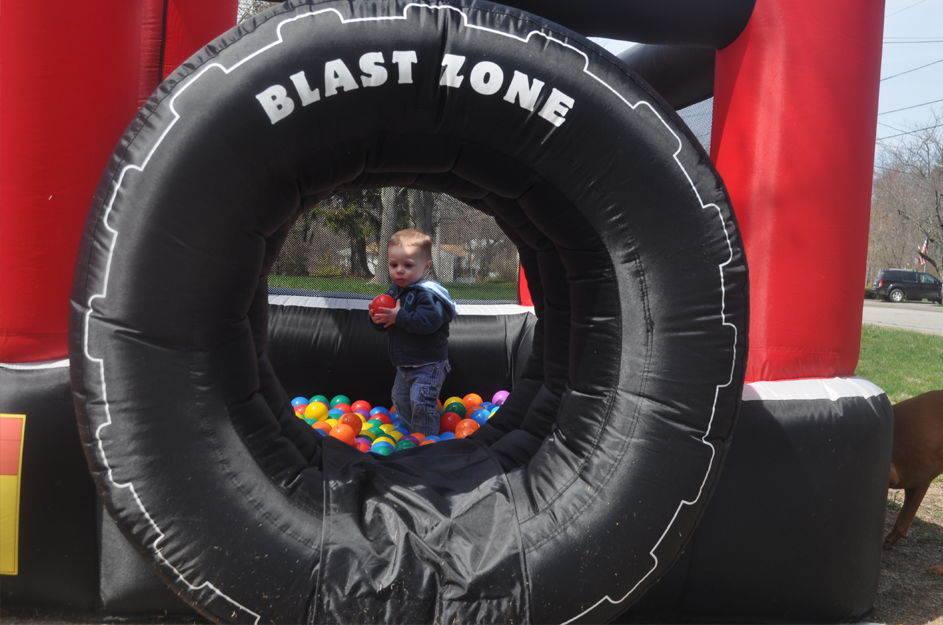 The ball pit area in the Blast Zone Rock Crawler is the perfect spot for toddlers and preschoolers.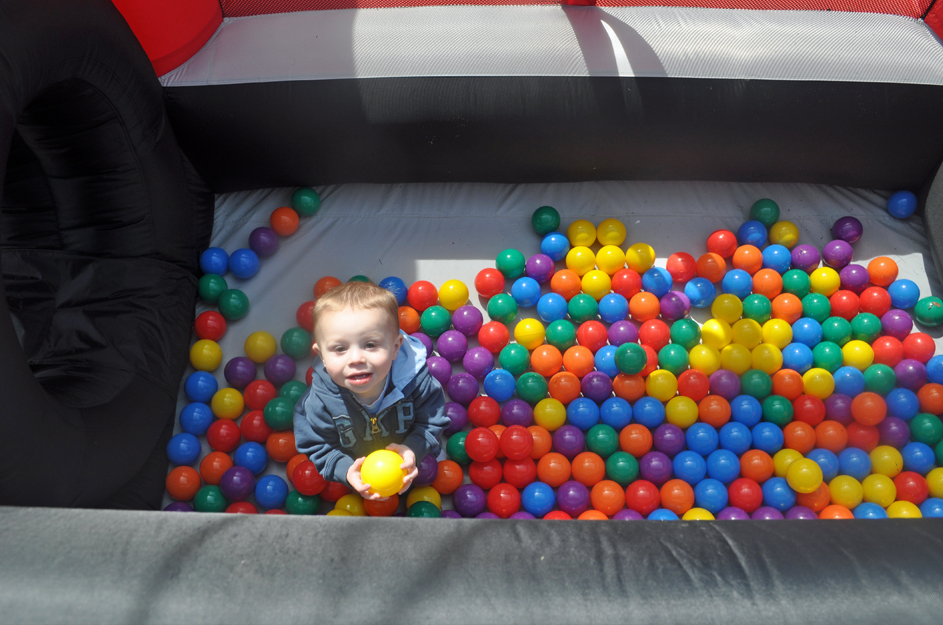 Disclosure: I received the product mentioned in exchange for posting a review. No compensation was provided. The opinions expressed are my own personal and honest thoughts. 
Save
Save
Save
Save
Save