The reviewer has been compensated in the form of a Best Buy Gift Card and/or received the product/service at a reduced price or for free.
Piece by piece we are making the house that we purchased last year "our home." It's not happening overnight but as the days and the months go on we have been making small touches to the place where we plan to call home for the next 20 or so years. We recently started our bedroom makeover and I'm looking forward to our making our way to the master bathroom that is also connected to our laundry room. I wasn't too sure about having the only access to the laundry room through our master bathroom, but after living here for a year it's been a huge convenience.  I sure do not miss having to run up and down the stairs every time I wanted to do.
Not that we have laundry hookups on our 2nd floor, I just need to paint the cabinets white, the walls a light teal, and a reliable washer and dryer set for our busy family.
Are you looking at upgrading washer and dryer?
There's no better way than with an LG washer and dryer.  The LG washer and dryer can be raised to a comfortable height and to get valuable storage with a traditional pedestal. Or you can choose the SideKick pedestal washer that will wash an additional small load underneath the main washer, perfect for that one shirt you need washed before a meeting or a delicate sweater.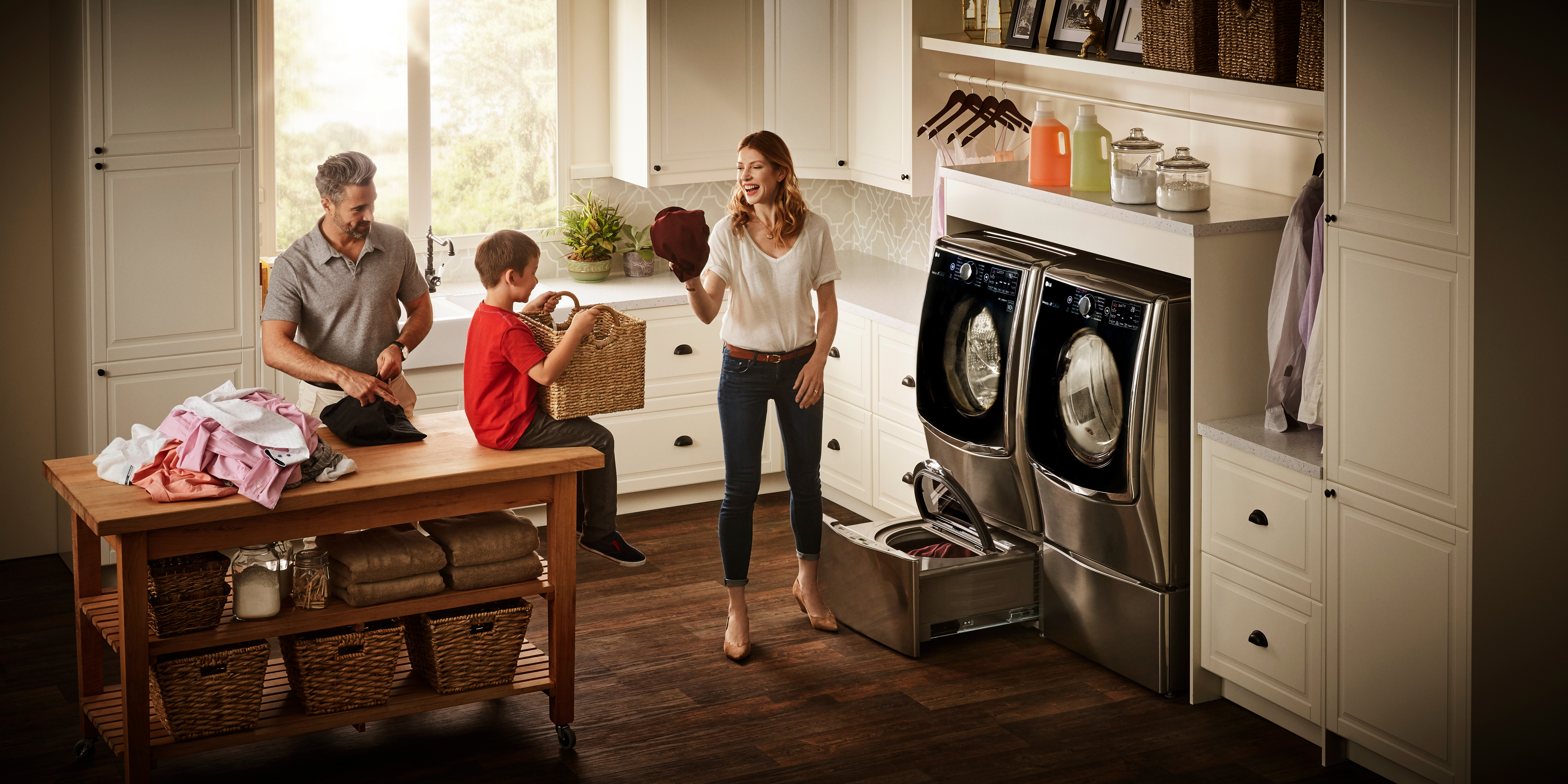 Wash, Dry, and Refresh with LG
As a mom of three, I find myself having to run a full load at least every other week just to get that one shirt washed the night before picture day, my husband's white t-shirts, or a dirty work uniform on a Sunday night. A number of my clothes also have to be washed on a delicate cycle or separate, wasting not only time but water by having to run a full load. The LG SideKick pedestal washer would be perfect for our family of five. I would no longer have to sit around for one load to finish to wash the 2nd load with just a handful of clothes, I could run two washes at once.
The LG Washer has a large capacity, perfect for families, and are energy efficient.
Save on a LG Washer and Dryer.
The LG TwinWash System is available at Best Buy. From 1/11-4/25 save up to $500 with select LG Laundry Package.