I participated in an Ambassador Program on behalf of Influence Central for Hood Cream. I received product samples as well as a promotional item to thank me for my participation.
How often do you dine out at a restaurant and wish that you could re-create the meal at home? Most of the time, the recipes are made with premium quality ingredients that are easily accessible at your local grocery stores and are easier to make than expected. This past August, I was invited to the Deuxave Restaurant located on Commonwealth Ave in Boston as a Hood Cream Ambassador. Living in New England, I grew up with Hood. It was my mother's # 1 choice when it came to purchasing dairy products, and just like my mother, it's my #1 choice as well. Open up our fridge or my mothers, and you are almost guaranteed to see a carton of Hood Cream, either half & half or light cream. Hood cream is not just a common reached for ingredient in our house, but in many restaurants as well.
While I often use it in my coffee, steak sauce, and desserts, I recently learned about incorporating it into a number of side dishes and entrees. During our dinner at Deuxave Restaurant, I was able to taste some fabulous dishes created owner & chef, Chris Coombs, that all featured Hood cream. It was hard to imagine that I could re-create these restaurant-quality dishes at home, but now I have access to the recipes, and you do too!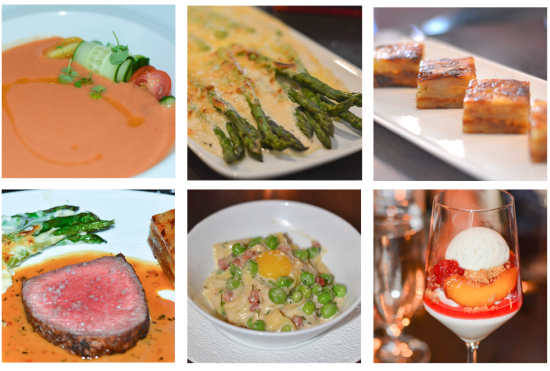 How would you like to make Peach Melba for dessert this week?
Or serve Asparagus Gratin and Potato & Caramelized Onion Gratin as a side to your New York Strip.
Now you can.
The new Chef Creations Inspired by Hood Cream E-Cookbook features more than 25 recipes created by Hood® Cream spokesperson and award-winning Chef Chris Coombs, chef/owner of Deuxave, dbar and Boston Chops.
Chef Creations Inspired by Hood Cream E-Cookbook
Included in the cookbook is  two special recommended seasonal menus – a summertime tasting menu and a holiday spread, perfect for entertaining.
With each recipe, Chef Chris Coombs includes notes, special tips for cooking with cream and his inspiration behind each dish.
Easy to download on multiple devices such as tablets, desktop computers and smartphones.
Find a recipe you like? Easily share it by using the social media sharing buttons for each recipe, linking to Facebook, Pinterest and Twitter.
A step-by-step "cook view" mode.
Sample of recipes included:
Heirloom Tomato Gazpacho
Peach Melba
Asparagus Gratin
Spring Carbonara
Pork Loin with Apples
Creamy Mashed Potatoes
Pumpkin, Pecan and Cranberry Bread Pudding
Chicken, Broccoli and Ziti
Pumpkin Bisque
Braised Pork Nachos
Lately, most of our lunches and dinners have been on the boring side, so I'm looking forward to serving these restaurant-quality dishes at home with my family, especially with the holidays right around the corner.  Instead of our plain steamed Asparagus for Sunday dinner this week, I'm looking forward to using Hood Cream and serving Asparagus Gratin.
Download the E-Cookbook.
The interactive Chef Creations Inspired by Hood Cream E-Cookbook  is available for free download by visiting Hood.com/ecookbook and will be available soon on platforms including iTunes, Barnes and Noble, and Kobo.com.