This post is sponsored by Mom It Forward and Smucker's Uncrustables.
Morning time in our house used to be a mad house between getting the kids out of bed, taking care of the dogs, making lunches, and making sure myself and my husband were both ready and out the door by 7:30. I didn't like being stressed first thing in the morning, and I would snap more often than I liked. I'd feel bad as soon as the kids got on the bus and wish I didn't yell at them first thing in the morning. So I started to make changes in our routine that have helped out tremendously.

Get on a schedule:
The start of this school year I got the kids on a schedule and have stuck by it, even on the weekends. It now comes natural to them, and I rarely have to remind them to do something. They both enjoy getting up and ready, as it leaves a few minutes to play before they head off to school if they don't mess around. Once they are up, they are in charge of getting themselves breakfast, unless they need help with the toaster oven. After breakfast teeth get brushed, dressed, and then their bed is made.
Involve your children:
The children not only help me to decide what to make for breakfast, lunches, and dinners, but now that they are older they also have the responsibility of helping out around the house. While I wish I was super-mom and could get everything done myself, reality sets in and I only have so much time to get things done in the morning before school and work. Both of kids have certain chores that need to be completed daily and while they're not always a fan of helping out, having those responsibilities helps me out, and also sets a pattern of helping around the house, as I notice them cleaning their bathroom sink and counter without being told.
Reading chart:
With two kids in school and a number of after school activities, it can be hard to keep track of which child read and for how long. While Jonathan has to read 20 minutes a night Monday through Thursday for school, although we encourage more, we also promote 20 minutes of reading for Trevor as well.  To help the kids stay unstoppable this school year, we printed off this fun Disney reading chart to help keep track. Each week the kids try to beat the previous time, even if it's only 1 minute.
Set a Bedtime & un-plug from technology at 1 hour before.
No, not just the kids, yourself as well.  I'll be the first to admit that I spend way too much time on my smartphone. While I'm busy checking and responding to emails during the day, nighttime is when the time is wasted. I browse social media, spend countless hours on Pinterest, and play Candy Crush. Before I know, hours have gone by and it's almost 1am. At the start of this school year I started putting my phone on the charger once the kids go to bed and I now find myself waking up ahead of my alarm instead of hitting snooze a million times. I feel well rested in the morning, don't feel as stressed, and have time to wind down and relax with my husband.
Prep meals ahead of time:
Although some weeks are better than other, I try to make a list of recipes, grocery shop on the weekend. On Sunday afternoon I prep all of the school lunches for Monday through Thursday, as the kids get hot lunch on Friday. Having the lunches already prepped and in the fridge makes morning time easier as I just have to grab and go.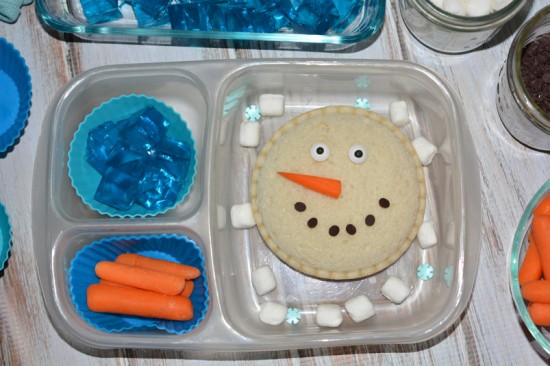 While some days are simple sandwiches, I often try to make fun lunches for the kids. Not only do they enjoy eating them, but I enjoy seeing the smiles on their faces and hearing about their "cool lunches" when they get home from school. I often hear "you're the best mom!"  I'm not going to lie, I get a little jittery with that ego boost. Most of the fun lunches that I make are a repeat week after week, but after reading 8 Hacks That Will Make Your Kid Think You're a Supermom I was inspired to prep fun lunches for this week.
Instead of a simple PB & J sandwich, I added a little excitement to the kid's lunch with a cute snowman made with Smucker's Uncrustables. I know I'm probably jinxing myself by making the snowman, let's hope the snow holds off for a little bit longer, I'm not ready for another cold winter. While you can prep most of the lunch ahead of time, it's best to unwrap and decorate the Uncrustable the day it is going to be eaten.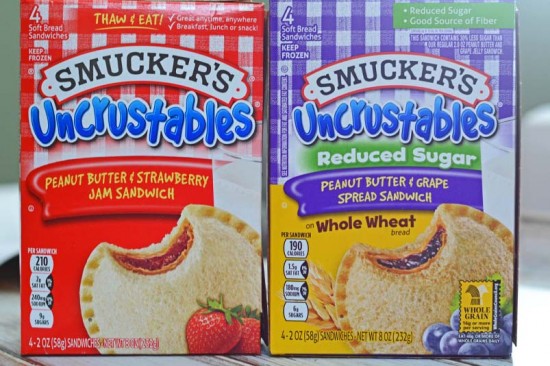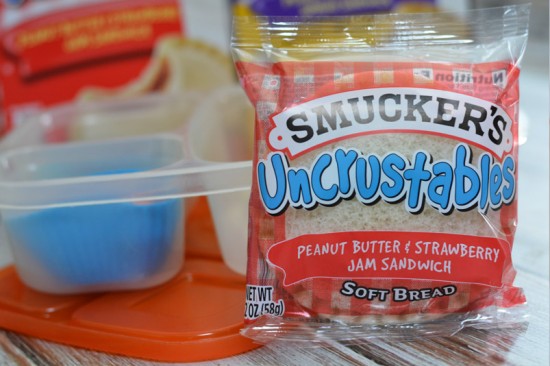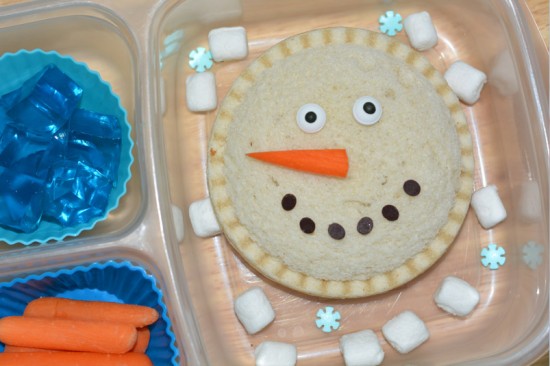 Uncrustables Snowman made with Wilton candy eyes, mini chocolate chips, and a carrot.
Uncrustables Sandwiches are ready to go wherever the day takes you, whether it's at home for an afterschool snack or on the way to hockey practice. Just thaw, unwrap, and enjoy. Easily add a few ingredients like I did to make a fun lunch for school, or just grab and eat as-is. The handheld PB&J sandwiches come in seven different varieties and combine the delicious taste of a homemade sandwich with on-the-go ease.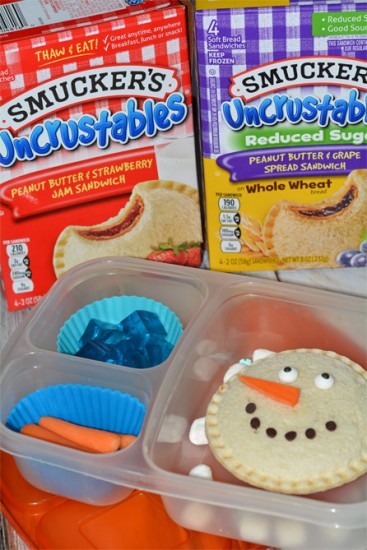 Help your family stay unstoppable, with Smucker's Uncrustables.
To get the latest product news and find out current promotions, visit Smucker's Uncrustables at http://www.smuckersuncrustables.com/ and on Facebook and Twitter.