For the past week my Facebook news feed has been filled with mixed emotions about children & teens heading back to school. There have been a number of typical school shopping and excitement for the "first day of school" for elementary and middle school kids, but there have also been a number of sappy "my baby is heading off to college, what am I going to do without them."
I can remember heading off to my first day of college freshman year, and how excited I was to start the new journey. Although I lived within 20 minutes of campus, I made the decision to dorm, to get the experience of life on my own. College marks a period of new beginnings: new routines, a new atmosphere & new friends, and it can serve as a fresh start for many. Just like the first day of middle school and high school when kids want to look their best, entering college is very similar and we all want to feel good, clean and confident.
Instead of just shopping for new clothes and shoes, I can remember the excitement of picking out shelves for my closet, new bedding, dorm decorations, and stocking up on personal hygiene products. Since we had a community bathroom freshman year with showers located on each floor, I picked out a cute caddy and made sure that it was big enough to fit the essentials including shampoo, conditioner, shaving cream, and disposable razors.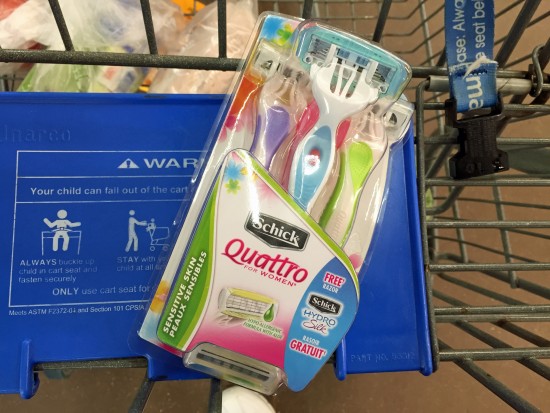 Having sensitive skin, I tend to buy to the same products over and over, and lucky for me the Schick® Quattro For Women® disposable razors have been around for years. I can always count on a close shave with Schick, no skin sensitivities, and the fun colors are always a huge plus.
I shop for almost all of our personal hygiene products at our local Super Walmart, it's only 10 minutes away and you can't beat their prices. I can grab bread, sheets, school supplies, and disposable razors all at the same time. Plus, they often have bonus items and/or coupons attached to personal hygiene products. Just, this week while I picked up a package of Schick® Quattro For Women® and it also came with a free Schick Hydro Silk razor. 4 razors for the price of 3, SCORE!


Schick Summer Selfie Sweepstakes:
Enter the #SchickSelfieSweeps where you will have chance to win 1 of 4 grand prizes of $10,000 towards collge tuition, plus other great prizes!. Learn how you can  enter.
What are your must-have products when shopping for college?
This is a sponsored conversation written by me on behalf of Schick®. The opinions and text are all mine.
N/A