For the past two years, I have been clipping and saving Box Tops for our local elementary school and have even started purchasing specific cereals and snacks based on the Box Tops participation. The Box Tops for Education program is an easy way for families to raise funds for local schools that can be used towards art supplies, technology, playground, ect. Since we already purchase a number of General Mills® prodcucts weekly, including cereals, it takes just an extra couple of seconds to clip the Box Tops.
Our local elementary school runs quarterly competitions between all of the classes, and the class that collects the most Box Tops at the end of the quarter will win a surprise that could include an extra recess, a movie day, or even a pizza party. Occasionally, they will run a raffle between individual students, and for each 20 Box Tops they bring in, they receive a raffle ticket and could win a basket full of books, art supplies, ect.
Theses fun competitions bring fun and excitement to the Box Tops program and encourage children to keep a look out for Box Tops. Receiving notices about the competitions and raffles also remind parents about the money that could be raised for their school. in 5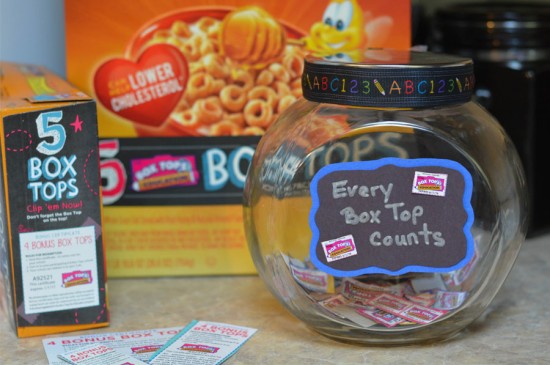 This past week the kids helped me to create a jar to collect our Box Tops. We normally have them scattered between a few different drawers and the counter, so the jar created a fun way to store and to keep track of the number of Box Tops we have collected.  As you can see, we have been busy clipping the Box Tops from select General Mills® products this summer, we have also recruited a few family members who now save their Box Tops and give to my children.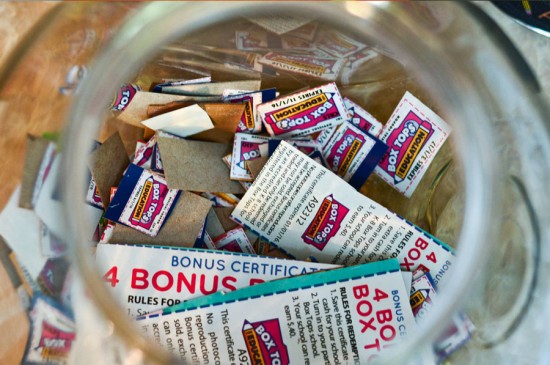 Although the Box Tops program has been around for many years, there are still a number of families who do not realize how beneficial those 10 cent labels can be. Ask your neighbor, friend, or family member if they could start saving the labels. Many will welcome the opportunity,  you can always have a Neighborhood Box Tops Challenge to see who can collect the most, it doesn't hurt to ask.
Keep a lookout for the Bonus Box Tops offer on select General Mills® products at Walmart.
A Sample of the Walmart Bonus Box Tops offer on select General Mills®
Cinnamon Toast CrunchTM (24.9oz)
Nature ValleyTM Crunchy Granola Bars (Variety pack, 24ct)
Fiber OneTM Chewy Bars (Oats & Chocolate, Value pack)
Mott's® Medleys Fruit Snacks (Assorted Fruit, 24ct)
Old El PasoTM Bold Taco Shells (12ct)
Yoplait® Go-GURT® (Strawberry Splash, Blueberry Splash, 24ct
Totino'sTM Party PizzaTM (Pepperoni, Multi pack)
PillsburyTM Grands!TM Flaky Layers Biscuits (8ct)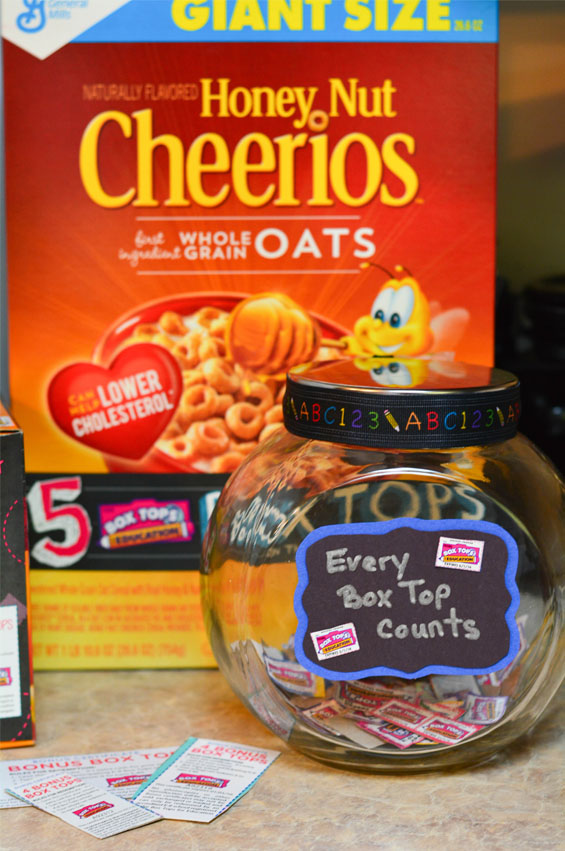 What are some of your family's favorite General Mills® products that participate in the Box Tops for Education program?
This is a sponsored conversation written by me on behalf of General Mills®. The opinions and text are all mine.