Meet the Graco UNO2DUO Travel System. With multiple ways to ride, this stroller grows with your family. Use as a travel system, single stroller, or double stroller.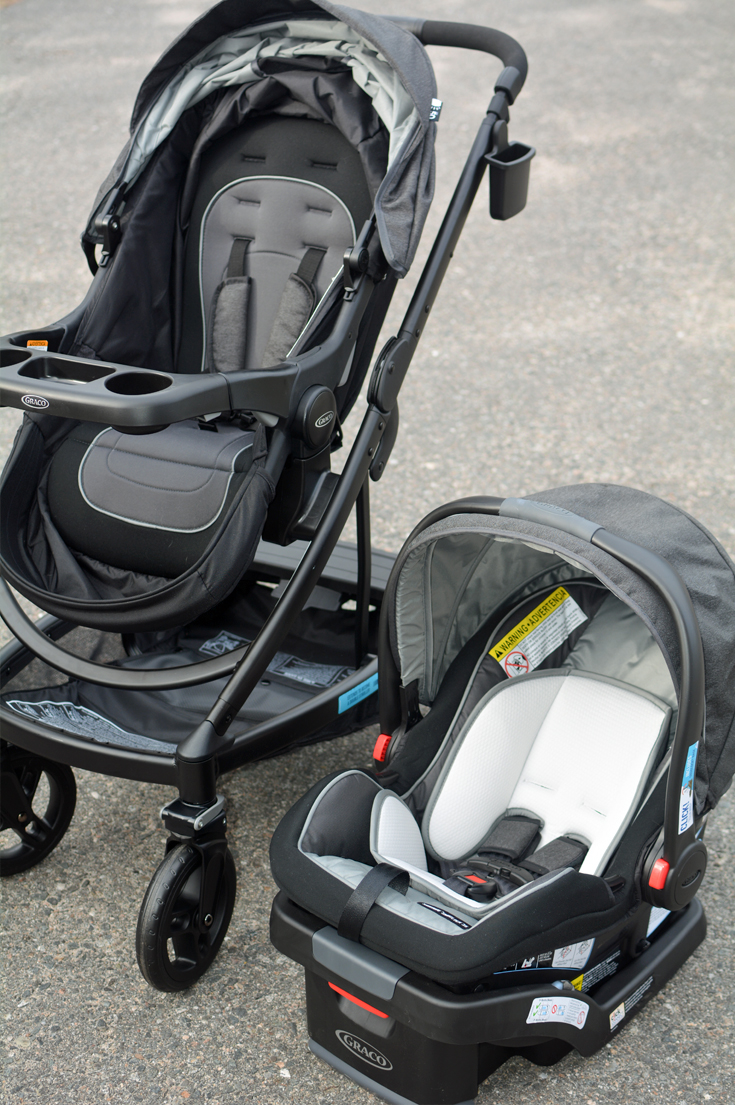 When our family moved back in 2014 I decided that it was time to start fresh, it was time to pass down all my baby gear. The double stroller, jogging stroller and lightweight stroller had been sitting in the shed for years collecting dust and it just one more thing to move. In the back of my head I was always hoping to add to our family, but as the years passed the dust kept building up and we needed the extra room. As hard as it was, it was time for the baby gear to go.
With my older children now 10 and 8, I'm starting the baby and toddler phase all over again with the birth of my third child. I couldn't be more excited for my little miracle baby. Graco is one brand that I have grown to love over the years, the products are durable, and versatile. Graco recently sent us one of their newest products, the UNO2DUO Travel System.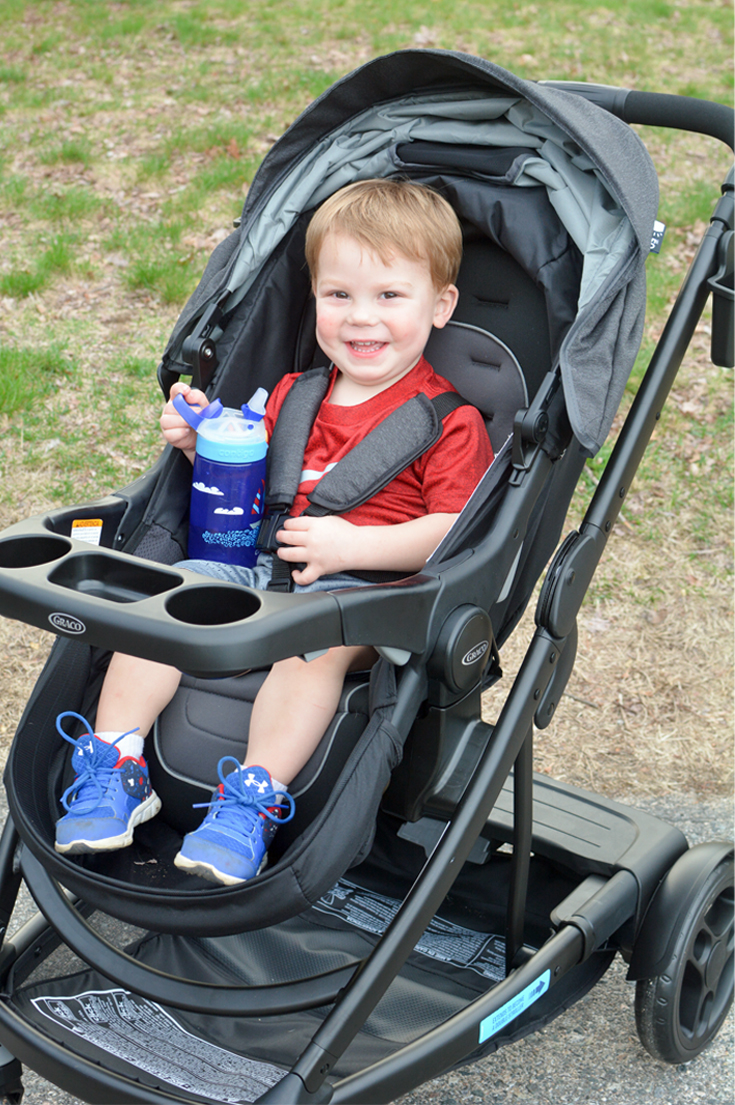 5 Reasons to Love the Graco UNO2DUO Travel System:
It was as though Graco knew everything I wanted in a stroller when they designed the Graco UNO2DUO stroller. The UNO2DUO starts out as a single stroller and can be easily converted into a double stroller as your family grows.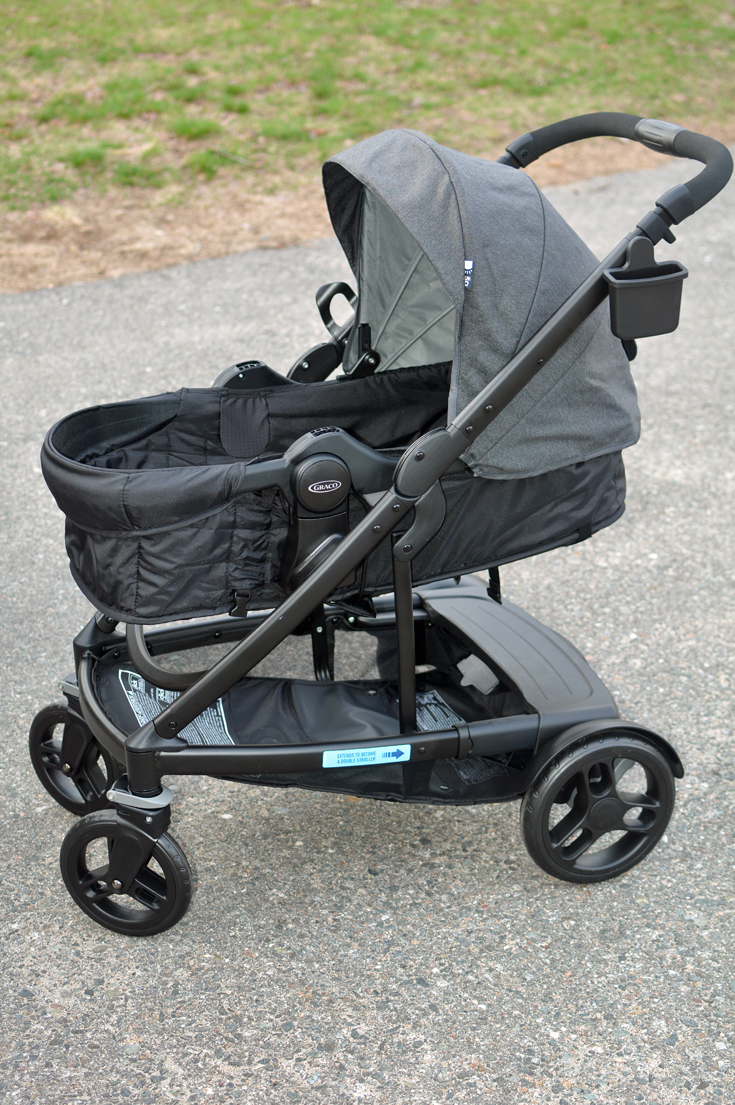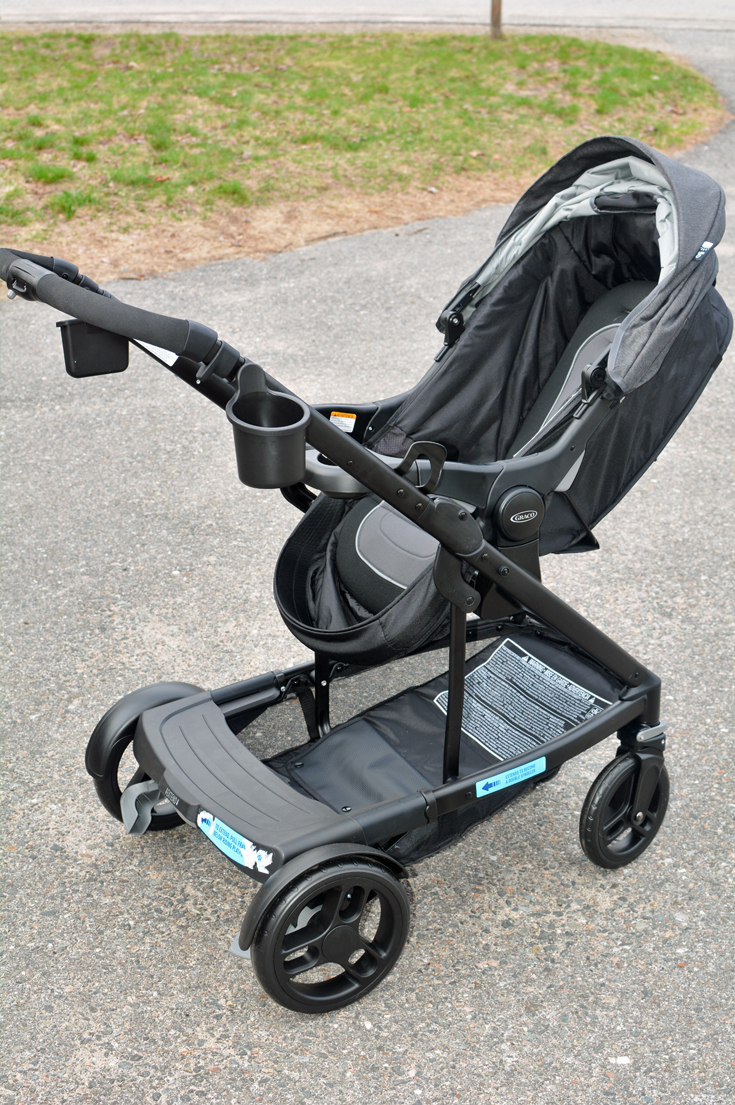 1. Multiple Ways to Ride:
One of my favorite things about the UNO2DUO is the multiple ways to ride.
Traveling with a newborn? Pack just the stroller frame and use with just the car seat.
Napping infant? Convert into the bassinet mode, the main seat reclines flat.
Adding to your family? Convert into a tandem stroller or use the included standing platform when your toddler or older child wants to rest their legs.
Going to a mall and need a place for all those shopping bags or visiting an amusement park and need a place to store the cooler? Expand the stroller an extra 5 inches for an extra large storage basket.
With the included Graco SnugRide SnugLock 35 Click Connect Infant Car Seat, the UNO2DUO has 18 ways to ride. Purchase the second seat, and there are an additional 4 more ways to ride.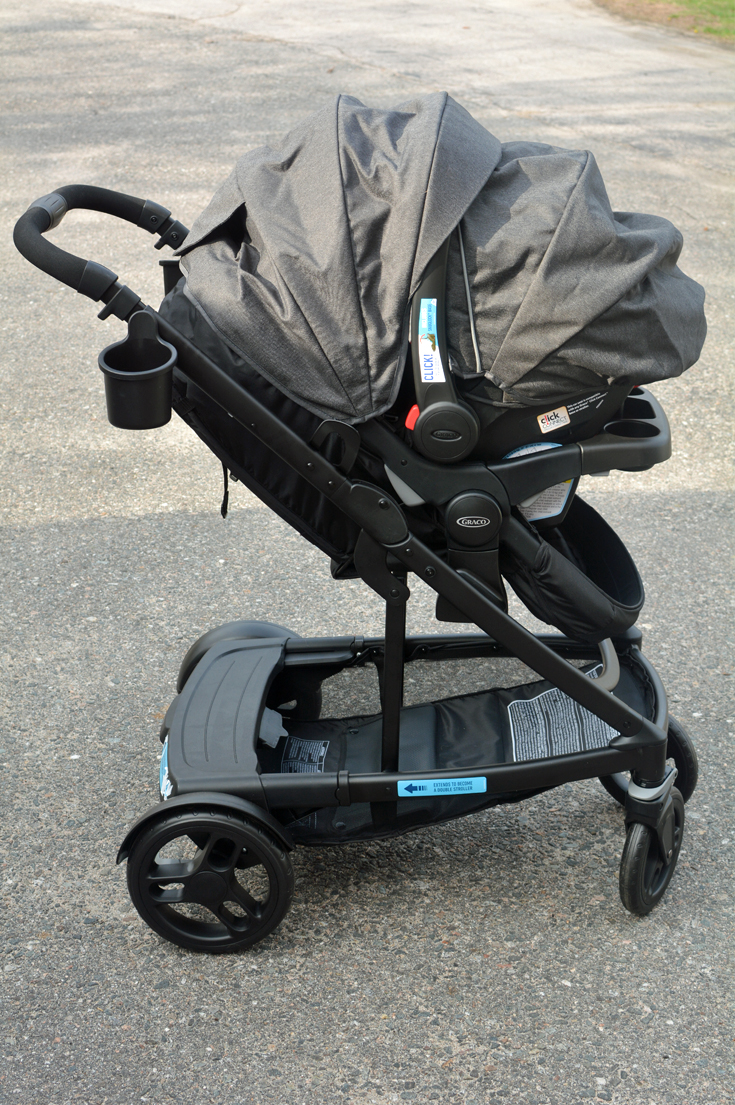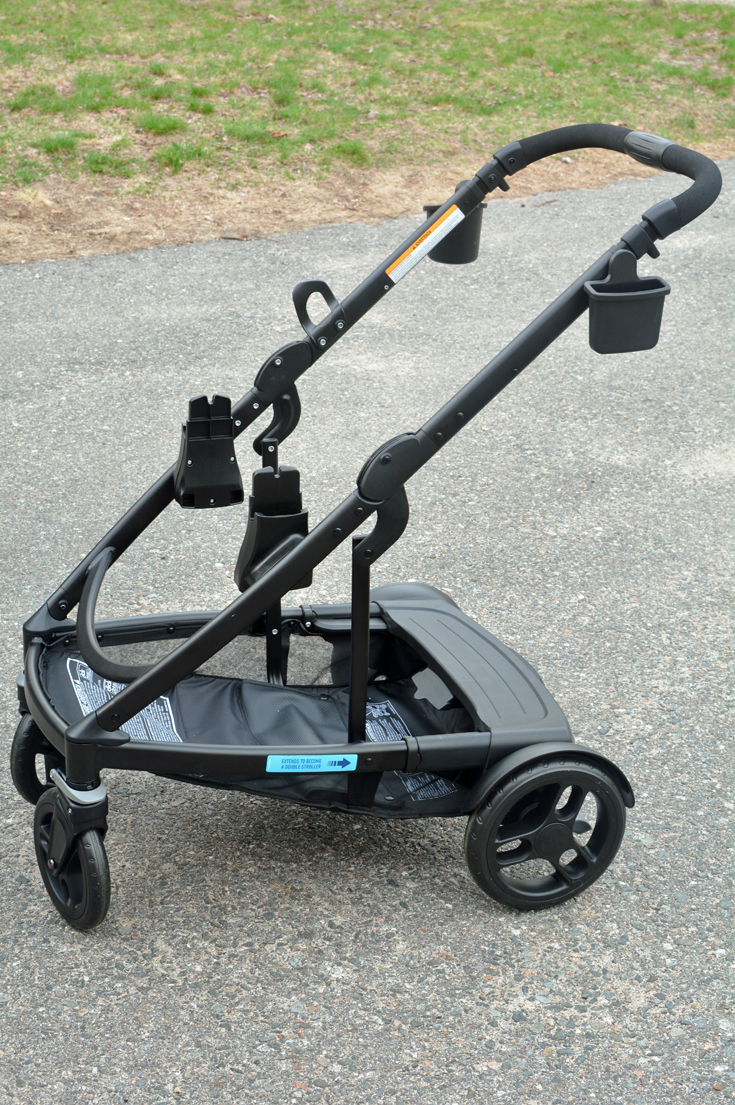 2. Grows with your family:
Although we only have one child that requires a stroller, there is the chance that we will add to our family in the next year or two. With the ability to add a second seat, we won't need to purchase an additional tandem double stroller. The UNO2DUO could be easily converted into a double stroller by purchasing a second seat.
Having the standing platform built in is great for those occasions when we travel with friends, or when I babysit. Just the other day I was watching my friend's toddler and wanted to walk to the bus stop to meet the older kids. I had one toddler buckled into the seat, and my toddler standing on the stroller platform once he got tired of walking. It's convenient to have that platform when needed instead of having to push one toddler and carry the other.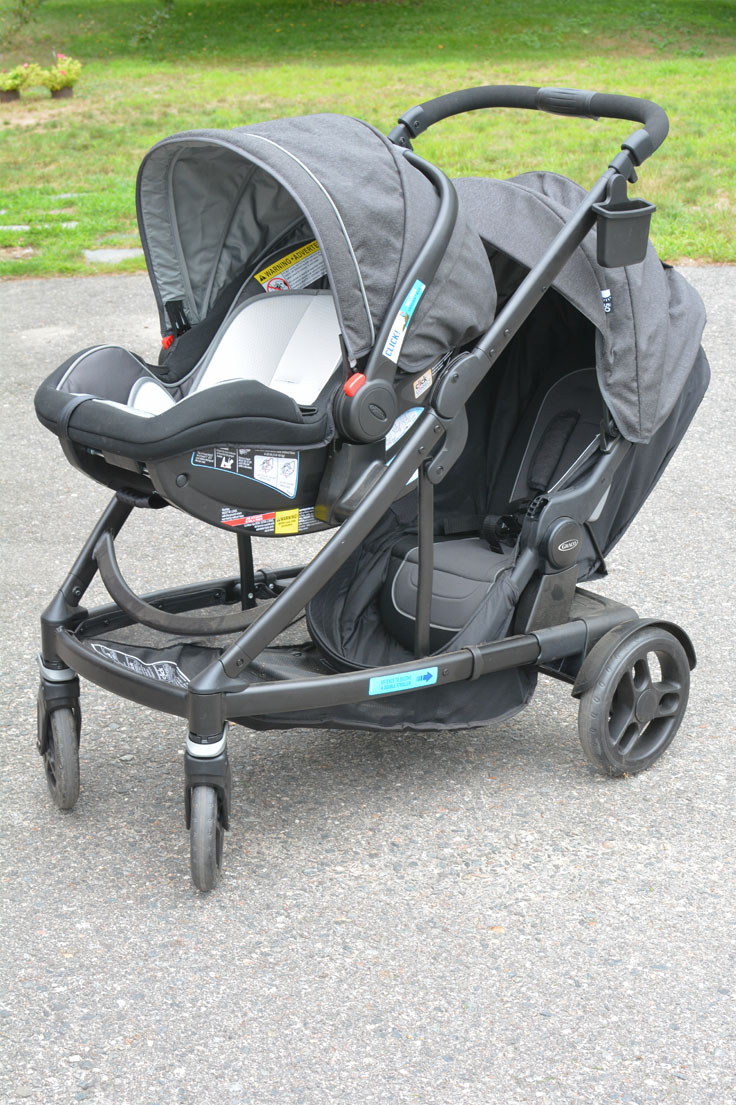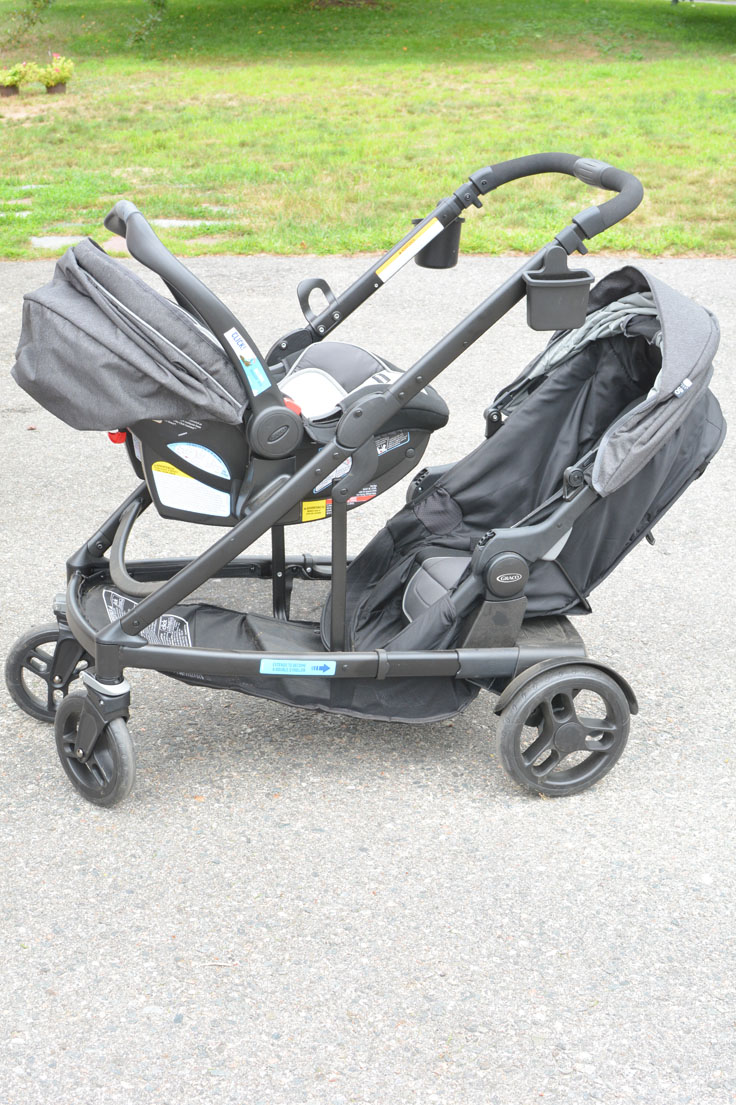 3. Accessories are included:
A parent cup holder, phone holder, removable child snack tray with 2 cup holders are included.  A standing platform is also built into the stroller frame to allow for a second child to stand. There are no additional accessories needed unless a second seat is preferred.
4. Large storage area:
We're an active family and enjoy day trips to amusement parks and walks to the local State Park for swimming and lunch. I also tend to over pack for those occasions and almost always pack picnic lunches. The large under seat storage area is the perfect size and I can even extend it an extra 5 inches if needed. I can easily fit a cooler that holds our lunches and keeps our drinks cold as well as the diaper bag and a bathing suits/towels for the older kids.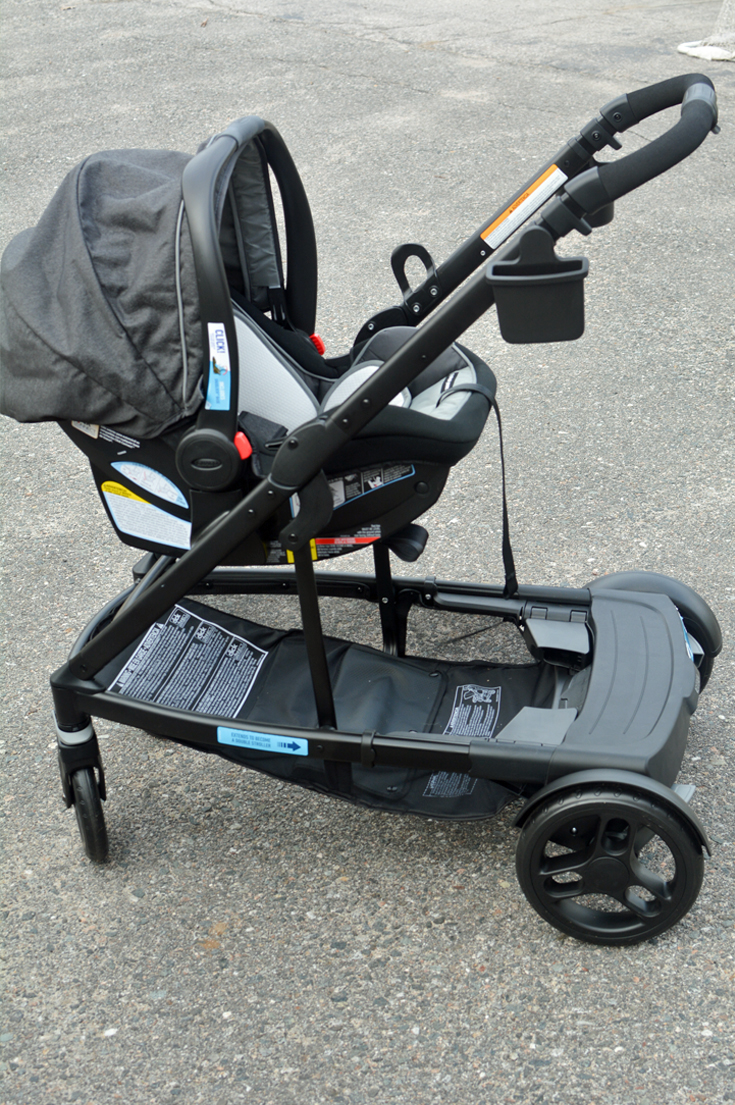 5. Expanding Stroller Frame:
Expand the stroller an extra 5″ in seconds for an even larger storage area, or to use the standing platform for a second child. The standing platform is built into the stroller and gives toddlers and older children a fun way to ride along. It takes just one hand to slide the frame in and out. The extra 5 inches also give you the ability to add a second seat to use it as a tandem double stroller.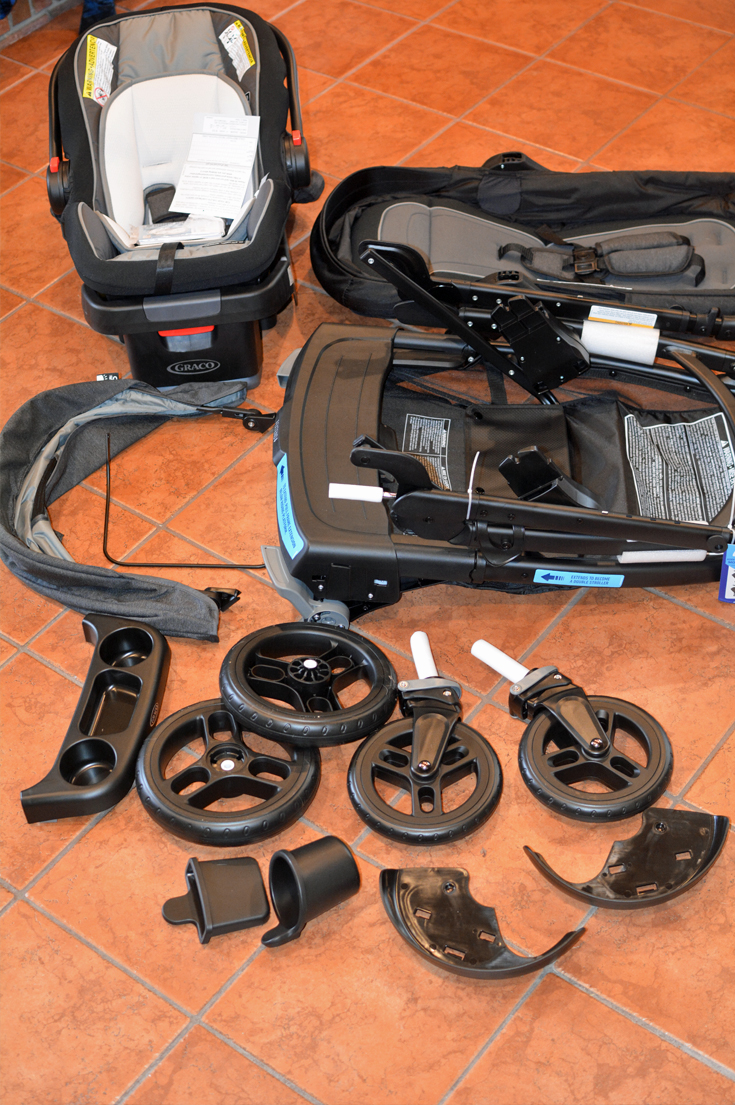 Assembly:
Some assembly is required for the UNO2DUO but should not take more than 10 minutes. It may seem overwhelming at first to open the box and see all of those pieces but the majority of the assembly is attaching the wheels.
Note: If you can't find the back axle, it is attached the stroller, you'll have to cut the zip-tie.
A little more about the UNO2DUO:
Can be used for infants up to 50 lb.
Easy, one-hand fold
It is on the heavier side and bulky, it weighs 40 lbs.
Accepts all Graco Click Connect infant car seats
Five-point harness that can be converted to a three-point as the child grows
SnugRide SnugLock 35:
The Graco SnugRide® SnugLock™ 35 Click Connect™ Infant Car Seat is the car seat included with the Graco UNO2DUO travel system.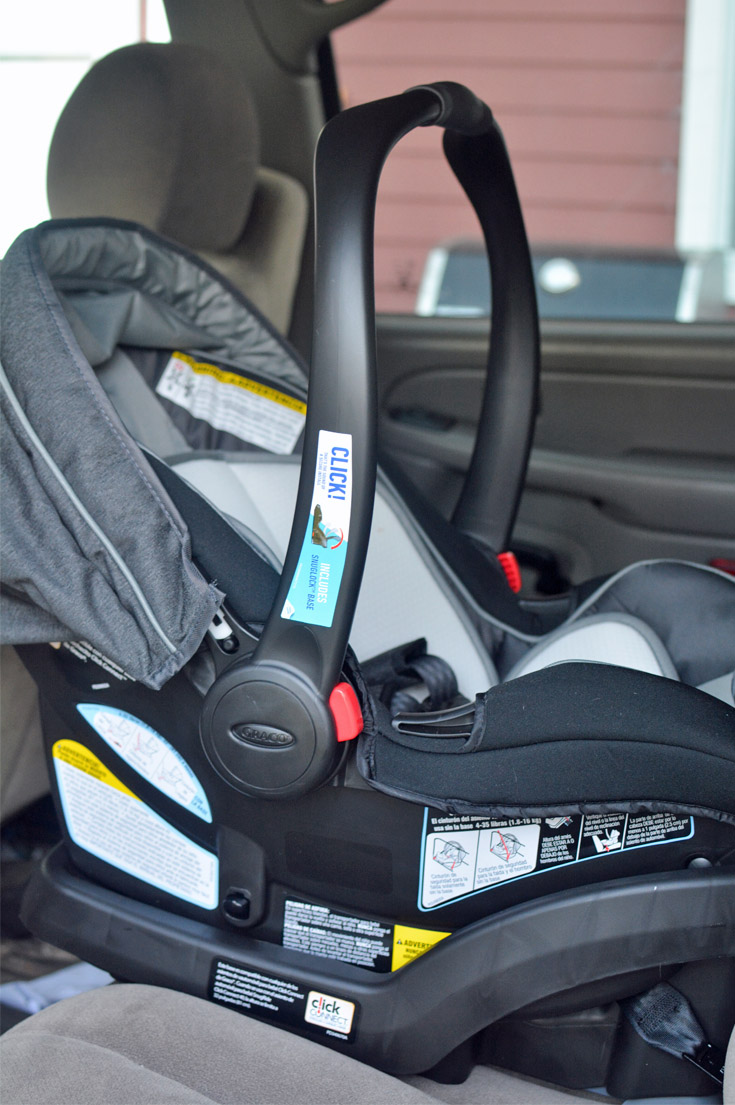 SnugLock™ Technology – hassle free installation using either vehicle seat belt or LATCH.
Easy-to-read level indicator for installation
Rear-facing infants from 4 – 35 lb and up to 32″
Adjustable base with 4 recline positions
Click Connect™ technology –  one-step attachment to all Graco Click Connect strollers and base
EPS, energy absorbing foam
Removable newborn head and body support
Install the
SnugRide SnugLock 35

Base: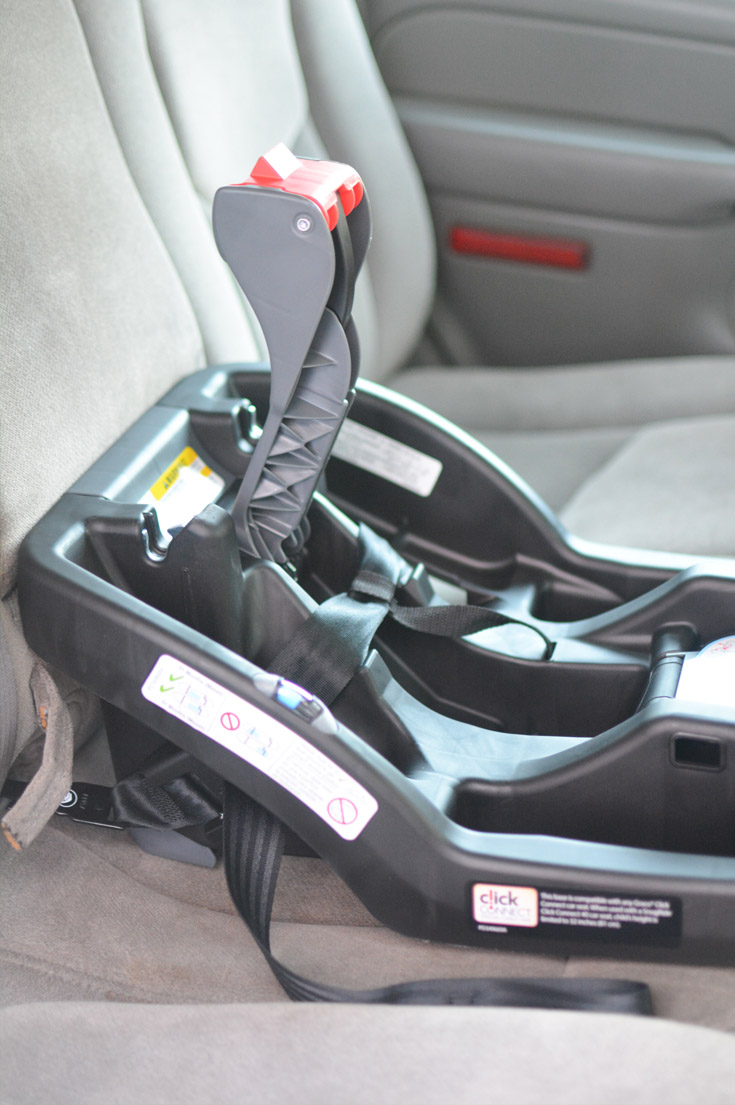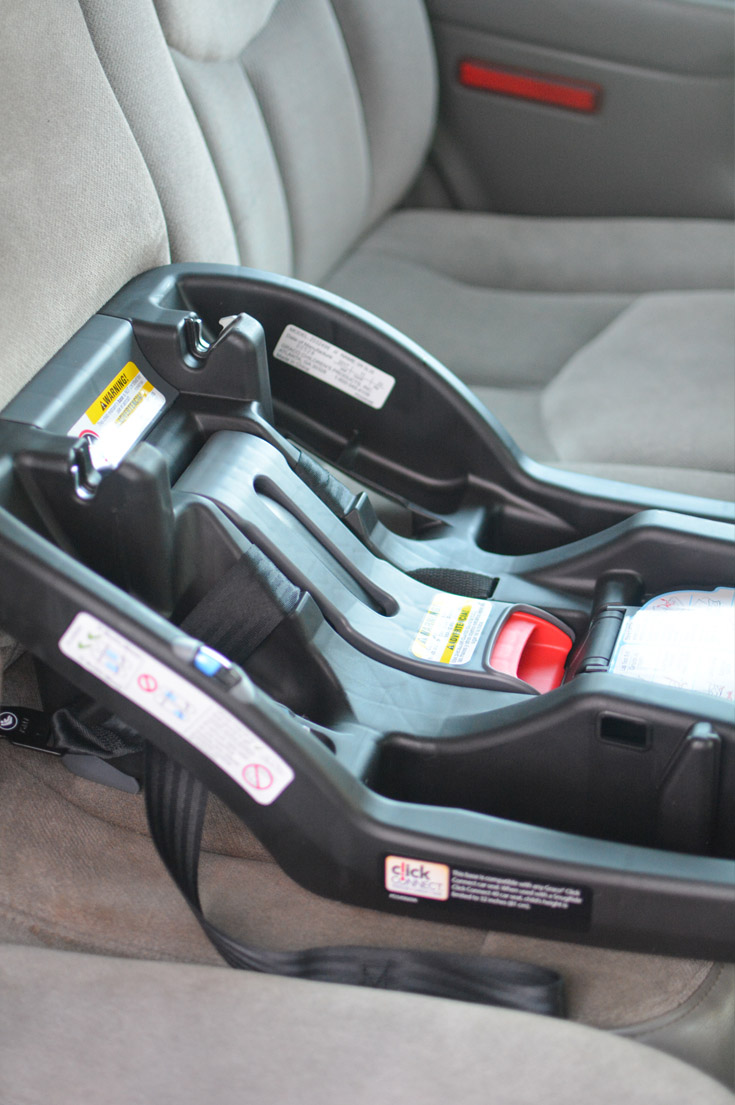 I tend to leave the car seat installs to my husband as I always seem to have an issue getting a secure install. There is no more struggle to get a secure install with the SnugRide SnugLock 35 Base thanks to the SnugLock Technology. I can get a secure install every time with a simple push that tightens either the LATCH or seat belt.
Where to buy the UNO2DUO Travel System?
The UNO2DUO Travel System is available to purchase at GracoBaby.com, BuyBuyBaby and online at Amazon.
3 Different Ways to Buy:

Graco Uno2Duo Stroller
Graco Uno2Duo Double Stroller, includes the second seat
UNO2DUO Travel System