A travel system allows you to move a sleeping baby from car to stroller or into the house undisturbed. The Graco Modes click connect travel system makes it easy using the click connect system. The Graco modes 3 lite is one of the newest lightweight travel system available.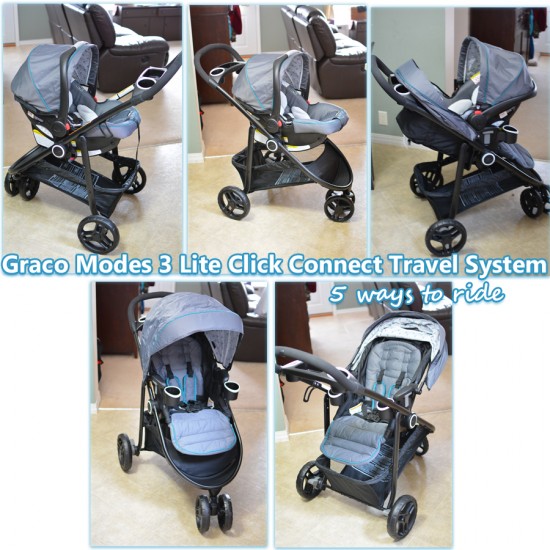 With the recent news that we'll be expecting our third child in July, I've been making a list for what we will need for our new bundle of joy. With our youngest turning six years old in a couple weeks we do not have much left from his infant years besides a couple boxes of clothes. The strollers, infant car seats, and other baby gear have been passed on to friends or donated through the years.
With our first child, who was also the first grandchild on both sides, we were overwhelmed with the amount of baby gear we had in our house. While some items were used on a daily basis, there were some things that just sat in the box unopened in the closet. This time around, we know what we used often, and what we didn't.
One of our most used items was our travel system, although I was not a fan of the model we purchased, my husband loved it. It was bulky, I hated the way it closed, and the car seat base was a hassle to install in the car.  As a Graco Ambassador, I recently received the Graco Modes 3 Lite Click Connect Travel System in Zeal which is a major step up from our travel system from 2007.
Graco Modes 3 Lite Click Connect Travel System:
Includes Graco's SnugRide Click Connect 35 Infant Car Seat
5 Ways to Ride
Easy one-second, one-hand fold
Flexible FastAction™ fold works with or without the stroller seat to fold 2 ways
Storage lock engages automatically when folded and stroller stays upright
3-wheel maneuverability with locking front-swivel wheel
Parent's tray with 2 cupholders and a storage compartment
No child tray, but there are two pivoting child cupholders to hold snacks, drinks
Multi-position one hand recline for child's comfort
Extra-large basket to hold all your essentials – a must have for me.
Click Connect™ provides a one-step, secure attachment of infant car seat
Lightweight, sturdy frame
Stroller can hold a child up to 50 lb
Convertible 3- or 5-point harness to grow with your child
What I love about the Graco Modes click connect travel system:
This Graco Modes click connect travel system has a number of features that I have been wanting in a stroller. Not only does it offer a smooth ride, but the ability to use it in 5 different modes is my favorite feature. As the child gets older they can face the parent or see the world.
Frame facing parent with infant car seat
Frame facing toddler seat
Infant car seat on the frame facing forwards
Stroller seat on frame facing forwards
Traditional travel system using the stroller seat & car seat
The Graco modes 3 lite stroller recently traveled to Disney with us. To save on space I traveled with just the lightweight stroller frame and the Snugride carseat. Since the baby was only a few months old, I left behind the toddler stroller seat to save on space since I planned on keeping him in the carseat. The cup holders were convenient for storing drinks while we went from park to park, and there was plenty of storage underneath for the diaper bag and small cooler. Traveling with three children, I needed a stroller that was easy to maneuver and was lightweight, the Modes 3 lite was just what I needed.
Graco Modes 3 Lite Travel System Configurations:
In addition to the five different ways to ride, the Graco Modes 3 Lite Click Connect Travel System has not only a parent tray with 2 cup holders, but 2 cup holders for the child which will come in handy during the toddler years with snacks and a sippy cups. The large under seat storage area is a one of my must-haves in a stroller to not only store the diaper bag, but a small cooler or bags when we head to the park, sporting events, or shopping.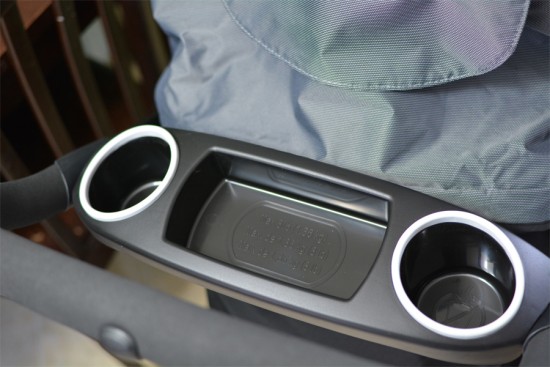 Graco Click Connect System:
The rear facing carseat that is included with the Graco 3 lite click connect is compatible with other Graco click connect products. If you an additional multiple click connect strollers, or double stroller at a grandparents house the car seat can easily be connected and disconnected.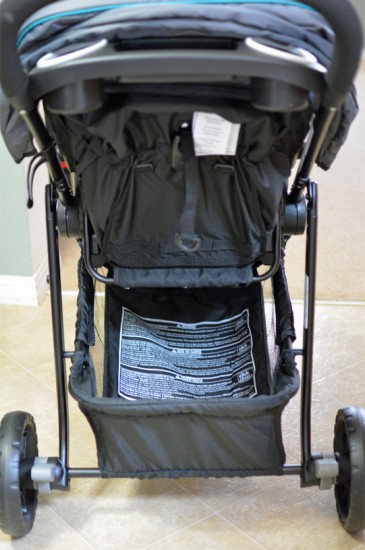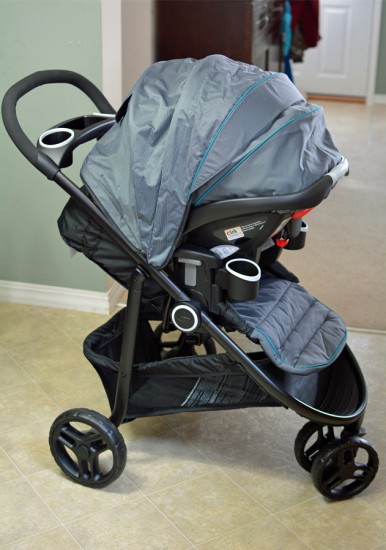 The only thing I noticed about the Graco modes 3 lite stroller is there is no adjustable handle or footrest. It's not something that would prevent me from buying this stroller, but I do prefer the adjustable footrests for sleeping children.
Learn more about the Graco Modes 3 Lite Click Connect Travel System by visiting www.gracobaby.com. The Graco travel system can be purchased online at Amazon or at Babies R Us.
 What are your favorite feature of this click connect travel system?