I participated in an Influencer Activation on behalf of Influence Central for P&G. I received product samples to facilitate my review as well as a promotional item to thank me for my participation. All opinions and reviews are my own.
While my children are two years apart, I get asked the same question day after day "are they twins?" They look just alike and with just a couple inches and a couple pounds between them, they could definitely pull off the twin thing any day. As much as they look alike, they are so different at the same time with their personalities and health differences. While Trevor is my adventurous outdoor kid who is never sick, Jonathan tends to want to stay inside and takes after me with asthma, allergies, and skin sensitivities.
As soon as I noticed a skin sensitivity in Jonathan I started cutting back on buying certain products. Instead of buying whatever was on sale during the week, or whatever coupons I had, I started to stick with the same product whether it was the cheapest or most expensive. We found a product that worked, and stuck with it to reduce the risk of skin irritation.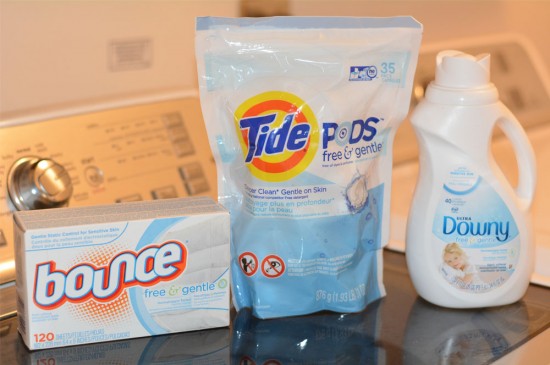 I have used the same detergent, Tide, for as long as I can remember although I stopped using dryer sheets once Jonathan was born to limit the skin irritation. I have missed using dryer sheets, especially on our towels, so I was excited to hear about the new P&G Free & Gentle products that offer sensitive skin sufferers a hypoallergenic, dye and perfume free routine.
The Free & Gentle Collection:
Tide Free & Gentle Detergent / Tide Stain Release Free In-Wash Booster:  Cleans better, and removes more residue from stains.
Downy Free & Gentle Fabric Softener: Provides comfort and freshness through its softening formula.
Bounce Free & Gentle Dryer Sheets: Free of dyes and perfumes and provides freshness, softness, static control and even repels pet hair.
Although I have used Tide for many years, I was still hesitant on switching our detergent to the Tide Free & Gentle Detergent and using the Bounce Free & Gentle Dryer Sheets so I decided to test it on a few outfits and towels. We had no skin irritations during the first week, and I have since added both products into our laundry routine, especially when it comes to washing Jonathan's clothing.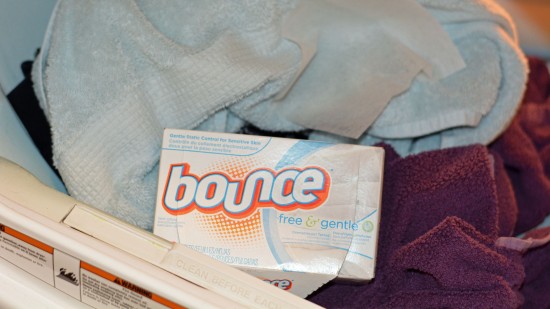 This was my first time using laundry pods and I am loving the added convenience of not having to measure the detergent every time I throw clothing in the washer machine. In addition to the added convenience while at home, the pods are perfect to take while on-the-go traveling. We will be traveling in a few weeks and they will come in handy as I don't have to worry about a small container spilling when we need to wash our laundry while on vacation. I usually pack a small container with detergent and just wing the amount, which can leave a mess, but this time I will be packing a few Tide Pods Free & Gentle in a ziploc bag.
Learn more about the new P&G Free & Gentle products from Tide, Downy, and Bounce.
Do you or anyone in your family suffer from sensitive skin?