With the spring weather in full effect we have stared our daily neighborhood walks again. Years prior the boys have always sat in a stroller but now that Tyler is three he is not always a fan of sitting in the stroller, he is a big boy now. While he would prefer to ride a bike while I walk (like his big brother) he hasn't mastered how to pedal and definitely does not know how to stop. We live on the the top of a hill, so being able to stop is a must have. When I learned about the Burley MyKick, I knew it would be perfect for Tyler for our neighborhood walks. Burley graciously sent us a green MyKick to try out, boy was Tyler excited for his brand new bike!
Burley MyKick:
The MyKick is a pedal free push bike that is recommended for children ages 3+ and under 50 lbs. It is practically fully assembled right out of the box, just twist the handle bar into the proper position with the included allen wrench and adjust the seat according to your child's height and you're all set. It is very convenient to open a product and having it fully assembled, no having to put on stickers,  screw in a bunch of screws, or scramble through a list of directions. There are no tools needed for adjusting the seat high, just a little lever that you open and close. Tyler can ride the Burley MyKick, and immediately after I can higher the seat if Jacob wants to ride it.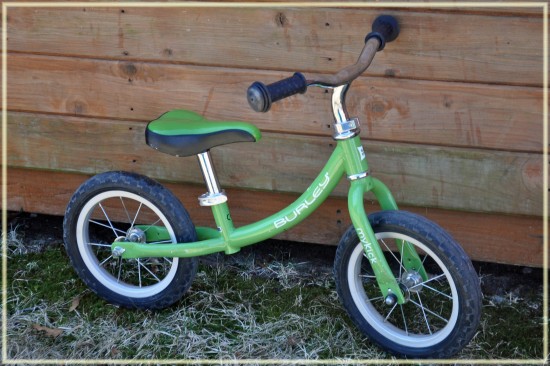 Note: Make sure when you tightened the handlebar the mykick lettering is facing the direction as seen in the photo above. The mykick lettering should  be pointing slightly forwards, having it the opposite way will shorten the wheelbase.
The MyKick was designed for children that have not mastered peddling. Tyler doesn't have to feel left out when his big brother rides his bike, he can use the MyKick. Instead of peddling, he can kick his feet to move along. It took Tyler a little bit to figure out how to balance himself but he soon caught on and is now learning how to coast further and further.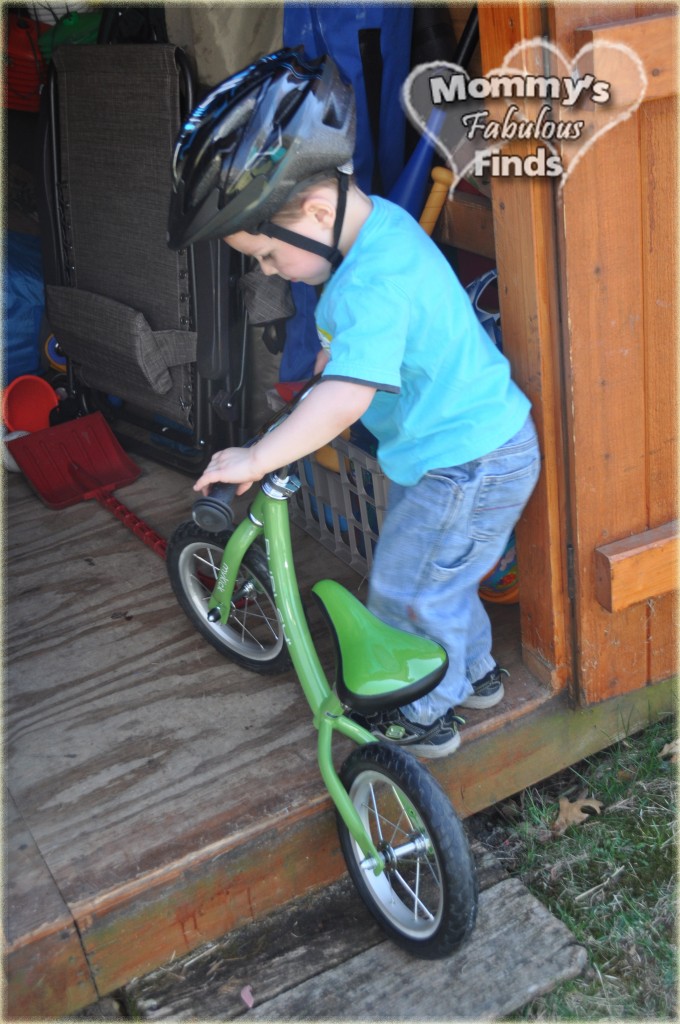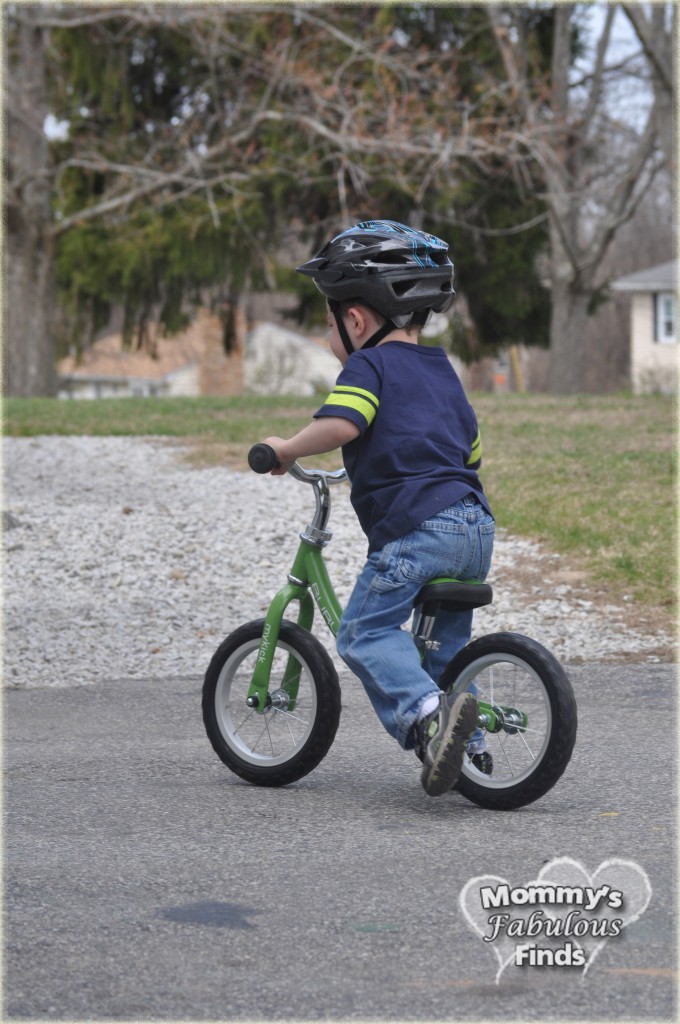 The Burley MyKick features comfortable rubber grips handles, and flat-free tires. Both the kid-sized seat and handlebars are easily adjusted and allow for room to grow. I was amazed at how light it was, only 11.3 pounds, just over a pound more then what Tyler weighed at birth (9 lbs 14 oz). Tyler can easily maneuver it in and out of  the shed all by himself, making him feel even more like a big boy.
The MyKick has boosted Tyler's self esteem, he no longer feels left out and loves to ride the MyKick along with his big brother around the neighborhood. I don't have to worry about him not being able to break as we go down a hill, since he just simply puts his feet down to stop.
Not that I didn't have trouble getting Tyler inside in the first place as he love the outdoors, but now it's even harder, he wakes up in the morning asking to ride his bike and goes to sleep at night asking when can we go outside so he can ride bikes again. Now that he has a bike and can ride, I'm going to have to get myself a bike so we can ride on the bike path a town over, I used to love going on family bike rides as a child.
The Burley MyKick comes in three different colors; Summer Green, Cotton Candy Pink, and Fire Truck Red. It is available at retailers nationwide including Sports Authority and Amazon.com for $129.99. To view a complete list of retailers, please visit http://www.burley.com.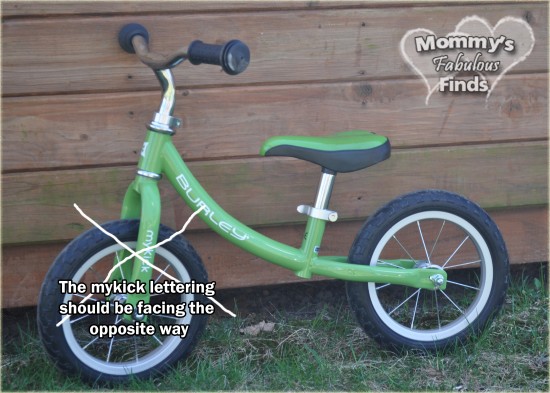 Disclosure: Product and information have been provided by the representing PR/Sponsor. All opinions are my own