When I was pregnant with Jacob I was so overwhelmed with all of the baby gear available. When I walked into Buy Buy Baby to start my baby registry I didn't know where to begin, there were so many options for strollers, car seats, activity centers, toys, and swings.  I soon found out what baby products worked for our family and products just sat in the closet.  One of the top items on my must have list for both baby and mom is a swing, most importantly a portable swing.  Both of my children loved swinging, and boy did it make my life easier especially as we were traveling.
Bright Starts Playful Pals Portable Swing:
This Mother's Day, Bright Starts has a number of products to make mom & dad happy including the Playful Pals Portable Swing. At least for me, having a portable swing made life easier, I could put the boys in the swing while I did laundry, cleaned the house, and even tried to get in a little rest time. The compact size allowed us to bring the comforts of home with us as we traveled, which we did often. Whether we were staying the night in a hotel, at my parents house, at my in-laws, or even at my aunts for Easter, I could always count on a portable swing to give me a little hands free time as Jacob or Tyler were rocking back and forth. My husband was always away for training and deployed soon after Jacob was born so I did a lot of traveling to visit family while he was away. We purchased a  portable swing on one of our trips and it was one of the best purchases we made.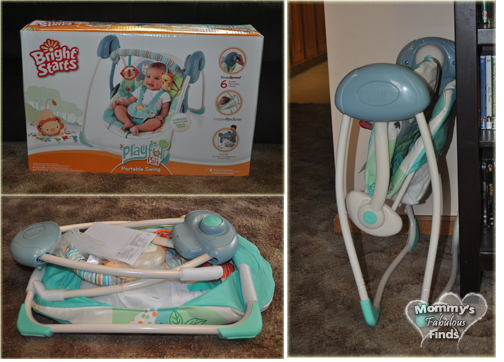 The Bright Starts Playful Pals Portable Swing  has a reclining seat with 2 different positions to provide extra comfort for baby. It features  TrueSpeed™ technology which automatically recognizes the baby's weight and adjusts the swing's performance to maintain consistent swing speed as baby grows.  A removable toy bar includes 2 playtime toys, a rattle and a super cute lion.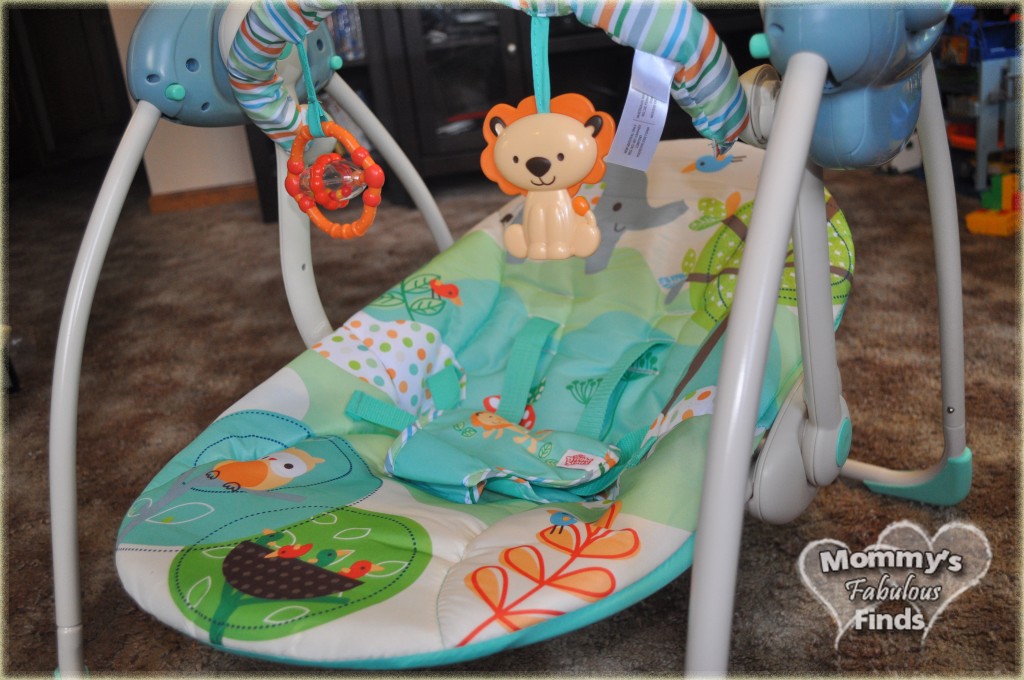 One convenient feature is that the swing easily folds for storage and/or travel. Within seconds the Bright Starts Playful Pals™ Portable Swing  can be folded up and in the trunk or in the backseat of a car. Have a long day planned at grandma's or a friends house, simply pack up the swing, not only will baby love being soothed in the swing  but it allows you time to mingle with family members.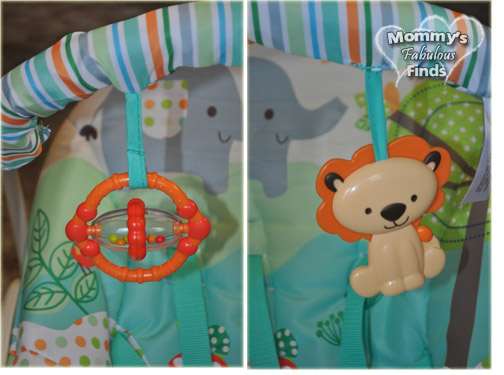 The portable swing has pretty much all of the features in a full size swing, but less then half of the size. It's perfect for the mom or dad who is always on the go or has limited house space.
One feature that I would have liked to have seen in the Playful Pals Portable Swing is a seat vibration option. Although not all babies like seat vibration, my two sons certainly did. In addition to the swinging, a lot of times I just had to put on a vibration and it would instantly soothe Tyler.  As an infant Tyler had colic and at times the stress levels were higher, having that additional feature would have been beneficial.
Recommended Age: Newborns and infants up to 25 lbs.
Batteries: Requires 4 C (not included)
Buy It: The Playful Pals™ Portable Swing is available at Target.com and BuyBuy Baby for $49.99.
Product and information have been provided by the representing PR/Sponsor.